Easy small batch apple butter prepared over the stove top. No need for immersion blender!
Simple small batch apple butter prepared within minutes on the stove top. You don't need an immersion blender!
Learn how to make this simple, easy, vegan fruit butter (great for beginners too!) and collect some flavor ideas and tips on how to use your apple butter.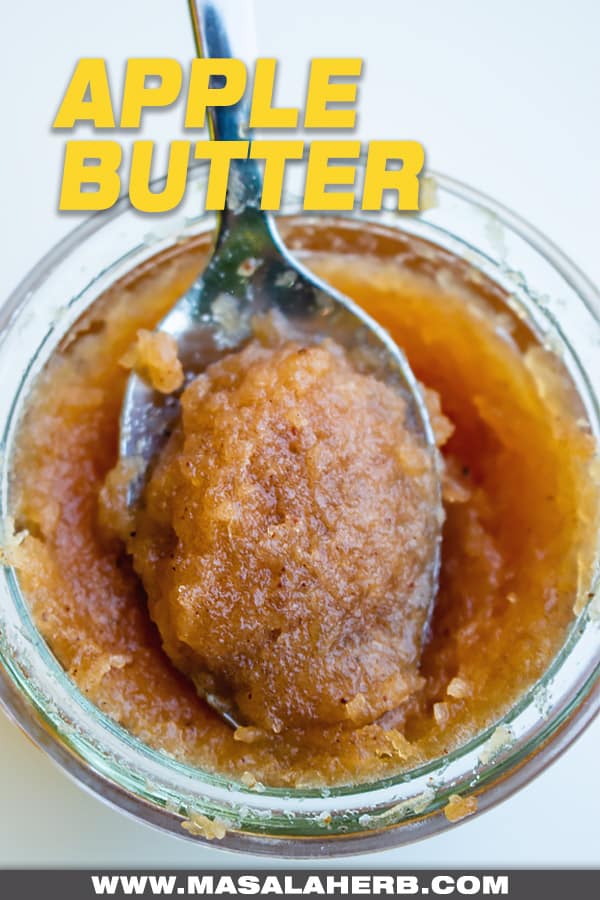 Global Food Recipes
with Spices and Herbs
Free E-Book available for a limited time. Grab yours now and get instantly inspired!
Jump to:
📕 What is apple butter?
Apple butter is a type of preserve prepared of whole fresh apples.
The apples are reduced in a pan with sugar and spices until it forms a puree.
It is then left to thicken and usually, it is canned, so that the apple butter remains good for months to come.
🆚 Apple butter VS apple sauce VS apple jelly
Apple butter - whole fresh apples are reduced to a smooth puree over the stovetop until the consistency is velvety and thick.
Apple sauce - prepared almost the same way as apple butter but it's not reduced down. Apple sauce is chunkier and it's runnier.
Apple jelly - apple are boiled in water, strained and that liquid is then cooked with sugar to a jelly.
🔪 How to make apple butter?
Making a small batch apple butter from scratch is super straightforward.
I outline the process here, the complete recipe with details and US and metric measurements is located in the recipe card at the bottom.
Step 1
Peel, quarter and cut out apple core.
Cut apple into small pieces.
Step 2
Mix lemon juice to apple.
Place apple into pot with apple cider, sugar and seasoning.
Heat up.
Step 3
Cook, reduce and stir apple butter over slow heat until completely mushy and to the desired consistency.
📜 Flavor ideas
This apple butter recipe is seasoned with cinnamon, apple cider and lemon juice.
However, you can add other ingredients too to flavor or make it the way you like it.
Here is how you can call your apple butter your own.
spices - add a pinch of ground clove, nutmeg, or green cardamom
fruits - add half quantity of crab apples or pears to your apples
peanut butter - or a tablespoon or two of any other nut butter
low sugar, alternative sweetener, diabetic-friendly - switch sugar with honey, maple syrup or stevia OR keep it out altogether (but use up apple butter within days because sugar preserves)
💡 Ways to use apple butter
The most common and most popular way to enjoy apple butter is slathered on a slice of toast or warm bread.
Apple butter became a breakfast or snack time favorite that way but this humble preserve has so many other great uses.
Here are some ideas on how you can use your homemade apple butter.
Baked Goods - Enrich your cakes, cookies, muffins, cinnamon rolls and bread with a tablespoon or two
Pies, hand pies, and empanadas - Use your apple butter as a filling
Dessert - add spoonful to your vanilla ice cream or other desserts such as bavarian cream. OR make an apple cobbler or crisp with your apple butter
Sauce - use your apple butter as a sauce with main course meals such as pork chops (just the way you use lingonberry jam with schnitzel and meatballs) OR add some to your bbq sauce (instead of tamarind pulp)
Granola, Muesli, Yogurt - a small quantity of DIY apple butter will make it all the better
Appetizer - apple butter with cottage cheese, brie or in a salad or bruschetta. yum yum. 🙂
Latte and Smoothies - yep I can confirm, a teaspoon of apple butter mixed in your latte tastes awesome.
🍱 Storing
This is a small batch apple butter so you can just store it in a jar or two.
Keep it in the fridge for up to 1-2 months (depending on how much you have reduced your apple butter).
You can freeze your apple butter too in small batches but I personally don't like this option because the fruit butter needs to thaw and that takes time.
You can also store your apple butter for a longer period of time by water bath canning the closed jars.
I have a guide on water bath canning, which shows you on how to do it.
💭 FAQs
What apples to use to make apple butter?
I personally like to mix it up and use different varieties when making my apple butter. However, the easiest and fastest way is to use an apple variety that cooks well such as Gala and Mcintosh.
Does apple butter thicken as it cools?
Yes, apple butter appears more liquid when it's cooking hot. When it's fridge cold, the texture turns out dense.
Why is my apple butter runny?
Your fruit butter can turn out runny if you skipped the sugar or if you didn't reduce it for long enough.
Does apple butter need pectin sugar?
No, apple butter doesn't need artificial pectin added because apples are rich in natural pectin.
Can apple butter be left out?
Yes, it can be left out if your apple butter was canned and if the jar hasn't been unsealed yet.
Global Food Recipes
with Spices and Herbs
Free E-Book available for a limited time. Grab yours now and get instantly inspired!
📖 Recipe
Small Batch Apple Butter Recipe
Easy small batch apple butter prepared over the stove top. No need for immersion blender!
Print
Pin
Rate
Instructions
Peel apples, cut into quarters and cut out seed core.

Cut apple into smaller pieces and place into bowl. Cover with lemon juice to stop the browning and to flavor.

Place apple into a small pot and heat up.

Add sugar, apple cider, salt, ground cinnamon to the apple in the pot and combine.

Cover the pot until it boils and keep then over a medium heat setting.

Stir occasionally and watch it get mushy. Reduce heat to a simmer.

Cook down until consistency gets thicker. The total cooking time from beginning to end can take 1½ to 2 hours.

The apple butter is ready when it has thickened and it appears brown in color. The texture should look like velvet.

Place apple butter into clean jars and lock with a lid.

Store in the fridge or use straight away. See post for more storing ideas.
Notes
1 Tablespoon = 1 serving. This recipe makes about 30 Tablespoons which is about 8 ounce or a 250 ml jar.
Nutrition
Nutrition Facts
Small Batch Apple Butter Recipe
Amount Per Serving
Calories 23
Calories from Fat 9
% Daily Value*
Fat 1g2%
Sodium 1mg0%
Potassium 20mg1%
Carbohydrates 6g2%
Protein 1g2%
Vitamin A 8IU0%
Vitamin C 1mg1%
Calcium 1mg0%
Iron 1mg6%
* Percent Daily Values are based on a 2000 calorie diet.