I think, we need more Papaya Recipes, more ideas and inspirations to use up this unique fruit!
Papayas are growing in our garden regularly, and whenever I was looking for a cool creative idea, I would be disappointed with the most regular boring use you can imagine - a papaya fruit salad.
Papaya is a tropical fruit and there are actually great uses for this humble fruit!
I came up with two great uses over the years however I am not the only one, other talented food blogger friends got some fantastic papaya recipe ideas as well.
It doesn't have to be always papaya juice or papaya milkshake, no, you can go beyond your fruity breakfast bowl with papaya.
Also you shouldn't limit yourself to just sweetened papaya recipes.
In fact Papaya is one of these wonder fruits, which is in fact quite essential in the kitchen.
You see, green papaya makes an amazing meat tenderizer.
This is well known to countries near the equator, where papayas grow, as it is used to make beef, goat and mutton meat super tender.
So, in that way the green Papaya has a special place in the meat preparation.
Yet, you can make sure that there are other amazing tasty ways to enjoy a freshly, bright orange, ripened Papaya or also a green crunchy Papaya.
I asked my friends recently to share their MOST favorite Papaya recipes and I turned it into this great papaya recipes collection!
You can go through the collection of papaya recipes.
You will find sweet and savory Papaya Recipes, desserts, appetizers, salads and beverages.
All are from scratch freshly prepared papaya recipes, and each has been thoroughly developed and tested.
To get to the recipe just click on the title or picture.
The link will lead you to other well-known food bloggers and the full recipe to print or to save for later.
In no particular order:
Fresh Papaya Recipes and Ideas for your Kitchen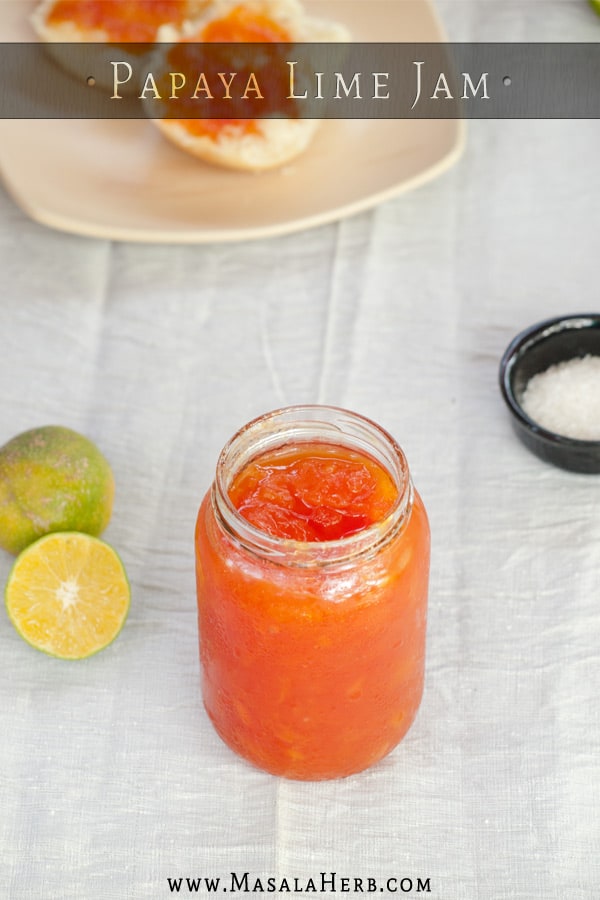 by masalaherb.com
~~~
by rootandrevel.com
~~~
Chutney with Pineapple, Papaya and Poblano
by healingtomato.com
~~~
by herbivorecucina.blogspot.com
~~~
by masalaherb.com
by wearenotmartha.com
~~~
by happykitchen.rocks
~~~
by bellyrumbles.com
~~~
by compassandfork.com
~~~
by masalaherb.com
~~~
by carolinescooking.com
~~~
by mrishtanna.com
~~~
Dear reader, do you have a favorite way to enjoy your Papayas?
Please SHARE your thoughts with us in the comments below
More fantastic Food Collections to check out!
So you love SPICES and HERBS?
GET 5 FREE SEASONING LESSONS
Type in your email address below.
Including free access to the
Seasoning Members only Club!