Jackfruit is such a versatile ingredient and to celebrate that I have put together a selection of jackfruit recipes.
What is Jackfruit?
Jackfruit is the largest and heaviest fruit in the world and it's related to the breadfruit and durian.
We have a young jackfruit tree in our tropical garden in Goa India, and from that tree, we harvest about 20 jackfruits in a single day.
Each jackfruit weighs about 44-66 lbs/ 20-30 kg.
Grown Jackfruit trees, with their massive build, can have about 200 Jackfruits growing on the tree trunk and on brunches.
These are crazy numbers when you think that some of these jackfruits tend to get over 88 lbs/ 40 kgs heavy!
The healthy exotic fruit is native to the Western Ghats/West Coast of India but it grows in other parts of Asia too and the Caribbeans.
The fruit is also known as fruit de Jaque in french, kathal in Hindi and pannas पाननस in Goa and Maharashtra.
It's in season from March to June in any tropical climate and two major varieties exist, a softer jelly-like type and the more common and commercialized fleshy jackfruit.
The fruit flesh is pale yellow/beige in color and it tastes and smells like gum, pineapple and spring onions combined.
It's a pleasant smell and taste and nothing bad as the durian.
Both, fruit flesh and jackfruit seeds can be used in recipes. The seeds can be boiled and taste just like chestnuts!
How to prepare a fresh whole Jackfruit?
Besides the fruit being so big, which makes it be honestly daunting for anyone to prepare it in any way possible, the fruit flesh tends to have a very sticky glue-like substance around it.
Because of that glue substance, you will turn into a sobbing and crying child when tackling your jackfruit preparation like any-other fruit.
The right way to cut out jackfruit pulp pieces is to cover your hands and knife with cooking oil.
You won't be able to use it all up in a day's time, so freezing or drying jackfruit pieces is a good idea!
We usually cut one open, use it in a few jackfruit recipes and give away the rest to neighbors and friends.
Buying Jackfruit
Canned Jackfruit flesh can be commonly bought in grocery stores like Aldi these days.
Look out for plain brined jackfruit and not the stuff you get in syrup.
You can also get fresh jackfruit cut up in smaller pieces (or sometimes as a whole too) in an Asian or Caribbean specialty store.
Fresh jackfruit is healthier and tastier BUT consider that it's quite some extra work to process it because of that glue substance.
Raw Jackfruit is a bit more rare and harder to be found. You might get it in a health or vegan grocery store.
Jackfruit recipe ideas
We usually enjoy jackfruit as is in its raw state. However, the fruit is great cooked too.
Especially vegans may appreciate this fruit.
Here are some recipes to get inspired!
Vegan French dip sandwich with au jus
~~~
Jackfruit Upside Down Cake
~~~
Jackfruit Tinga with Chipotle Sauce
~~~
Chili verde jackfruit with cilantro lime brown rice
~~~
BBQ Jackfruit Tacos with Mango Salsa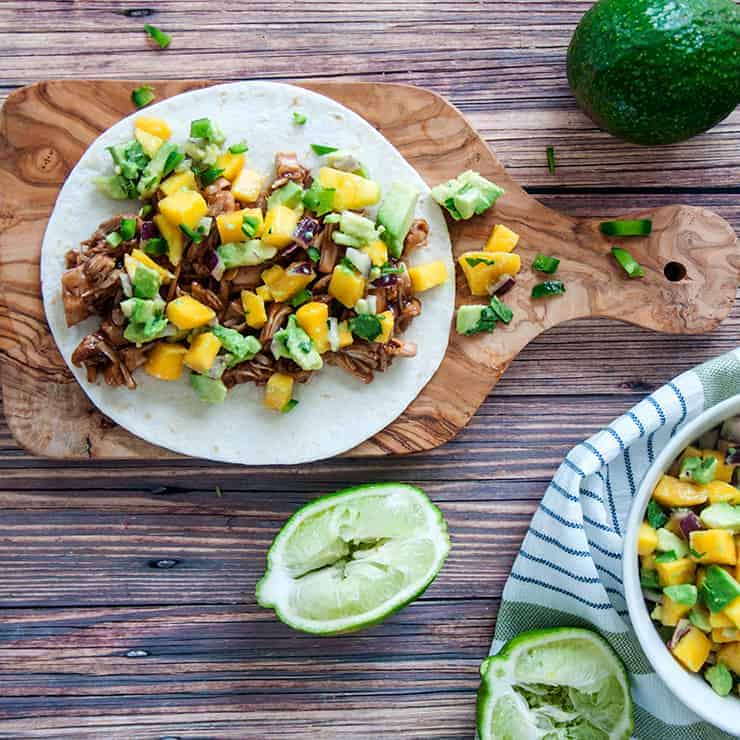 ~~~
Jackfruit Ice cream
~~~
Slow cooker vegan chicken wild rice soup
~~~
Vegan Stew with Jackfruit Beef
~~~
Vegan Jackfruit 'Pulled Pork' Tacos with grilled Pineapple
~~~
Jackfruit Stir Fry - Kathal ki Sabzi
~~~
Corned Jackfruit
~~~
Vegan reuben jackfruit sandwich
~~~
Stuffed Jackfruit
~~~
Raw Jackfruit Kebab - Kathal ke Kebab
~~~
Raw Jackfruit Curry
~~~
Dear Reader, which jackfruit recipes will you make next?
Please feel free to share your thoughts and ideas with us in the comment section further below!