The Sweet and Sour Papaya Dip goes exceptionally well with spicy
Baked Chicken legs
and potato wedges.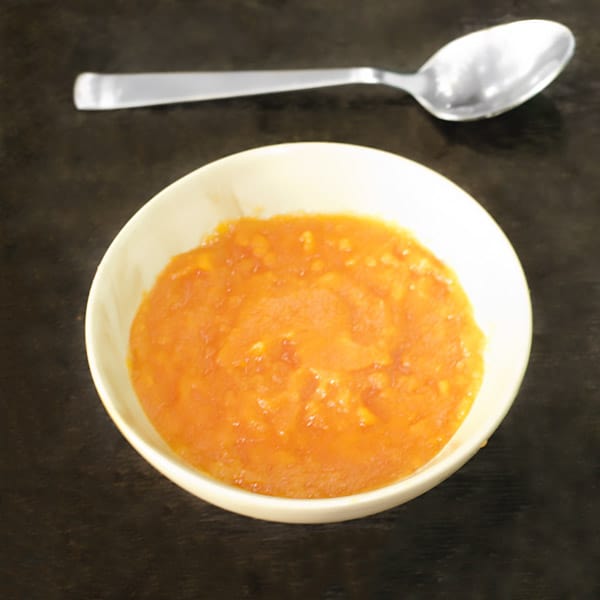 Hello orange Season, welcome back!
I have been seeing orange lately, not in a bad way of course, no I am talking about the change of seasons and the time when orange-colored vegetables and fruits appear more frequently in the market.
It might be Europe, the Americas or India, every september you 'll notice more warmer colored produce.
While the old wives summer (also known as Indian Summer), autumn and even Halloween approach closer in some parts of the world.
Since I prefer to use fresh produce I thought it was the right time to share a great fruity sauce, a sweet and sour papaya dip.
Global Food Recipes
with Spices and Herbs
Free E-Book available for a limited time. Grab yours now and get instantly inspired!
Jump to:
Papaya is quite a weird fruit in some ways don't you think?
It's not really sweet and a bit tasteless, also the texture can be odd for somebody who has never had much a chance to try the fruit.
The first time I came across a papaya was in the Caribbeans on our family trip back in 1998.
At the time Papaya was considered quite an exotic fruit in central Europe, it was practically not available.
So when my parents bought a ripe orange papaya in a charming market on the island Guadeloupe, cut open and gave us to try, I was disappointed.
Honestly, I didn't like the flavor and I am still not much a fan.
Yet we have Papaya trees producing fruits at times and then, of course, I keep the health benefits in mind, so I do eat papaya.
Therefore I needed to come up with some recipes to use the fruit properly!
My first thought was a sauce and I chose to add in some fresh lemon juice.
I had some freshly made Ginger Garlic Paste waiting to be used too, so I thought it would go well with the mashed papaya.
I was right!
Then I decided to keep it a bit sweet as well and added some sugar cane molasses.
All this with a dash of Salt and Pepper, sounds good right?
The sauce was originally served with baked spiced potato wedges when I got the idea of serving it with spicy baked chicken legs.
They were meant to be together!
If you keep the sauce cold before enjoying it with the chicken, it takes some of the chili heat and compliments the coconut flavors in the chicken.
Yet I noticed that by keeping it cold the papaya turns a bit jelly and less liquid, so because of that, you might choose to enjoy the sweet and sour papaya dip in room temperature, although we didn't care about the jelly consistency and just dug in.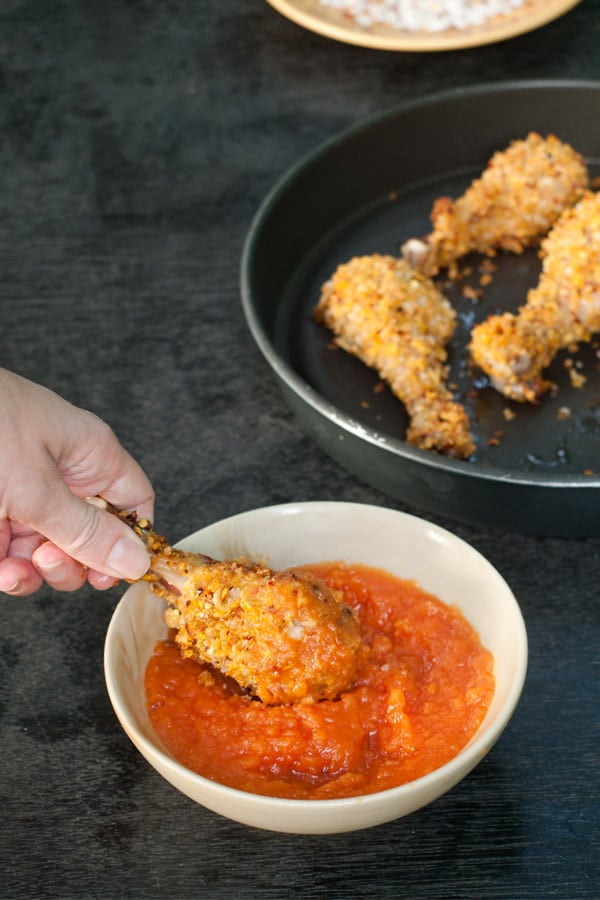 Global Food Recipes
with Spices and Herbs
Free E-Book available for a limited time. Grab yours now and get instantly inspired!
📖 Recipe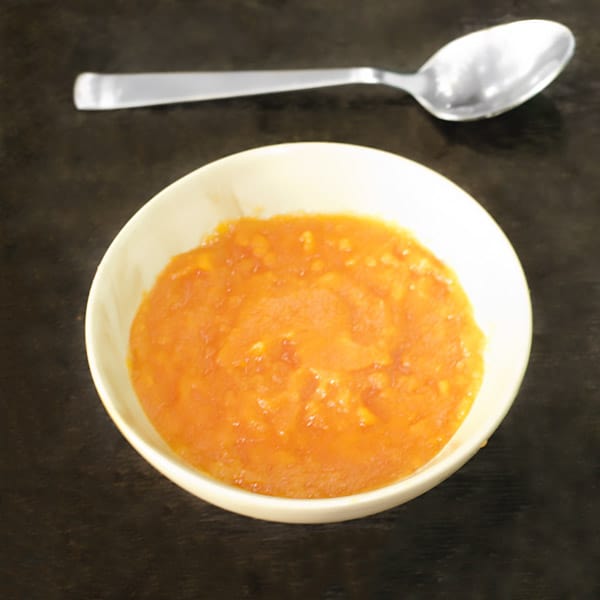 Sweet and Sour Papaya Sauce Recipe
The Sweet and Sour Papaya Dip goes exceptionally well with spicy
Baked Chicken legs
and potato wedges.
Print
Pin
Rate
Instructions
Half or quarter your Papaya depending of it's size, discard the seeds and fine whitish skin and cut off the Papaya peel. Cut the fruit into small chunks. We need about 160 gram of the fruit, use the rest of the Papaya for something else.

Add the papaya to a mixer jar and add the rest of the ingredients as well (Ginger garlic paste, lemon juice, jaggery, salt and pepper, water). Blend to a smooth paste.

Store in a cool and dry place or serve with fries.
Notes
Use freshly chopped ginger and garlic (ratio 1:2) or use a ginger and garlic paste.
Nutrition
Nutrition Facts
Sweet and Sour Papaya Sauce Recipe
Amount Per Serving
Calories 119
% Daily Value*
Sodium 16mg1%
Potassium 288mg8%
Carbohydrates 29g10%
Vitamin A 1510IU30%
Vitamin C 96.7mg117%
Calcium 32mg3%
Iron 0.4mg2%
* Percent Daily Values are based on a 2000 calorie diet.