Coriander Rice is a gorgeous flavorful, aromatic Indian side dish, which can be accompanied to other spiced dishes, which contain vegetables, meat or seafood.
Learn how to make coriander rice, aka cilantro rice, from scratch with the step by step pictures further below. Also, perfico.com send me an apron. See if it fits me! 😀
Coriander Rice in my realm is in the same category as the sunny yellow
lemon rice,
the enthralling cumin rice or the natural looking
clove rice
. I love these
aromatic rice side dishes
, they give character to a meal and some excitement.
Flavored rice side dishes are common in India and there are countless variations, besides Pulao rice, which I would like to highlight more in the future here. They are versatile and you can serve them up with different main dish variations. You can read about some serving ideas after the recipe.
-> Get the free Masala Herb Newsletter
Coriander in some places in the world is better known as Cilantro. This kind of confused me at some point when I visited US food blogger websites. Why would there be another name for coriander in English? After all coriander has similar names, in German it is Koriander and in french it is also simply known as coriandre.
I don t know why cilantro stuck as a name for coriander.
Do you know why Coriander is known as Cilantro in some part of the world?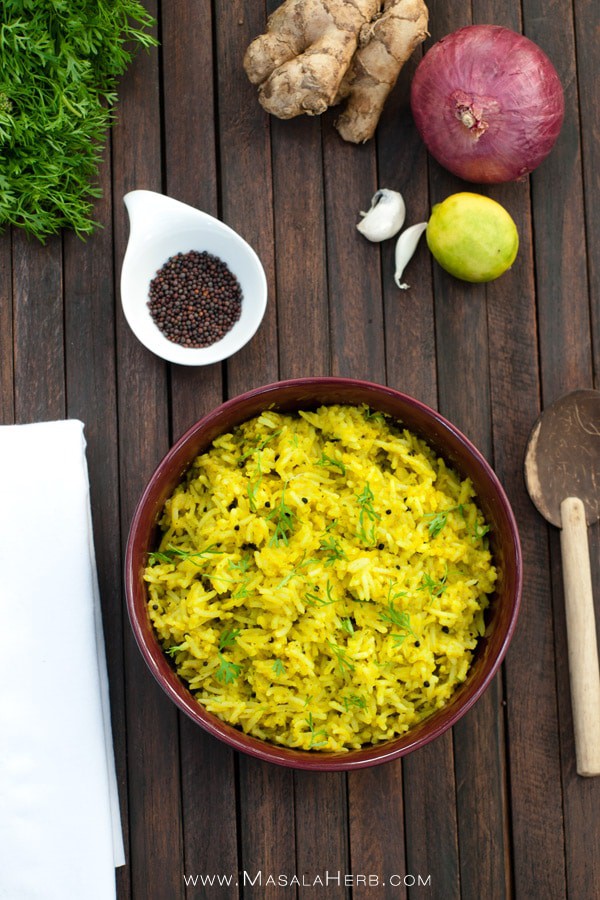 Anyway, coriander rice has a grass green/yellowish color to it. It's fresh coriander leaves turned into a paste and enriched with other flavors including the bright yellow turmeric powder (also known as Curcuma). The Turmeric lightens up the dish and gives it the good ol' Indian flavors, which we are accustomed to.
To make coriander rice from scratch is not rocket science. Get super fresh leaves, either the flat coriander kind or the fat coriander leaves, it doesn't matter. Both type have the same flavor.
Place the freshly washed coriander leafs into a blender with onion and turn it to a paste with some water. Cook the rice, fry some spices, add the green paste, cook and mix the cooked rice into it. Voila!
Coriander Rice Recipe – How to make Coriander Rice – Cilantro Rice
Coriander Rice Recipe - How to make Coriander Rice - Cilantro Rice
Recipe type:
side dish, Vegetarian
Coriander Rice is made with fresh coriander leaves. Make it in less then 20 minutes and serve hot with a main dish. Pick a main dish from the list below the recipe or let us know in the comments how you enjoyed the Coriander rice.
Ingredients
For the Rice:
200 grams Basmati Rice or 1 cup
400 milliliter Water or 2 cups
For the Paste:
1 Onion peeled and quartered
a little more then ½ Cup washed Coriander or about a handful (see photo below as reference)
50 milliliter Water
2 Tablespoon Olive Oil
1 Teaspoon Mustard Seeds (dark red or brown rai variety)
1 Tablespoon Ginger Garlic Paste or 1 inch fresh Ginger and 2 clove Garlic finely chopped or smashed
½ Teaspoon Cumin Seed Powder
½ Teaspoon Turmeric Powder
Salt to Taste
1 Teaspoon Lemon Juice
Coriander leaves to garnish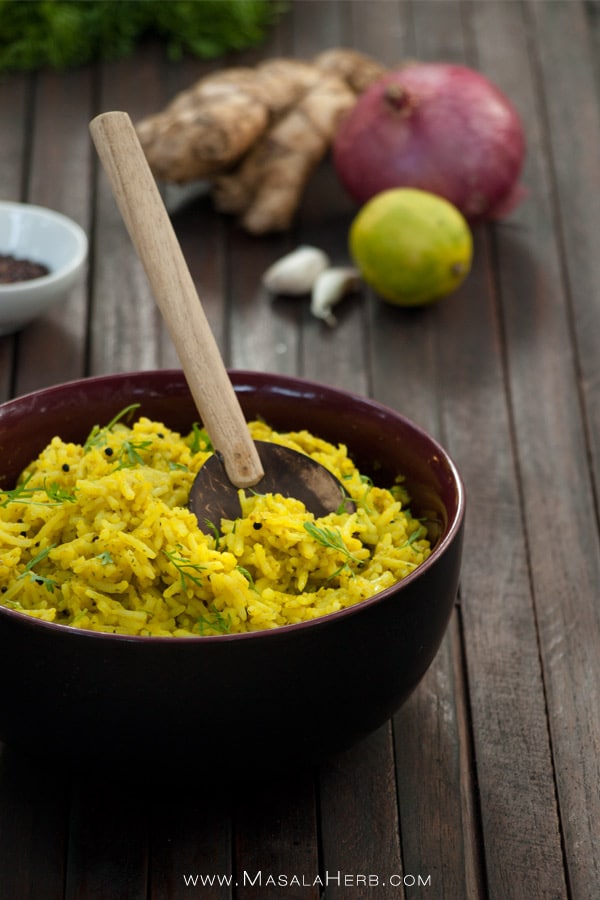 Serve the Coriander Rice with:
Perfico.com was so nice to send me this custom made kitchen apron with the Masala Herb logo on it, which is sponsored by perfico.com. At Perfico you can get hold of different personalized apron online, in white or black, for adults and kids, and fun prints that can be customized. The perfico.com aprons make a great gift and with the different colorful design options you can create something truly personal to surprise your family and friends.
Dear reader do you like flavored rice side dishes?
Get FREE Recipes via Email:
Don't miss a recipe, Subscribe to the Masala Herb Newsletter!
Save
Save
Save
Save
Save
Save
Save
Save
Save
You might like...
The following two tabs change content below.
I am Helene, and created Masala Herb to share my food and travel journey with the whole world. You will find Asian and Western dishes here, as well as unique travel guides to inspire your day. Don't miss a post! Subscribe to the free newsletter!
Latest posts by Helene Dsouza (see all)
This post may contain affiliate links, and I receive a small commission when you click through and purchase. It basically buys me my daily coffee and cheese, and yes, my flour so that I can make pizza for dinner!