Chicken Cafreal is a freshly prepared spicy green goan curry. Also known as Galinha Cafreal, the chicken curry is well known and quite popular in the sunny Indian coastline state.
Learn how to make chicken cafreal from scratch with the step by step recipe below.
Some few dishes out there in the world have the capability of enchanting and taking you to the core of a cultures heart and soul.
Chicken Cafreal is one of those dishes! It's a rich, traditional, brilliant Goan Portugues chicken curry, which is also known as galinha cafreal. Galinha is Portuguese and means chicken.
The Portuguese brought this dish from Mozambique, an African country, which was a Portuguese colony until it gained it's independence in the 70s, to Goa, India.
Goa was a Portuguese colony until the 60s as well, and the Portuguese were known to move local food ingredients and even food dishes from one continent to another.
Back then the Portuguese empire could count a few countries their own including Brazil, and countless islands in the Atlantic and in Asia such as Macao. The renaissance gave the Portuguese crown the boost to hire competent discoverers such as Vasco da Gamma, which resulted in a  large Portuguese heritage.
So according to some locals, the chicken cafreal dish idea was inspired by the Mozambique culture and was introduced to Goa eventually. Goa added it's own charm to it with it's subcontinental spice roots and the chicken cafreal, as we know it, was born!
Turns out chicken cafreal is a hit in Goa and the world. It's one of the main dishes, which you can find in takeaways and some food "bhaji" shops in Goa.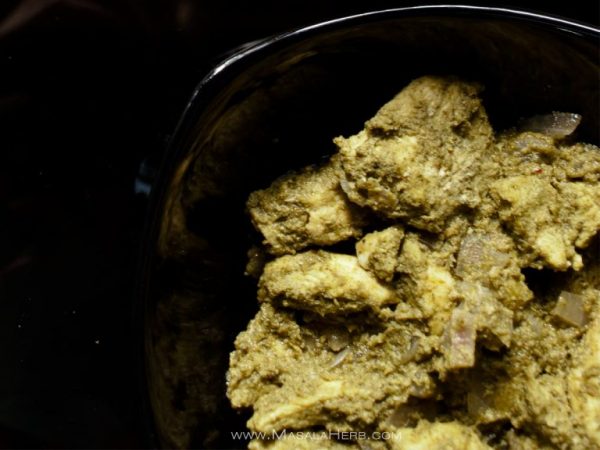 Chicken Cafreal is easy to make at home. The green curry can be either dry or with lots of gravy. The base ingredients are fresh coriander, onion, spices and lemon juice.
You should prepare the paste first, give your chicken some cuts and let the clean chicken marinate in the cafreal paste for as long as possible. The longer you keep the poultry meat sucking up the flavors, the better the result of the curry!
Also, I do use boneless chicken because I am a lazy European, however proper chicken cafreal is always made with chicken thighs and basically with chicken meat on the bone. The idea is that the bone gives the curry another deep flavor. So I recommend using chicken with bones!
You can adjust the heat in this chicken cafreal recipe by using more or less green chilies. If you like your curry super hot add 1-2 more chilies in the paste making process.
We eat chicken cafreal mostly with pao or poi bread but you can serve it with plain rice or rotis too.
Chicken Cafreal – Goan Galinha Cafreal Recipe – How to make Chicken Cafreal below
Chicken Cafreal - Goan Galinha Cafreal Recipe - How to make Chicken Cafreal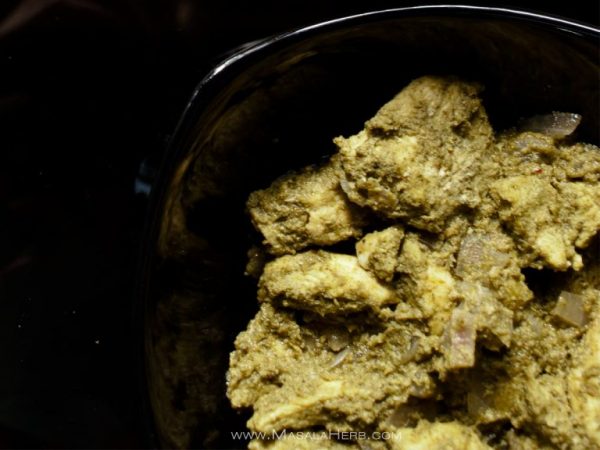 This spicy green chicken cafreal curry is made with fresh ingridients. You can make prepare the chicken cafreal in a drier version or add a little more water to the cooking process to create more gravy.
Ingredients
For the paste:
For the cooking:
400 grams Chicken (I like to use boneless because of convenience but cafreal is better & flavorful with chicken thighs!)
2 Tablespoon Olive Oil
1 small Onion chopped
50 milliliter Water
Instructions
Start by blending all the paste ingredient fine and smooth and keep aside.
Rinse, clean and if you use boneless, cut the chicken into bite size strips. If you use thighs, make some cuts with a knife into the meat.
Massage the paste into the chicken and marinate the chicken covered in paste for 1 hour. (The longer you keep it marinated the better, I usually keep it for some hours for the best result)
Once the Chicken marinated long enough, take out a pan and fry the chopped onion translucent on low heat. Increase the heat and add in the chicken with the marination and cook the meat on both sides evenly for a few minutes, then add in water. Cook for about 10-15 minutes, till the chicken is cooked but not too dry on medium heat.
Serve hot with rice or pao or poi bread.
Notes
This dish was mentioned a few years ago at a friends website, La Mère Culinaire.
Have you ever tried Chicken Cafreal before?
Save
You might like...
The following two tabs change content below.
I am Helene, and created Masala Herb to share my food and travel journey with the whole world. You will find Asian and Western dishes here, as well as unique travel guides to inspire your day. Don't miss a post! Subscribe to the free newsletter!
Latest posts by Helene Dsouza (see all)
This post may contain affiliate links, and I receive a small commission when you click through and purchase. It basically buys me my daily coffee and cheese, and yes, my flour so that I can make pizza for dinner!