Hello my dear friends. I hope you survived the recent New Years celebrations and I wish us all a successful 2014. I have decided to take up a new years resolution for 2014. I don't do this usually but I was kind of in the mood to do so and in the same time I thought I would be able to inspire others as well. My New Years resolution is to introduce you to different breakfast ideas this January and today we will start with my husbands new favorite, a homemade Bircher Muesli with oats and fresh fruits.
I have been a bit lazy in preparing breakfast in the last months and my own laziness was turning into an annoying habit. So you see I have a good reason to start this little "project" just that I needed some extra motivation by sharing the best healthy and tasty breakfast ideas with you all. At least we get to enjoy the delicious things together, right?
-> Get the free Masala Herb Newsletter
Back in December I had asked some of you via Google+ and Facebook to share your all time favorite healthy breakfast creations. I got a great feedback at google+ and the majority of you mostly enjoyed fruit salads, smoothies, weet-bix and omlette. A breakfast with oats was another reader's favorite although the way each would prepare and enjoy oats varied. I expected just that!
You see, we enjoy different breakfast dishes every day. I love banana porridge but honestly I can't have the same every single day! I enjoy fruit salads but I certainly don't have the patience to prepare a fresh bowl with small fruity bites every single morning. Oh and I am not going to make croissant every morning, not that this counts as a healthy breakfast, but it's my naughty greasy favorite of course. We need easy and quick breakfast ideas which are nutritious at the same time! I am not a morning person and I don't want to skip breakfast, therefore I am celebrating breakfast this month and I am hopefully going to inspire you at the same time. (I am just going to repeat myself this way so that I don't break my resolution, you are my witness!)
So let's finally get to the homemade Bircher Muesli… I suspect that you guys have heard of muesli in the past. We spell it as Müsli in German. Basically a muesli is a dry mixture of oats, cornflakes, raisin, nuts and so on. It's a typical central European thing! A homemade Bircher muesli is very swiss and it includes different ingredients and its preparation differs as well. My mum would soak the oats in milk the previous night and the next morning she would add the grated apple, lemon juice, yogurt, honey, raisins, fruits etc. Because it soaks overnight you save time the next day in completing your breakfast. It's the perfect healthy breakfast if you are not a morning person!
Homemade Bircher Muesli
Homemade bircher muesli is a nutritious and delicious breakfast idea. You will love it if you are not a morning person!
Ingredients
80 grams Oats (rolled flakes, the regular one)
180 milliliter milk
4-6 Tablespoons Honey
Juice of ½ lemon
100 grams grated apple or ½ of a bigger apple
½ Teaspoon Cinnamon Powder
80 milliliter plain yogurt
a few raisins (optional)
a few almonds
fresh fruits (berries or chikoo or banana,...)
Instructions
The night before, place the oats and milk together in a container. Mix the content and place into the fridge.
The next morning add the honey, lemon juice, grated apple, cinnamon powder, yogurt, raisins and almonds. Mix the whole content well.
Choose some fruits, rinse and cut into pieces. Place on top of your muesli. I usually use whatever fruits we have at home but I noticed that strawberries and chikoos are a great addition. Also peach bites turn the bircher muesli into a special breakfast.
Best enjoyed cooled.
What's your favorite healthy breakfast dish?
More breakfast ideas at Masala Herb…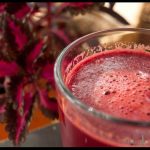 We frequently enjoy a  layer of homemade fruit jam on our bread for breakfast in Europe. Find all the Masala Herb fruit jam recipes underneath.
---
You might like...
The following two tabs change content below.
I am Helene, and created Masala Herb to share my food and travel journey with the whole world. You will find Asian and Western dishes here, as well as unique travel guides to inspire your day. Don't miss a post! Subscribe to the free newsletter!
Latest posts by Helene Dsouza (see all)
This post may contain affiliate links, and I receive a small commission when you click through and purchase. It basically buys me my daily coffee and cheese, and yes, my flour so that I can make pizza for dinner!