I believe the world has been under estimating and misunderstanding India. How did I come to this conclusion you ask? When I traveled the Indian subcontinent for the first time, I was surprised that what I had learned in my school about time this country and what people had told me was partially true or completely false. India has been coined as a very poor and dirty country, when in fact I frequently discovered the exact opposite of that. To explain such a very complex country would take me an eternity and I am well aware that I would need to reincarnate countless times to get it's contradicting nature. India is definitely a colorful country and people do care about the environment. Imagine the environmental damage if people in India would actually buy toilet paper! It's also very chaotic due to the population and different cultural influences but then imagine your country with a 10 times bigger population and the same problems would arise, if not worse.
India is also very health conscious. Food is still prepared from scratch by millions of individuals every single day. I am not going to go into the Vegetarian and Vegan aspect since I am not a Vegetarian but Indian folks do know their food and especially their spices. Also remember: This country created Yoga and Meditation and this proofs again that wellness is highly regarded. When visiting tourist destinations, you will always come across some kind of yoga this, ayurvedic that and a bunch of places preparing freshly made juices, lassies and fruit bowls. Often you will also come across some special body cleansing treatments and from what I have heard, placebo or not, those treatments have helped a few people in their lives.
-> Get the free Masala Herb Newsletter
Now, imagine sitting somewhere near the river Ganga in the Himalayan and taking in the different aromas around you. You are absorbing the fragrant smoke of burning incense sticks (not just one but 10 at a time!) and the aroma of various nose tickling spices. Some pets are giving you company including some bold monkeys. The air is crystal clear and the sun is warming your cheeks and what better way to start the day then with a freshly made Carrot apple ginger juice? Besides the monkey's have no value for juices so they won't try to entertain and rob your goodies.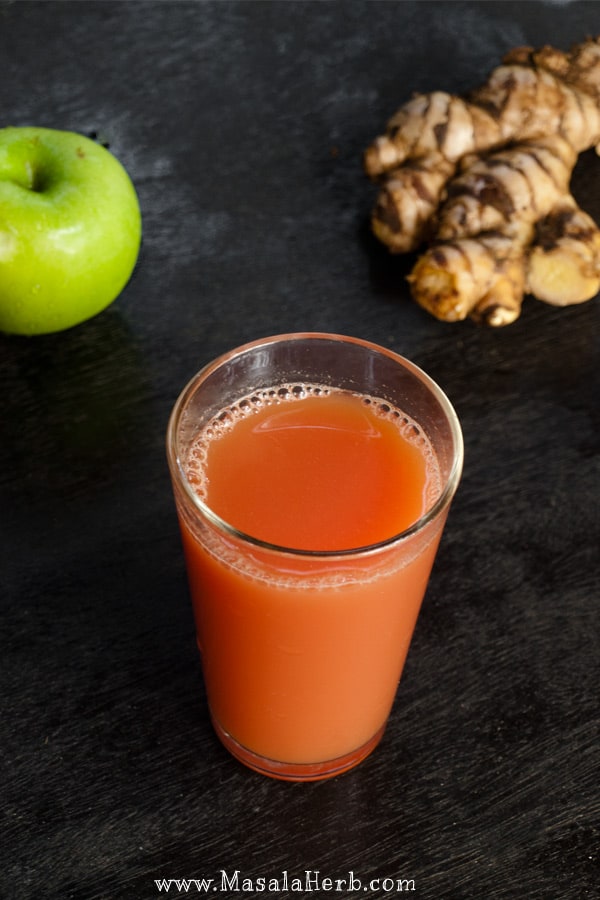 Another heart warming scene could be in the morning at the beach in Goa. The sea breeze clearing your head, your trials and tribulations. The sun rays activating your inner happiness. You can't remember what time felt like because it seems as if it stood still, forever and ever. You made friends with lone travelers such as yourself and each has a story to share and to learn from. You enjoy the moment and you automatically turn into a healthier being with the carrot apple ginger juice helping you to find the flow in your life. But be aware, a cow might visit your spot on the beach and politely ask for the juice.
But it could also be that you get up in the morning, ready to attack a busy working day and the first thing you do is to make this carrot apple ginger juice in less then 10 minutes. Drink and feel energized because you already have done something good today for your body and soul. By the way, my reality is the latter one, although I am in Goa, I am not on holiday but I do feel inspired by the people visiting us here every year. A refreshing Juice in the morning, which is a completely normal thing here, is a delight for the taste-buds and gives you energy to master the day in peace.
It's fairly easy to prepare this carrot apple ginger juice as long as you have a juicer at home. By the way a juicer might seem like another unnecessary and unimportant appliance at home, but I can tell you, I am so happy to have one! Also, I use very juicy carrots, which are in season in Goa right now. They have a fairly darker orange shade and you would always recognize them first by their large size. Try to use these juicing carrots to create this health elixir. Apple clearly lends the carrot apple ginger juice a soft, sweet, pleasant flavor and the tiny piece of ginger  root gives it another flavor dimension besides having exceptional health benefits.
Carrot Apple Ginger Juice
Recipe type:
Beverage, Breakfast
Ingredients
4 Carrot (500 gram)
3 medium Apple
1 inch fresh Ginger root
sugar/honey optional
Instructions
Rinse the carrot, apple and remove all the dirt form the ginger root. Peel the carrot, apple and ginger (you don't have to peel the apple if it wasn't treated with insecticides).
Cut and discard the end of the carrots, Half, quarter and cut out the apple core.
Cut the carrot and apple into small chunks. Press through the juicer kitchen appliance and the ginger too.
You can add sugar to the juice if you wish (or maybe honey?), I usually don't do that but I add maybe 100 milliliter water to stretch the juice out.
Best enjoyed cooled.
 Have you ever made your own juice at home? If yes what has been your experience?
---
You might like...
The following two tabs change content below.
I am Helene, the author behind Masala Herb! My aim is to show you an incredible world full of surprises. Food, Culture and Travel are my forte and that's what I enjoy. Follow my Food and Travel adventures and learn some incredible things! Now in the beautifull Indian coastline state, Goa.
Latest posts by Helene Dsouza (see all)