When you visit Goa, the unique tropical Indian coastline state, you will definitely take a round and visit different restaurants. The choice of restaurants is gigantic here during the tourist season, which by the way is happening between November and April every single year. You can dine Indian, Italian, French, Chinese, Greek, German, Vegan, Pescetarian you name it! Of course not all restaurants are perfect or otherwise I would be dining out every single day and introduce you to some cool eateries but that's another story for another day. Amongst all the International eating joints, one cuisine seems to be forgotten. Nepali and Tibetan food should be high up there with the others because their food is some of the healthiest out there and of course I am a fan of the food flavors. At least while having scanned through several restaurant and beach shak menus I noticed that one Nepali and Tibetan dish always shows up, the famous Momos!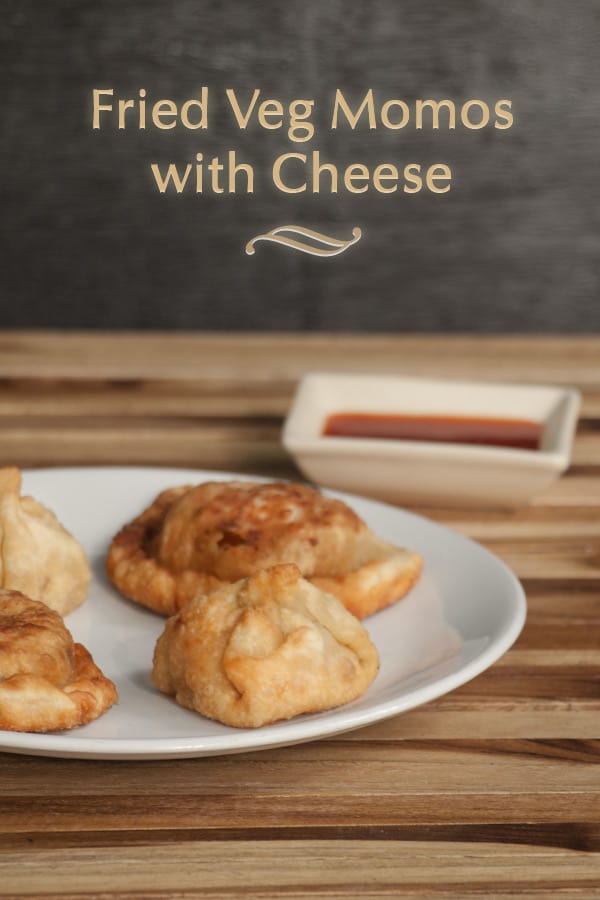 Momos are basically flour dumplings stuffed with vegetables or non veg fillings. From what I understand, the traditional momos are steamed and commonly served in or with a clear soup. The popular version here are crispy fried momos frequently even stuffed with chicken or beef. Of course very nontraditional but very delicious! My husband loves the fried Veg momos with cheese but I have to confess I prefer the steamed version with veg and cheese. The momo filling is rarely spicy and therefore I always suggest food struggling Indian visitors to check out momos first. Momos are a great way to get into Asian food and believe me you won't be disappointed!
Today's #Sundaysupper theme is crunch goodness, so I thought I would share the fried version today and the steamed momo recipes with different fillings another time. Better to break it down so that you get to make them easily at home. There are 2 main sealing versions here that I learned and I would like to share this knowledge with you. The "bun" version, or how I call it, is actually more suitable for the steaming process but if you have a deep frying pan ready then this momo form will work as well. The crescent shaped momos are more suitable for frying since they can be easily turned without that the wonderfully crafted shape gets smashed. I leave the choice up to you!
Fried Veg Momos with Cheese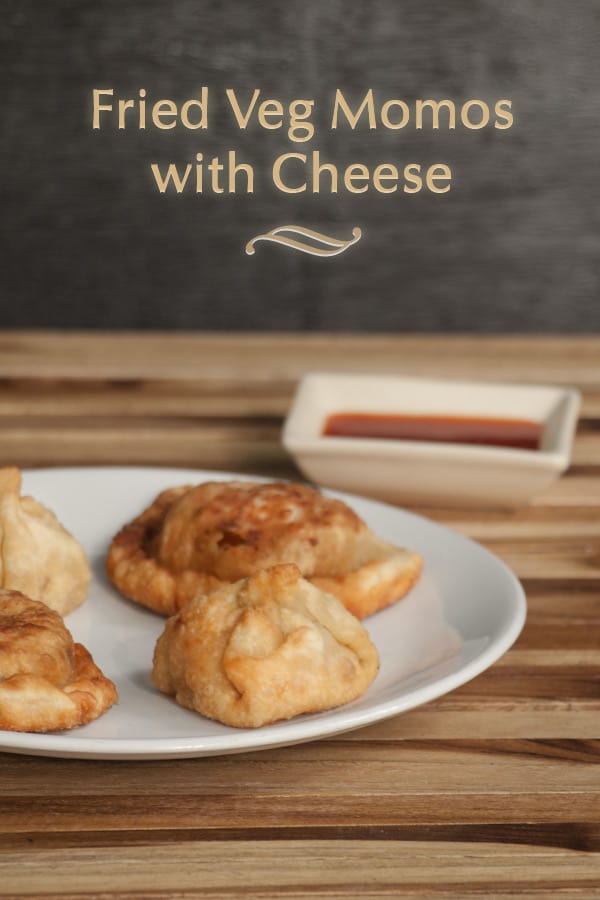 Recipe type:
Snack, Main Veg
Homemade flavorful fried momos stuffed with vegetables and cheese.
Ingredients
For the dough:
200 grams All purpose flour (Maida)
pinch Salt
120 milliliter Water
For the stuffing:
60 grams Carrot
200 grams Cabbage
1 Onion
1 Tablespoon Ginger Garlic Paste
pinch Salt
pinch Pepper
pinch Ajinomoto (optional)
80 grams grated Cheese (mild Cheddar, Raclette type)
1 Tablespoon Coriander chopped
1 Tablespoon Vinegar
4 Tablespoons Water
For the frying:
Instructions
For the dough, mix the flour and salt first. Make a well in the center and add the water. Mix the whole content and work the dough out for a short time until smooth. Keep aside covered with a cloth for 20 minutes to rest.
In the mean time, grate your carrot and cabbage thin. Chop your onion small. Heat up a pan and add 1 Tablespoon Oil and fry the onion first translucent, then add the grated carrot and cabbage and stir fry frequently while adding in the ginger garlic paste, salt, pepper, ajinomoto, coriander, vinegar and water. Stir fry until the vegetables are all soft and cooked and until the mixture is more dry. Keep aside to let cool a bit.
In a mixing bowl add the grated cheese and the previously fried vegetable mixture. Combine the whole content well and keep aside.
Grab your dough and work it out again shortly with some extra flour so that it doesn't stick on.
Form into a big fat sausage and cut same sized pieces. Roll those in turn into smooth balls. Flatten and continue to roll them out into thin roundish circles.
If you want to make crescent shaped momos then place some of the filling (about 1½ Tablespoon full) onto one side more towards the center of the rolled out flat dough. Fold over one side, wet the ending with a drop of water and twist in edges as shown. Do that with the remaining dough or…
shape the dumplings into buns by placing some of the filling (again about 1½ Tablespoons of the filling) into the center. Wet the egde and fold in 3 sides to the center and hold and fold in the new 3 corners to the center. Press and twist it at the center together so that it is properly sealed. Do that with the remaining dough or choose the crescent version.
Heat up a pan or deep frying pan (I used a simple pan because I wanted to save oil but I suggest that you use a deep frying pan or the Western style home deep frying machines) and wait for the oil to get hot. The oil should never smoke, that's very unhealthy and dangerous too!
To test if the oil is hot enough just take a piece of dough and drop it in. If it bubbles, it's a good sign and you can go ahead and drop a batch of the momos.
Fry the momos for a few minutes first on one side until golden and then turn and fry on the other side until golden. Take out from the oil and drain excess oil on a paper towel.
Serve hot with a spicy tomato sauce!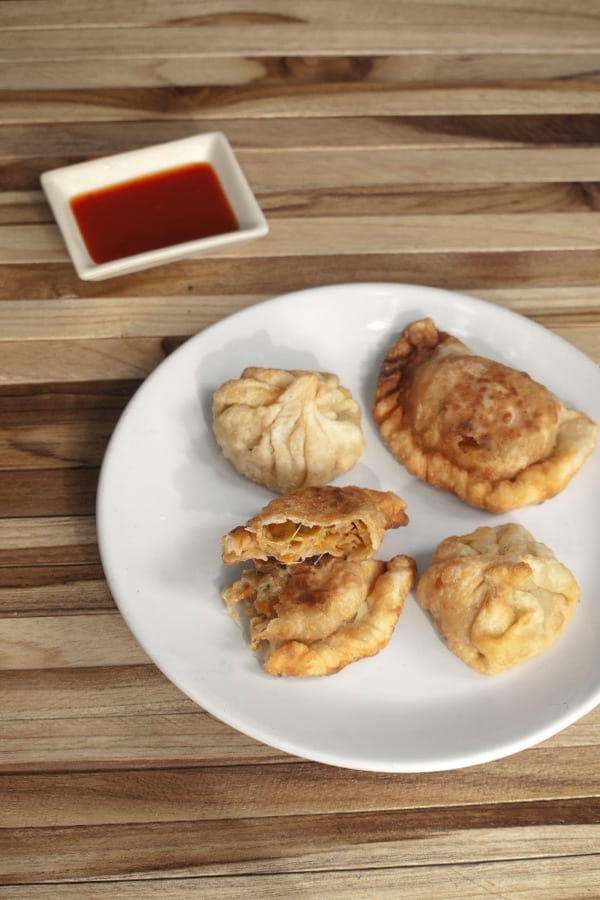 #Sundaysupper Crunch Goodness Recipes!
Crispy Appetizers:
Bitterballen
from The Urban Mrs.
Caprese Wontons
from Jane's Adventure in Dinner
Crispy Broccoli Cheddar Bites
from Curious Cuisiniere
Waldorf Salad
from Noshing With The Nolands  
Crunchy Entrees and Sides:
Crunchy Baked Chicken with Homemade Shake and Bake
from Growing Up Gabel
Crunchy Crusted Chicken Strips with Chipotle Honey Mustard
from A Kitchen Hoor's Adventure
Flautas de Rajas con Queso (Cheesy Poblano Pepper Taquitos)
from La Cocina de Leslie
Penny's Taco Salad
from Webicurean
Popcorn Chowder
from The ROXX Box
Rosemary Garlic Croutons on layered Savoy Cabbage Soup
from The Not So Cheesy Kitchen
Strawberry and Mozzarella Flatbread
from Family Foodie  
Munch on Snacks:
Crunchy & Chewy Chocolate Hazelnut Granola
from Cupcakes & Kale Chips
Crunchy Granola Bars (Better than Nature Valley)
from Shockingly Delicious
Crunchy Pumpkin Pie Spice Roasted Chickpeas
from Daily Dish Recipes
Duck Fat Chex Mix
from The Texan New Yorker
Easy Vegan Granola
from Killer Bunnies, Inc
Fried Veg Momos with Cheese Recipe
from Masala Herb
How to Make Homemade Sweet and Salty Trail Mix
from Neighborfood
Orange Spiced Cashews
from Hip Foodie Mom
Peanut and Pretzel Popcorn Balls
from Peanut Butter and Peppers
Roasted Pumpkin Seeds
from Hezzi-D's Cooks and Books
Slow Cooker Bar-B-Q Party Mix
from Hot Mamma's Kitchen Chaos
Sourdough Grissini
from girlichef
Spicy Lentil Crackers
from Cindy's Recipes and Writings
Sweet and Spicy Roasted Pepitas
from Alida's Kitchen
Sweet Potato Chips
from Kudos Kitchen By Renee
Unbaked Healthy Oatmeal Sesame Bars
from My Trials In The Kitchen
Vanilla Almonds
from That Skinny Chick Can Bake  
Crisp Dessert:
Boo Berry Cereal Treats
from Pies and Plots
Choco-Caramel Squares
from Basic N Delicious
Chocolate Covered Potato Chip Rice Krispie Treats
from The Girl In The Little Red Kitchen
Chocolate Pecan Biscotti
from The Food Army Wife
Cookie Brittle
from Juanita's Cocina
Double Banana Pie Krispie Treats
from What Smells So Good?
Honeycomb Crunch Candy
from Food Lust People Love
Momofuku Chocolate Chip Cornflakes Cookies
from Ninja Baking
Nutty Wedges with Brown Sugar Whipped Cream
from Magnolia Days
Salted Caramel Cashew Cookies
from Mess Makes Food      
Join the #SundaySupper conversation on twitter on Sunday!
We tweet throughout the day and share recipes from all over the world. Our weekly chat starts at 7:00 pm EST. Follow the #SundaySupper hashtag and remember to include it in your tweets to join in the chat. Check out our 
#SundaySupper Pinterest board
 for more fabulous recipes and food photos.  
Would you like to join the Sunday Supper Movement?
It's easy. You can sign up by clicking here ? 
Sunday Supper Movement
.
You might like...
The following two tabs change content below.
I am Helene, the author behind Masala Herb! My aim is to show you an incredible world full of surprises. Food, Culture and Travel are my forte and that's what I enjoy. Follow my Food and Travel adventures and learn some incredible things! Now in the beautifull Indian coastline state, Goa.
Latest posts by Helene Dsouza (see all)