Creamy cheesy spinach stuffed chicken baked in a casserole dish in the oven.
Cream cheese and spinach stuffed chicken breast in a creamy flavorful sauce baked in the oven.
This quick and easy healthier low carb dish will please your family!
Jump to:
How to prepare this dish?
We love to prepare dish stuffed chicken dinner meal because it's easy to prepare, and creamy cheese and spinach is a delicious combination.
Here is an overview how it's prepared from scratch.
The full recipe is located at the bottom of this post with detailed instructions.
Step 1
Cut "pockets" into your boneless chicken breasts.
Cook fresh spinach briefly or use frozen spinach. Chop spinach small.
Combine all the stuffing ingredients in a bowl.
Step 2
Arrange chicken in baking dish and sprinkle salt and black pepper over chicken.
Stuff Chicken breasts with filling.
Step 3
Pour cream into the dish and drizzle oil over chicken.
Bake Chicken first covered and at last uncovered.
Serve hot with a side dish of your choice.
Ingredient options
If you don't have cream cheese you can use greek yogurt or ricotta too.
You can choose your cheese, which you want to use along with the cream cheese.
I like to use grated Gruyere, mozzarella or cheddar cheese.
But you can also use a blue cheese such as gorgonzola, goat cheese such as feta, and even gouda cheese.
Spinach is a leafy green, that means technically you can substitute spinach with any other leafy greens such as kale, collard, turnip greens, mustard greens, and similar vegetables.
However, I believe that nothing beats the combination of cream cheese and spinach!
If you want to use another leafy green, don't forget to blanch it first. Blanching means to cook briefly in water to soften and retain nutrients.
Serving ideas
Serve this stuffed chicken with any of the following sides:
cooked rice - plain or aromatic rice
mash potato
cooked pasta or spätzle
roasted vegetables - brussels sprouts, carrots, potatoes, broccoli, cauliflower, green beans. Take your pick.
plain simple salads such as a green leaf salad, beet salad, carrot salad, or your favorite salad.
Storing
Leftovers
You can store the leftover in an airtight container in your fridge for up to two days.
To warm it up again, place into a pan or your oven for a few minutes over medium to slow heat until it's warmed up.
For the microwave, place into a microwave save dish and heat up over a medium heat setting for a few minutes or until hot.
To freeze
You can also freeze this dish. To do so, stuff your chicken as per instructions but skip the sauce.
Place the stuffed chicken pieces into freezer-friendly containers surrounded by parchment paper (so that you can take them out easily without them sticking to each other when frozen) and freeze.
When you want to use them, place in the fridge overnight to defrost OR if use frozen by placing into a casserole dish with the sauce prepped and poured in.
Cook in the oven with extra time in mind to defrost and cook through.
You can add about 20 minutes to the cooking time if you are cooking non-thawed and still frozen chicken breasts in the oven.
Please feel free to share your thoughts and ideas with us in the comment section further below!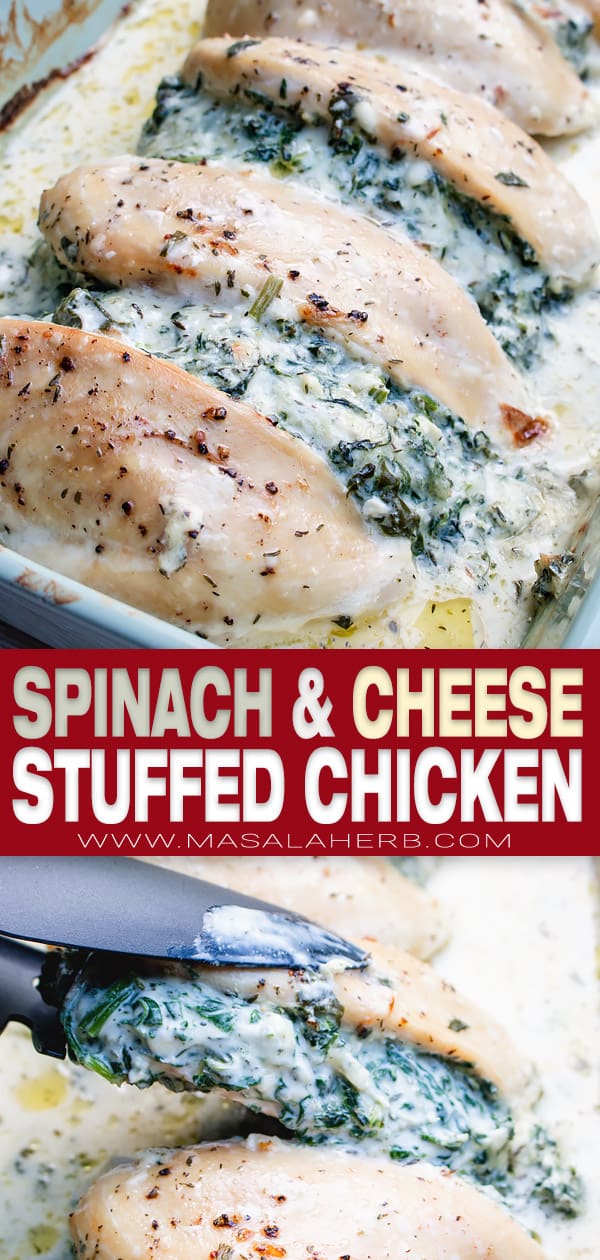 So you love SPICES and HERBS?
GET 5 FREE SEASONING LESSONS
Type in your email address below.
Including free access to the
Seasoning Members only Club!
📖 Recipe
Cream Cheese Spinach Stuffed Chicken Breast Recipe
Creamy cheesy spinach stuffed chicken baked in a casserole dish in the oven.
Print
Pin
Rate
Servings:
5
stuffed chicken
Ingredients
Instructions
Cut "pockets into your chicken breasts with a sharp knife. (see video or process shots) Keep aside.
For the Filling:
If you use fresh spinach: Prep your fresh spinach. Rinse and pick out withered leaves. Keep a small pot with water to boil and place spinach leaves in to blanch (aka cook briefly) for 3 minutes. Take out from the water and place into a prepared bowl with ice water.

If you use frozen spinach, just thaw it and remove excess waters.

Combine filling ingredients in a bowl, the cream cheese, chopped garlic, chopped spinach, grated cheese of your choice, salt, black pepper, and thyme.
For the Chicken in the Dish:
Preheat oven to 400° Fahrenheit/ 200° Celsius.

Place boneless chicken breasts into your casserole dish next to each other. Sprinkle salt and black pepper over your chicken breasts.

Stuff each chicken "pocket" with the cream cheese spinach stuffing until nothing is left.
For the Sauce:
Pour cream into the sides of the casserole dish.

Sprinkle olive oil over chicken.
To Bake:
Cover chicken dish with aluminum foil and bake for 25 minutes at 400° Fahrenheit/ 200° Celsius.

Take your dish out of the oven halfway through the cooking process and remove the aluminum foil.

Bake the dish uncovered for another 20 - 25 minutes approximately and increase the temperature to 430° Fahrenheit/ 220° Celsius or bake until the chicken is cooked through but juicy moist.

Serve up hot with a side of your choice.
Notes
Use fresh or frozen spinach. I prefer fresh baby spinach or regular spinach leaves if possible vs frozen spinach. If I'm late, I will use frozen thawed spinach too.
Pick a cheese of your choice. I like to use grated mozzarella or gruyere cheese.
You can use light or heavy cream, whichever you prefer. Light cream is called table cream too. If you have half and half in your fridge, you can use that too but it has fewer fats and the sauce will turn out more watery.
Equipment
Small Pot

13" Rectangular Baking Dish
Nutrition
Nutrition Facts
Cream Cheese Spinach Stuffed Chicken Breast Recipe
Amount Per Serving
Calories 326
Calories from Fat 261
% Daily Value*
Fat 29g45%
Cholesterol 88mg29%
Sodium 931mg39%
Potassium 383mg11%
Carbohydrates 6g2%
Protein 12g24%
Vitamin A 5832IU117%
Vitamin C 17mg21%
Calcium 329mg33%
Iron 2mg11%
* Percent Daily Values are based on a 2000 calorie diet.