How about a creamy spicy avocado spread on some crunchy crostini bites? Quick and healthy, the avocado crostini appetizer will make you want more. Enjoy the crostinis this summer either alone or with a good company of family and friends.
Get the ingredients and details further below: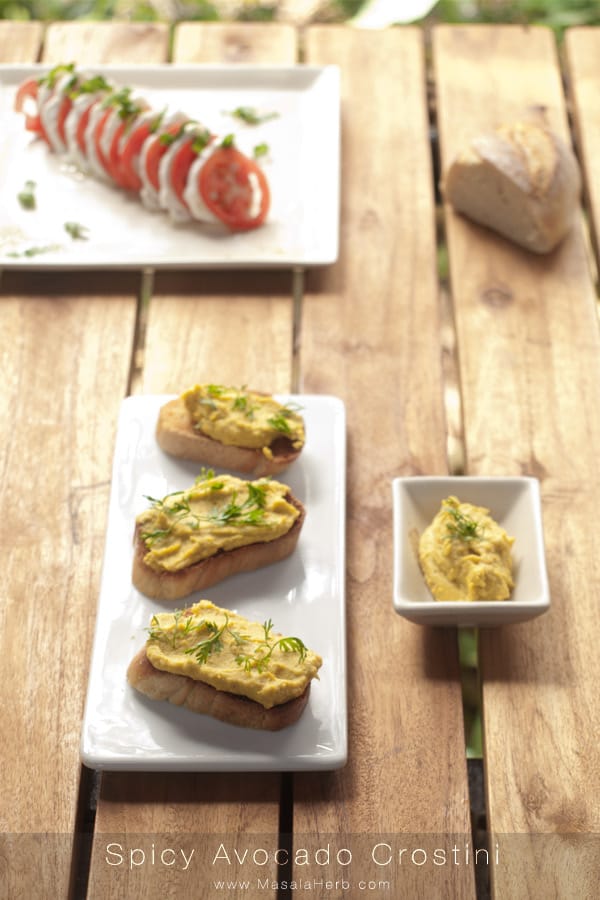 Have I told you that we have been
growing two avocado trees
 in
our garden
? They were about our height when we acquired these precious trees, together with the olive and
breadfruit tree
, and they have been growing considerably well in the past 2-3 years.
We can't wait to discover what the fruits will be like. You see, it's hard to know which avocado type this tree could be when we are not avocado experts ourselves and also information and botanical names are rarely provided by the plant wholesaler.
A while back I came around this post from food republic, showing a few of the commonly available avocado versions.
Did you know that there are different Avocado variations?
Apparently there should be way more Avocado varieties, especially because of the advances in the field of GMO but we should also keep in mind that this fruit has been a favorite of ancient South American cultures and different avocado varieties must have been common back then already!
If you check out the food republic post about avocado varieties, you will see that each avocado has its uses. Some Avocados are more oily and bigger in size and others drip fresh juice when cut open.
-> Get the free Masala Herb Newsletter
The most common avocado variety worldwide and also in Goa, so far at least, has been the Hass Avocado. I think, they should rename it, because hass means hate in German and such a pretty fruit deserves a better name.
Back in Europe I remember coming across smaller, drop shaped avocados with a thin and sometimes glossy skin. My mum would pick the right ones in the store since she is a better avocado expert.
In fact I haven't always been an Avocado fan. I fell for it when my mum dropped some vinaigrette in an avocado half. Sour flavors somehow go well with certain avocados.
In Goa, my husband had to convince me first that his best selling milk shake was the avocado milkshake. I understood why when I had my first sip!
Then of course I opened my heart and experimented with  the avocado fruit in my cooking. Guacamole, salads, you name it! Today I am sharing one of these avocado recipes, a spicy avocado crostini.
Crostini are small Italian breads that are grilled crunchy first with a drizzle of olive oil and then you can either add traditional Italian toppings or something more fancy such as this avocado spread.
The spicy avocado crostini recipe is completely vegan, nut-free, gluten-free and laktose-free. When you make the avocado crostini, remember to cover the spooned out avocado with fresh lime juice or it will turn quickly brown. Also feel free to adjust the amount of added chili powder, you can add more if you like it hot.
Spicy Avocado Crostini Bites below:
Spicy Avocado Crostini Bites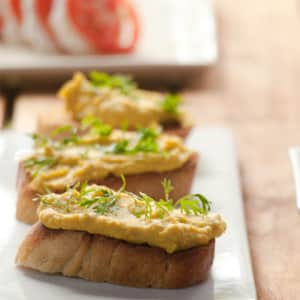 Healthy, vegan tantalizing spicy avocado crostini. Surprise your guests and loved ones with this easy appetizer!
Ingredients
1 big ripe and soft Avocado
Juice of one small lime
pinch of salt
pinch of pepper
½ Teaspoon red Chili powder or use more according to your spice requirements
3 Tablespoons + 1 Tablespoon Olive Oil
1 big Garlic pod
French baguette or Italian ciabatta style soft bread
Instructions
Cut your avocado in half, discard the seed core and spoon all the fruit flesh into a mixer jar. Quickly add lime juice before the avocado turns brown.
Add seasoning: Salt, pepper and chili powder. Continue to add 3 Tablespoons of olive oil and 1 garlic pod. Blend the whole content to a smooth paste without any chunks.
Cut your bread into slices, drizzle the remaining 1 tablespoon Olive Oil equally on the top side of the bread. Place under griller for about 10 minutes or until the bread is toasted brown.
Spread the spicy avocado on top of each grilled bread and garnish with coriander.
 More Appetizer ideas:
Savory Madeleine with spicy Goan Sausage
Mini Goan Sausage Pizza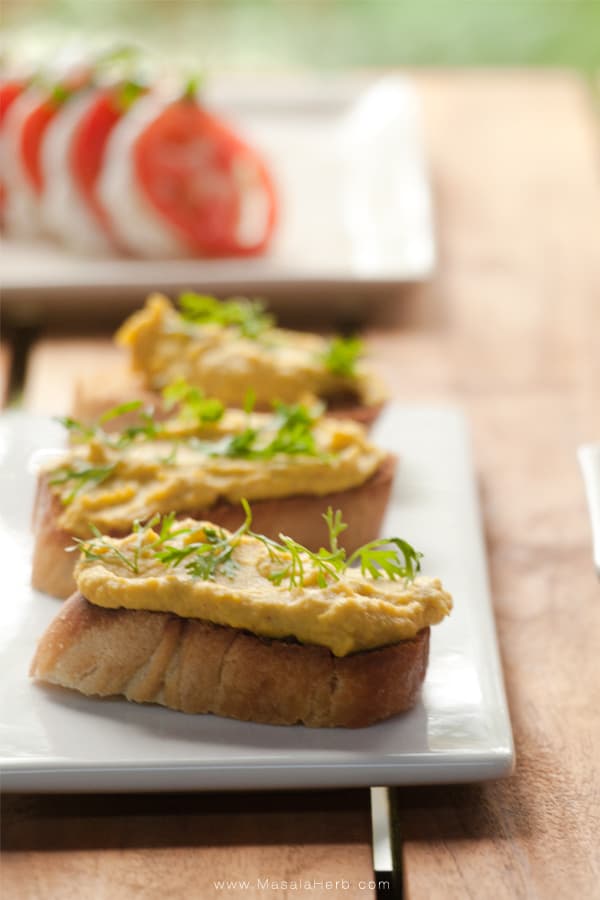 Dear reader, what's your favorite Avocado type?
Get FREE Recipes via Email:
Don't miss a recipe, Subscribe to the Masala Herb Newsletter!
The following two tabs change content below.
I am Helene, and created Masala Herb to share my food and travel journey with the whole world. You will find Asian and Western dishes here, as well as unique travel guides to inspire your day. Don't miss a post! Subscribe to the free newsletter!
Latest posts by Helene Dsouza (see all)