Homemade traditional french ratatouille stew. Vegan, low calorie and healthy dinner meal.
Ratatouille is a French vegetable stew prepared with zucchini, eggplant and tomatoes.
This my families french recipe prepared in one pot.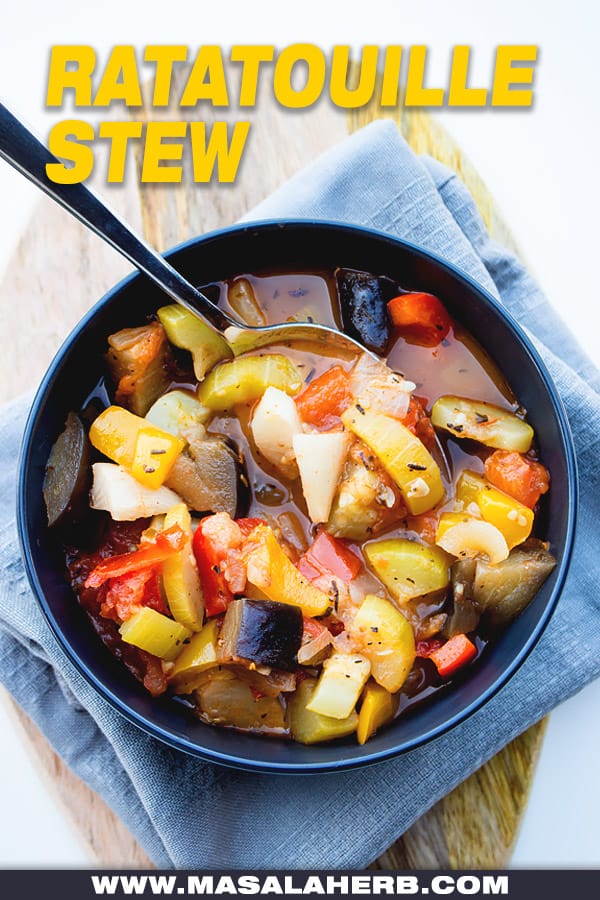 Global Food Recipes
with Spices and Herbs
Free E-Book available for a limited time. Grab yours now and get instantly inspired!
Jump to:
📕 What is ratatouille?
Ratatouille is a traditional coarse vegetable stew from the Provence in south France.
It's commonly prepared during the zucchini and eggplant harvest season in the summer.
The stew is a staple in most French homes all over the country and variations may exist.
Most people prepare this vegan dinner meal in one pot because it's easier that way.
However, the original recipe recommends to sautee each vegetable, one at a time, before everything is combined at the end in a pot.
The Disney movie Ratatouille introduced the dish to the rest of the world by roasting it in the oven. However, this is not commonplace in France.
In my opinion, a ratatouille tastes so great because the ingredients get to stew all together with fresh herbs in olive oil in one pot. That's where the magic happens!
It's also a poor men's food a so-called peasants dish. And believe me, a really good one on top of that!
🔪 How to make it?
There is nothing easier then making ratatouille at home.
This is a great dish for you if you are learning to cook, or if you want a foolproof delicious healthier dinner meal.
The fact that it is vegan is just a small accidental plus point.
I have broken down 3 basic steps on how to make this dish from scratch. The ingredients and step details are located at the bottom of this recipe.
Step 1
Prepare your fresh vegetables. Rinse, peel, cut into chunks.
Step 2
Saute onion, garlic and vegetables.
Season and pour in stock.
Step 3
Cook ratatouille until vegetables or soft or for as long as needed or until you are satisfied with the consistency.
🧅 What ingredients can you add to a ratatouille?
A ratatouille always includes an onion, olive oil and garlic.
The 3 main vegetables in a ratatouille are zucchinis, tomatoes and eggplants.
You need to have at least these 6 ingredients to call it a ratatouille.
You can also add the following ingredients to your stew:
bell Peppers - green, yellow or red
other Squash varieties such as yellow or butternut squash
turnips
olives
potatoes
lard or sausages (non vegan) - adds a lot of flavors
We always add bell peppers but usually yellow ones to add colors to the dish.
We also love the addition of turnips. It's common in North France but not in South France.
We don't add olives to our recipe but my aunty from south France always adds black olives to her ratatouille.
Seasoning
Salt and black pepper are a must in your ratatouille but not the only ingredients that make this dish so amazing!
We have already established that garlic is a must in this provencal stew!
Add a bay leave or two for a classic soup-like touch. The flavors will work well together.
Herb de Provence is your secret ingredient (if you want to call it that way). It's a blend of dried herbs, which also includes thyme, rosemary and oregano.
For more flavor complexity add the following in small quantities:
a few basil leaves fresh
marjoram or oregano
loveage (my secret tip!) aka maggie herb, a few leaves fresh or dried
allspice (3-5 pieces)
juniper berries (about 3)
thyme fresh
🥣 Serving Suggestions
We enjoy ratatouille as a main dish.
I love a homemade ratatouille stew served hot with cooked plain rice or with aromatic clove rice.
The Mediterranean vegetable stew combines also really well with North African couscous, Italian polenta or southern grits.
It's also lovely with a crunchy crusty bread, such as a baguette.
Or garlic butter bread! YUM!
You can choose to serve up your ratatouille with cooked fish or meat as a side dish too.
You can also choose to serve your ratatouille cold. This is especially popular during hot summer days.
🍱 Storing
Ratatouille leftovers can be easily stored in a container for another day.
Keep it in the fridge for a few days and warm it up again or serve it cold.
Store it in the freezer in batches for a later date. You can keep it for up to 2-3 months in your freezer.
To defrost your ratatouille, just place it in a pot and warm it up again. Stir occasionally so nothing burns on.
You can reheat the vegetable stew in a microwave in a microwave save dish.
💭 FAQs
Do I have to peel my eggplant?
This depends on your preferences and if the eggplant is large or small. Small eggplants have a thinner skin and the larger they get the tougher the skin may appear. I leave it up to you if you want to peel it or not, I don't because I'm lazy and I like it that way.
Do I have to peel my zucchini?
You can choose to peel your zucchini, it's not a must. I peel it because I like it that way better in my stew.
How to thicken my ratatouille?
Cook down your ratatouille over slow heat until you are satisfied with the consistency. You can choose to add some tomato paste to thicken it up further.
How to substitute Herb de Provence seasoning?
Combine almost equal amounts of dried thyme, rosemary, savory and oregano. Add to that a little bit dried basil and that can substitute herbs de provence. If you don't have culinary savory herb, use more thyme and rosemary instead.
👁️ More Eggplant Recipes
Global Food Recipes
with Spices and Herbs
Free E-Book available for a limited time. Grab yours now and get instantly inspired!
📖 Recipe
Ratatouille Stew Recipe
Homemade traditional french ratatouille stew. Vegan, low calorie and healthy dinner meal.
Print
Pin
Rate
Instructions
Prepare all your vegetables by rinsing them first. You can choose to peel your eggplant, zucchini and tomatoes. Cut the vegetables into chunks, slice onion and chop garlic.

If you are adding some frozen veggies, keep them out and ready.

Heat up a pan with the oil and saute onion slices and chopped garlic until soft.

Add all the vegetable chunks, fresha nd frozen, to the pot.

Season with herb de provence, salt, black pepper and bay leaves.

Keep over medium to high heat and stir. Cook for 1-2 minutes.

Pour stock over the veggies and combine.

Cook for 2 minutes on high heat. Cover the pot and take down to a medium heat setting. Bring to a boil, remove the lid and stir again.

Cover again the pot and keep the ratatouille on a lower heat setting so that it gets to simmer slowly for about 50 minutes or until you are satisfied with the consistency. It should be cooked through but visibly a bit chunky.

Take out bay leaves before you intend to serve the dish. Just stir through before serving time.

Serve with rice as a main course dish, or as a side dish. You can eat it hot or cold. *see post for ideas
Notes
I like to add 1 turnip to my ratatouille. In the video, it's the frozen vegetable.  You can add another veggie instead. I talk about options in the post. You can also just skip the turnip all together or add little more tomatoes or zucchini or eggplant instead.
You can use frozen vegetables too. Fresh taste better and are more nutritious.
Pick a vegetable broth if you are going all vegan. 
In the post, I talk about adding lard for a nonveg ratatouille. Lard adds flavor and proteins to the dish. A sausage such as Kielbasa does the same thing.
If you want a thicker Ratatouille consistency, I recommend that you add 2-3 tablespoon tomato sauce.
For more seasoning options see in the post. You can add even more flavors if you like with herbs and spices!
Nutrition
Nutrition Facts
Ratatouille Stew Recipe
Amount Per Serving
Calories 155
Calories from Fat 72
% Daily Value*
Fat 8g12%
Sodium 329mg14%
Potassium 733mg21%
Carbohydrates 20g7%
Protein 4g8%
Vitamin A 2299IU46%
Vitamin C 104mg126%
Calcium 85mg9%
Iron 3mg17%
* Percent Daily Values are based on a 2000 calorie diet.