Some years back when our restaurant used to be open in the monsoon, we had one young couple which would come everyday and they would sit there for hours talking with each other.
They were Russians and they didn't know much English.
The first time they sat in our place they got attracted by the word "sausage" in the choriz sausage bread and so ordered it.
The next thing I remember was me bringing the stuffed bread and watching the girl take the first bite and ouch..!
Her face was deep red and she was looking totally shocked!
It was her first time and her boyfriend had thought it to be funny by not informing her of the spiciness.
He was having a blast, couldn't stop laughing at all!
Goan Choriz sausage, also known as chouriço, is made of Pork meat, Vinegar, chili, ginger, garlic and other spice mixes.
It is very popular amongst the locals in Goa, India, especially amongst the Christian communities.
The deep red sausage balls are mostly known to be eaten in a simple Pao bread.
Its a quick delicious street food, I can eat it any time, its always satisfying!
The best choriz qualities are in my experience from South Goa and Old Goa, but I guess that's a taste story too.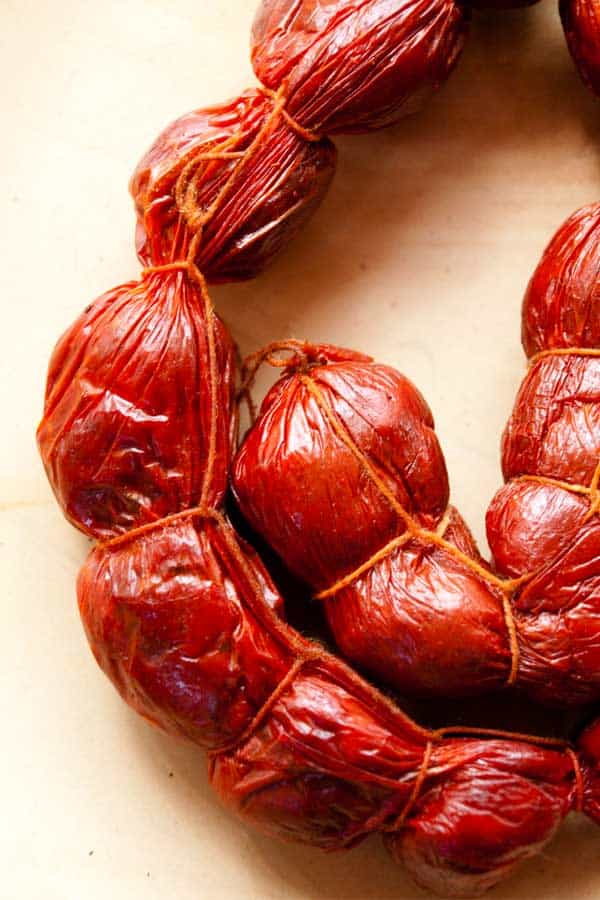 Global Food Recipes
with Spices and Herbs
Free E-Book available for a limited time. Grab yours now and get instantly inspired!
In general there are different types of spice grades of choriz in local markets.
Many of the local ladies make them at home for the market sale so each and every sausage ladies (that's how we call them) sausages taste differently.
Not only that some sausage qualities are wet and some are dried too, an other difference can be the amount of fats in each ball.
I personally prefer the leaner, dried middle spiced Goan sausage.
Everybody has got their preference! Usually the sausages are sold in balls, right now the rate for 1 ball is 5 INR in Goa (which is changing constantly), which I feel is ok for a middle class family here.
I remember seeing choriz once some years ago in France in a supermarket, so I guess it should be available in cities all over Europe, especially in the UK with all the Goan communities there.
I hope you ll be able to get those delicious spicy meat treats, because I did prepare a western dish with choriz sausage today.
My "Spaghetti carbonara with spicy Choriz" recipe is published in form of a guest post at Willyums today.
Head over to Wills blog for the recipe and don't feel shy to leave us a feedback or to share it with your friends!
Food love should be spread! right people? 😉
Today morning I had gone to the Friday Mapusa market, the place where I get all my groceries from (and the sausages).
I thought it was about time for a post about it here, actually I remember somebody asking me to post pictures on Masala Herb of a Goan market (may the one shout out please).
Some of my readers know what I am going to show here, its an experience in itself!
Indian markets are....eam.... there are no words for it.
Well you ll see it for yourself on Monday.
Exactly! Monday the 26th of March 2012, here at Masala Herbe!
A sneak peak photo for you all....
Global Food Recipes
with Spices and Herbs
Free E-Book available for a limited time. Grab yours now and get instantly inspired!