A simple but flavor packed gnocchi pomodoro recipe with extra sauce.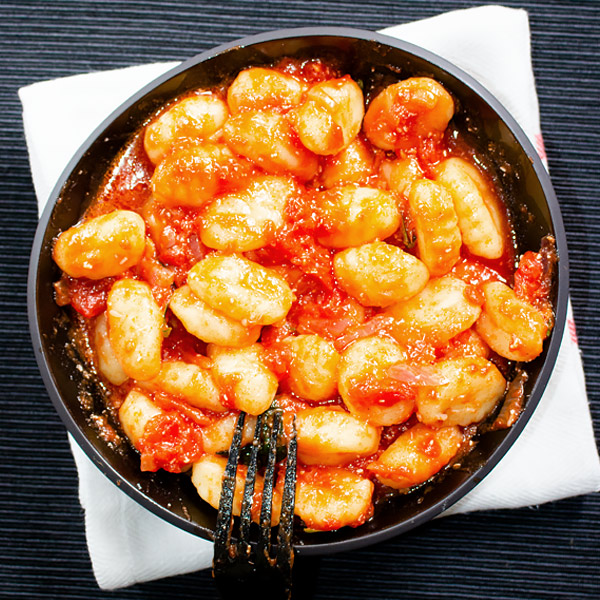 Gnocchi Pomodoro is a simple delicious Italian dinner meal prepared with tomatoes, olive oil, and basil.
This dish is for you if you like Italian pasta and tomato sauce.
Global Food Recipes
with Spices and Herbs
Free E-Book available for a limited time. Grab yours now and get instantly inspired!
Jump to:
📕 What are gnocchi?
Gnocchi are a pasta/ dumpling variation.
The most famous ones are the North Italian potato gnocchi.
Gnocchi can include eggs but may not. They are boiled in salt water until they swim on the surface.
📕 What's a pomodoro sauce?
Pomodoro is an Italian pasta and pizza sauce, a so called red sauce.
The word pomodoro is Italian and it simply means tomato.
It's the most basic version of a tomato sauce and it can be chunky or blended smooth.
This sauce doesn't take long to cook through.
Pomodoro includes always peeled tomatoes, olive oil, onion, basil and sugar (to balance out the acidity level). Garlic can be added.
In Italy, sauces ala pomodoro can be enhanced with meat, leek and other ingredients, which would be pointed out in the title (Food in Italy guide).
🍅 Ingredients
For this recipe you will need the following ingredients:
gnocchi - homemade or store-bought
olive oil - extra virgin preferably
onion - yellow, white, purple onion, or shallot.
garlic - fresh
peeled whole tomatoes - canned peeled tomatoes, home-canned or store-bought.
tomato sauce - plain regular tomato sauce, called passata in Italy.
salt and black pepper
sugar - regular sugar to balance acidity levels
basil - Italian basil variety, fresh
If you want to make this sauce spicy, you can add a dash of crushed red pepper to the sauce during the seasoning process.
Just FYI, at this point the sauce would be called an arrabbiata sauce.
Similar sauces that you can make are the classic bolognese and the al vodka tomato sauce.
🔪 How to make Gnocchi Pomodoro?
Gnocchi al pomodoro is a classic Italian dish. Here is an overview on how to make it from scratch.
The full recipe with US and metric measurements is located at the bottom of this post.
Step 1
Slice onion and chop garlic.
Cook your gnocchi as per packet instructions or follow my homemade potato gnocchi recipe.
Step 2
Saute onion and garlic in olive oil
Stir in whole peeled blanched tomatoes and tomato sauce.
Season sauce and cook a bit down for flavors to develop.
Step 3
Finish with fresh basil and take from heat.
Mix cooked gnocchi into sauce so that they are well covered with a lot of sauce.
Serve up hot.
🍴 Serving
I love my tomato gnocchi with a simple drizzle of olive oil, some more fresh basil and a sprinkle of parmesan cheese.
You can also serve up your gnocchi pomodoro with sliced fresh buffalo mozzarella or burrata.
To make it vegan simply skip all the cheese as toppings and garnish as is with just olive oil and/or basil.
This dish makes a great simple date night dinner meal for two!
🍱 Storing
Keep gnocchi coated sauce leftovers in an airtight container in your fridge for up to 3-4 days.
Reheat over the stove top in a skillet or in the microwave in a microwave safe container.
You can store leftovers of the sauce in an airtight container to freeze. That way the sauce can be stored and used another day.
I recommend making batched to thaw easier.
Keep the frozen container in the fridge to defrost overnight or simply place the frozen tomato sauce into a cooking vessel and gradually heat up until completely thawed and heated.
💭 FAQs
Can I use the pomodoro sauce with something else?
Yes, you can use it with most Italian pasta, to top a pizza and to layer lasagna.
How to prepare this sauce with fresh tomatoes?
Heat up a cooking pot with water and wait for it to bubble. Place rinsed tomatoes into the hot water and time it, the tomatoes need to blanch* or until you can see cracks on the tomato skin. Take from the heat and place immediately into ice water to stop the cooking process. The peel will get off easily now and it can be used in this tomato sauce recipe. BUT increase the quantity of tomato sauce added because canned tomatoes contain tomato sauce which is missing when you use fresh tomatoes. *To blanch means to cook for a very short time.
Global Food Recipes
with Spices and Herbs
Free E-Book available for a limited time. Grab yours now and get instantly inspired!
📖 Recipe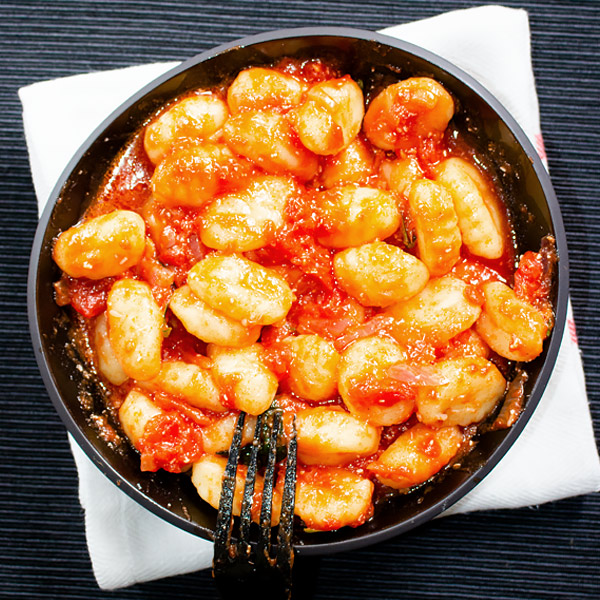 Gnocchi Pomodoro Recipe
A simple but flavor packed gnocchi pomodoro recipe with extra sauce.
Print
Pin
Rate
Ingredients
Instructions
Gnocchi
Keep a cooking pot with water and salt to boil and cook the gnocchi as per package instructions.

They are done cooking when the gnocchi swim to the surface. Take out from the water and keep aside. Tip: So that they don't stick together mix a few drops of olive oil into the gnocchi.
Pomodoro Sauce
Peel and chop garlic, peel, and dice onion.

Heat up a skillet with olive oil and saute onion soft. Keep it on a medium flame.

Stir garlic into onion and saute for another 1-2 minutes over a medium heat setting.

Reduce the heat to slow. Stir peeled whole tomatoes into the pan, as well as the tomato sauce. Mix it all in.

Season with salt, black pepper, and sugar and combine. Adjust sugar quantity to your needs. Add more or less sugar depending on how sour the tomatoes are.

Increase the heat setting back to medium and cook your sauce for about 10 minutes or so, stirring occasionally. The flavors will develop and when it tastes delicious that's when it's ready.

Turn heat off and stir fresh basil leaves into the sauce. Mix into the sauce.
To Serve
Mix gnocchi into a sauce or serve with sauce over gnocchi.

Garnish to your liking with parmesan, a drizzle of olive oil, and/or fresh basil leaves.
Notes
The addition of sugar is needed in this sauce because canned tomatoes contain citric acid and that's making the tomatoes sour so to counterbalance that we add sugar.
Nutrition
Nutrition Facts
Gnocchi Pomodoro Recipe
Amount Per Serving
Calories 424
Calories from Fat 99
% Daily Value*
Fat 11g17%
Sodium 1539mg64%
Potassium 557mg16%
Carbohydrates 76g25%
Protein 9g18%
Vitamin A 483IU10%
Vitamin C 21mg25%
Calcium 95mg10%
Iron 8mg44%
* Percent Daily Values are based on a 2000 calorie diet.