Homemade Ginger Lemon Honey Tea is soothing and healing.
Soothing Ginger Lemon Honey Tea is not only great for your health but also tastes amazingly good!
In this post, I show you how to make your own homemade ginger lemon honey tea from scratch with instructions, tips, and a quick video.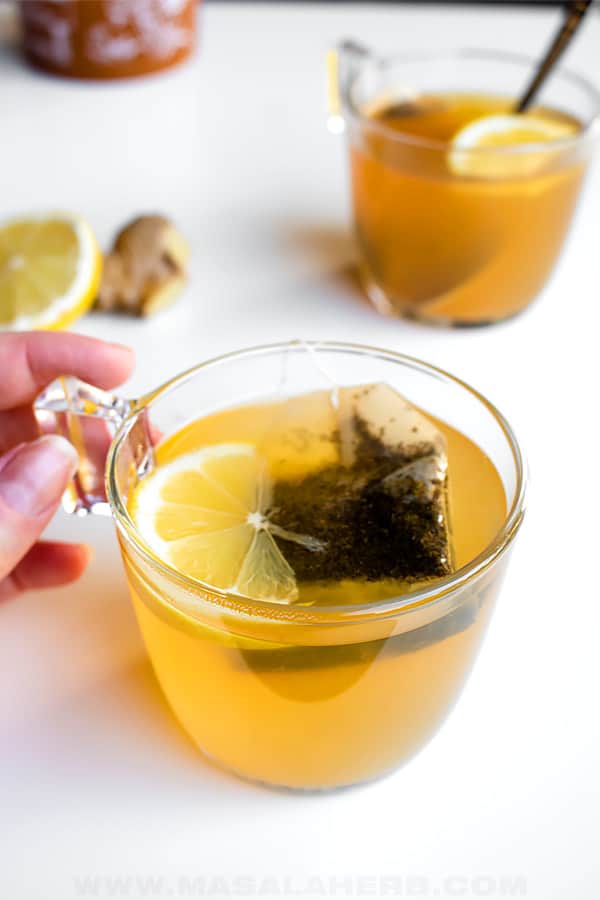 Global Food Recipes
with Spices and Herbs
Free E-Book available for a limited time. Grab yours now and get instantly inspired!
I discovered the combination of Ginger lemon and honey tea when I traveled across India.
India is a tea country and tea stalls can be found on all corners, serving delicious and healthy tea varieties including the famous masala chai tea.
Jump to:
📕 What is Ginger Lemon Honey Tea?
Ginger Lemon Honey Tea is a combination of these three ingredients in a hot cup.
Fresh peeled and sliced ginger roots are cooked in water before it is strained and poured into a cup with freshly squeezed lemon juice and honey.
This tea may contain black tea to justify the word tea but it's not a necessity.
The combination of ginger lemon and honey is an ancient Indian ayurvedic remedy and you will love all the benefits!
💡 Health Benefits
When I traveled to India for the first time, I got sick.
The change of environment and food was not easy but the ginger lemon honey tea totally saved my journey!
Fresh ginger has anti-inflammatory properties, so it can help the digestion and a sore throat at the same time.
Fresh Lemon Juice is rich in Vitamin C and that means antioxidants. That again beats common flu symptoms and boosts the health of your immune system.
Honey is soothing and creates a layer over your sore throat, which in turn will assist your body to heal better.
This is why I believe that this is the best tea when sick as it treats multiple problems in one go.
Back in India, I drank my first cup of this tea for nausea (food poisoning) and because I underestimated the weather in winter so I had a sore throat and bad cough. That's all that I ever took to treat myself back then (mind you I was younger too).
I have made this tea countless times since then and I have it almost every day because I love the combination of ginger lemon and honey.
Besides the healthy brew is kind of a homemade detox and cleanse as it can assist you in your weight loss journey.
Also ginger and lemon will help you get over your nausea during your pregnancy. (Not that I'm pregnant folks!)
🔪 How to make it?
Preparing your own batch of ginger lemon and honey tea is easy with fresh ingredients.
Here is how you can do it right now at home.
Full instructions with ingredients and videos can be found at the bottom of this post.
Step 1
Cut a lemon into two and squeeze out the juice.
Peel and slice your ginger root piece.
Step 2
Place ginger root slices with water into a pot and bring to a rolling boil.
Remove from heat.
Step 3
Pour ginger water into prepared cups and strain so that you are left without ginger pieces.
Pour lemon juice into a cup and add the desired amount of honey to the cup.
You are free to infuse your lemon ginger tea further with a teabag.
📜 Flavor variations
Always use fresh ginger if possible because it's more effective that way.
As a substitution to fresh ginger, you may use ginger powder.
Instead of Lemon Juice, you can use Lime Juice. In fact, in India, they actually use Lime juice and not lemon juice (they call the small fruits the wrong name)
I like to use my favorite honey when I have a sore throat, but occasionally, I just skip the honey and don't sweeten my tea at all. You can use stevia powder too.
Manuka Honey or honey syrup are also a great way to sweeten ginger lemon tea.
Black tea or green tea can be added to this tea in the form of a teabag during serving time OR you can add some loose tea leaves during the ginger boiling process.
For a spicy variation, you can add a pinch of turmeric, cayenne or cinnamon to the boiling ginger water.
💭 FAQs
How long to boil ginger?
Bring the water to a rolling boil, take boiling ginger water from the heat and allow the ginger to infuse the water. This can take from 10 to up to 25 minutes from start to a finished product.
Can you drink ginger tea before going to bed?
Drink ginger tea after your dinner to help your digestion. I personally love it before going to sleep to treat indigestion but your body might tick differently because ginger can be stimulating and might keep you awake.
Can ginger and lemon reduce belly fat?
In countries like India, a belief is deeply rooted amongst the people that drinking ginger and lemon water in the morning can reduce belly fats. I can't confirm that but I drink ginger and lemon tea every day since I reduced my coffee intake (I used to drink a lot of coffee) and my cellulite reduced a bit. But that can be because I drink less coffee now? We won't know for sure.
Can you drink this tea on an empty stomach?
Yes, you can but when I drink ginger and lemon on an empty stomach I usually reduce or skip honey because I feel sensitive to the sweet honey flavors. Other people like my husband Paul and my dad didn't feel that way and they prefer adding honey to the tea even on an empty stomach.
👁️ More healthy Teas
Global Food Recipes
with Spices and Herbs
Free E-Book available for a limited time. Grab yours now and get instantly inspired!
📖 Recipe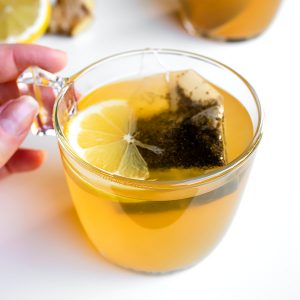 Ginger Lemon Honey Tea
Homemade Ginger Lemon Honey Tea is soothing and healing.
Print
Pin
Rate
Instructions
Cut the lemon into two and extract the juice.

Bring to a boil so that the ginger flavors get extracted into the water. Take from heat once you can see a rolling boil. If you have time, cover and leave to infuse.

Strain the hot infused ginger water and discard ginger pieces.

Pour lemon juice into the cup. Adjust quantity to your taste preference.

Add a black tea bag to it if you like (optional).

Add the desired quantity of honey.

Enjoy your tea when it's still hot for the best effect.
Nutrition
Nutrition Facts
Ginger Lemon Honey Tea
Amount Per Serving
Calories 12
Calories from Fat 9
% Daily Value*
Fat 1g2%
Sodium 18mg1%
Potassium 50mg1%
Carbohydrates 4g1%
Protein 1g2%
Vitamin C 19mg23%
Calcium 19mg2%
Iron 1mg6%
* Percent Daily Values are based on a 2000 calorie diet.