Drumstick Curry is prepared with the pods of the drumstick tree, which is also known as Moringa tree. This is a Vegan & Gluten-free Goan Indian drumstick vegetable Moringa pod spiced curry gravy with coconut recipe, prepared quick and easily with the basic goan red curry paste and cooked in less then 25 minutes.
Learn how to make veg drumstick curry from scratch with the step by step instructions and video further below:
Yes,
Drumstick is a vegetable
. This post is not about chicken drumsticks!
I know it seems confusing at first because when you think of drumsticks, you will associate it with the lower part of a chicken leg. However, in the world there is a tree known as Moringa and it produces elongated, thin seed pods. These are known, mostly in India in English, as Drumsticks.
Drumsticks are mostly popular in south Indian states such as Karnataka, Andhra Pradesh, Tamil Nadu and Kerala. Many homes keep a tree to grow in their garden since Moringa is commonly used in their cooking and in Ayurvedic medicine.
Each part of the tree finds use, so while the vegetable drumstick pods are most commonly used in drumstick curries and bhajis, the south Indian states incorporate the leaves and roots as well in their cooking.
-> Get the free Masala Herb Newsletter
Most probably you have heard of Moringa somewhere before. In fact Moringa is considered a super food in Europe and is sold with outrageous high prices by health mongers in the form of powder or pressed tablets as a dietary supplement.
I did share another drumstick cashew curry a few years ago, so you might just remember the veg from back then.
Ironically my neighbor has a huge tree growing in his garden and he was so kind to bring me a dozen drumsticks. He was surprised and couldn't comprehend that some people would actually pay a lot of money just to own this tree.
Here in India, Moringa grows without much effort and the drumstick tree is not that valuable anymore as it used to to the locals. That's when, to a certain extend, the saying can be applied, : " The grass is always greener on the other side of the fence"….

The Drumstick curry with the moringa pods is considered a delicacy. I fell in love with this strange vegetable the first time when I had this Goan drumstick curry because the taste of a moringa pod reminded me a bit of asparagus.
The drumstick pods are hard, woody and sturdy on the outside. The flesh, when cooked, is soft on the inside and dissolves on your tongue.
Because of the length, it is necessary to cut the Moringa pods into smaller pieces. We also peel them a bit at first to remove some of the woodyness, however when cooked in any dish, the smaller pod pieces can't be directly eaten.
After cooking, the drumstick pod pieces tend to slightly fall apart. You take a piece with your fingers and take off the flesh with your teeth or tongue.
I know there is some work involved but if you think about it, you would eat a chicken drumstick pretty much the same way, with your fingers and pick off the meat from the bones. Maybe that's why the Moringa pods are called drumsticks… =D
How to make Veg Drumstick Curry
Drumstick Curry Recipe – Goan Drumstick Vegetable aka Moringa Pod Gravy with Coconut instructions below:
Drumstick Curry Recipe - Goan Drumstick Vegetable aka Moringa Pod Gravy with Coconut - How to make Veg Drumstick Curry + Video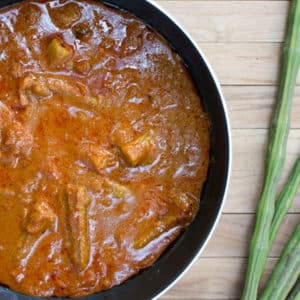 Drumstick is the pod from the moringa tree and a very delicious vegetable. Make this curry in less then 25 minutes with the
basic goan red curry paste
.
Ingredients
~5 Drumsticks - Moringa pods
1-2 Tablespoon Oil
1 Onion sliced
1 fresh green Chili slit lengthwise
6-8 fresh Curry plant leaves (use dried ones if you can't get fresh but increase the amount by a few leaves)
1 Tomato diced
250 grams basic Goan red Curry Paste or 1½ cups
500 milliliter Vegetable Stock (= water + 1 vegetable cube) or 2½ cups
Salt to taste
1 Tablespoon Tomato Paste
You will need the basic Goan red Curry Paste to make this dish in less then 25 minutes!
Serve the drumstick curry with:
Plain Rice
Coriander Rice
Plain Roti
Ghee Chapati
More Goan Curry Recipes:
Dal Curry
Easy and Quick Chicken Curry
Hog Plum Curry (Ambade)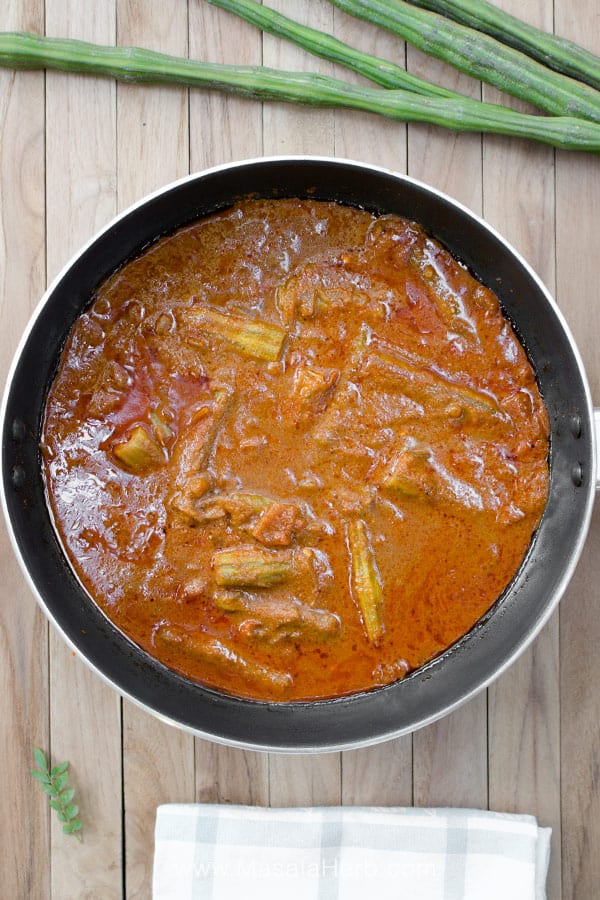 Dear Reader, have you heard of Drumstick or Moringa before?
Save
Get FREE Recipes via Email:
Don't miss a recipe, Subscribe to the Masala Herb Newsletter!
Save
Save
Save
Save
The following two tabs change content below.
I am Helene, and created Masala Herb to share my food and travel journey with the whole world. You will find Asian and Western dishes here, as well as unique travel guides to inspire your day. Don't miss a post! Subscribe to the free newsletter!
Latest posts by Helene Dsouza (see all)