Guide on how to dry mango slices in the dehydrator.
Dehydrated Mango is a delicious healthy snack!
Turns out, you can make them at home in ease. Here is how: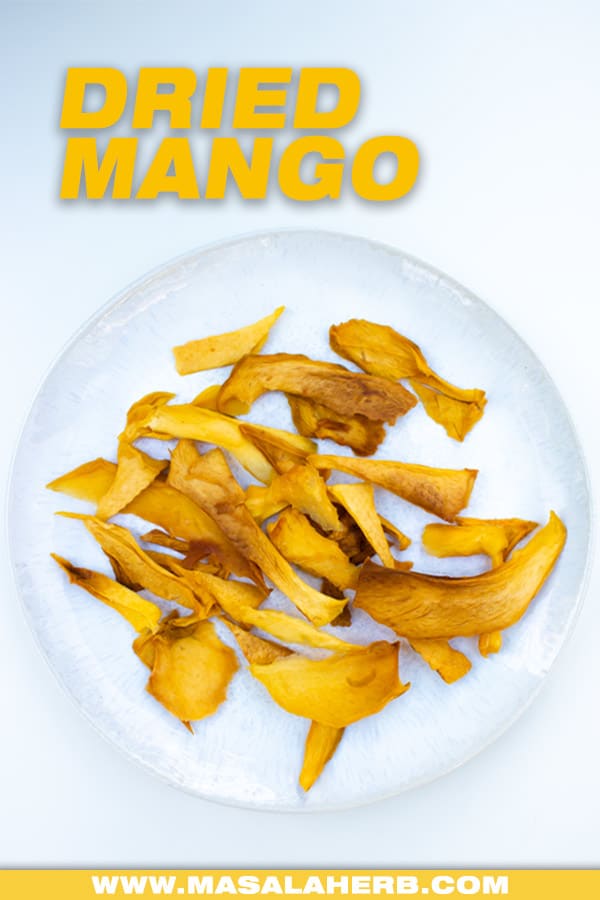 Jump to:
What are dehydrated Mangoes?
Dehydrated mangoes are slices or strips of mangoes that were left to dry over a period of time.
The process sucks out all the juices of the fresh fruit slices so they can be stored and enjoyed later in time.
Dried fruits keep longer. It's a way to preserve your harvest fruits and fill up your pantry for the winter to come.
3 options to dehydrate Mangoes
You have 3 options to dry your mangoes.
That said, I personally only use one option of the three and that's the dehydrator options.
Dehydrator (best option)
A dehydrator is a device, which carefully dries out fruits over a period of time.
Its job is just to dry fruits, vegetables, and herbs at a low temperature.
A dehydrator consists of the main heating part of the device and racks, which can be removed and stacked over each other as needed.
It's easier to control the temperature and it's more hygenic to dry mango slices that way.
The downside is that you need a separate device. Yet, if you plan on drying more fruits in the future, than it's well worth buying a dehydrator.
Sun-dried
You can also sun dry your mango slices!
It's the cheapest option but you need to keep an eye on your fruit slices.
You don't want dust falling on them or other impurities (or god forbid birds going for your mangoes).
Also keep an eye on the weather. Sun-drying mango slices is great in a climate where it doesn't rain much.
The downside is that it will take days for your mangoes to dry out properly.
Oven
You can also use your oven to dry your mangoes by spreading the slices over a parchment paper in the pan.
The fruit slices need to be dried in the lowest oven setting.
The problem is that most ovens don't have a lower setting than 210 Fahrenheit/ 100 Celsius.
The best drying temperature is 120 Fahrenheit/ 50 Celsius.
So, if you have an oven that can be set at 120 Fahrenheit/ 50 Celsius, you can use it the same way as a dehydrator.
Yet, an oven doesn't dry fruit equally so some parts tend to get too dry and others not.
That's why I prefer using a dehydrator.
How to dehydrate with a dehydrator?
Yep, the dehydrator is the easiest, best and cleanest way to prepare dehydrated mangoes.
Find the full guide to print in the recipe card further below.
Step 1
Cut mango close to the pit on both sides.
Peel mango fruit pieces.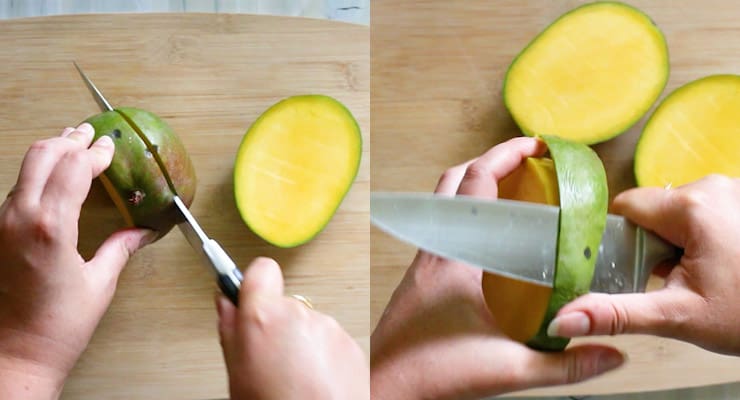 Step 2
Slice fruit into small or large pieces.
Spread mango slices over dehydrator trays.
Step 3
Dry mango slices until crisp and perfect.
Store in an airtight container or eat and enjoy.
Flavor variations and ideas
You can also flavor your mango slices before you dry them! Naturally, they are unsweetened and plain as is (gluten-free).
Here are some flavor ideas, sprinkle the following over your mango slices before you dry them:
sugar - try brown sugar, although mangoes are quite sweet
red chili pepper ground - i.e cayenne, Kashmiri chili pepper.
ground green cardamom
ground cinnamon
Storing
Store your dehydrated mango slices or strips in airtight containers or vacuum bags.
You don't need to refrigerate or freeze them (except if you live in a tropical climate).
But keep away from direct sunlight, humidity and heat.
If prepared and stored the right way, they will be good for about 6-12 months.
FAQs
Can you leave a food dehydrator on overnight?
Follow the instructions in your food dehydrator book that came with the device. Newer devices can be left on overnight.
What temperature to dehydrate?
Follow the instructions in your dehydrator manual. Set temperature between 135 – 145 Fahrenheit/ 57- 62 Celsius.
More dehydrated fruit guides
Please feel free to share your thoughts and ideas with us in the comment section further below!
So you love SPICES and HERBS?
GET 5 FREE SEASONING LESSONS
Type in your email address below.
Including free access to the
Seasoning Members only Club!
📖 Recipe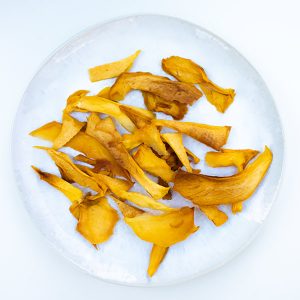 Dehydrated Mango
Guide on how to dry mango slices in the dehydrator.
Print
Pin
Rate
Instructions
Cut mango lengthwise close to the seed. Repeat on the other side. Cut off the skin of your mango.

Cut fruit pulp into slices, small or large. Make sure they are almost the same thickness. Also cut off fruit pulp from around the seed core.

Spread mango slices over dehydrator trays.

Set temperature somewhere between 135 – 145 Fahrenheit/ 57- 62 Celsius and dry for about 12-14 hours or until you have the desired consistency.

Take from the trays and place into airtight containers or vacuum bags or enjoy straight away.
Notes
You can flavor your dried mango slices too, see in the post for flavor ideas.
Nutrition
Nutrition Facts
Dehydrated Mango
Amount Per Serving
Calories 124
Calories from Fat 9
% Daily Value*
Fat 1g2%
Sodium 2mg0%
Potassium 348mg10%
Carbohydrates 31g10%
Protein 2g4%
Vitamin A 2240IU45%
Vitamin C 75mg91%
Calcium 23mg2%
Iron 1mg6%
* Percent Daily Values are based on a 2000 calorie diet.