Super flavorful and tasty cabbage soup with sausage. Pick your favorite sausage for this amazing hearty soup. Stick to the seasoning ingredients and get to know the power of spices. Ready within 30 minutes, this budget-friendly meal is a family favorite.
The Cabbage Sausage Soup is a wonderfully flavored soup that will bring you comfort in your life.
The soup comes together easily in one pot and it's budget-friendly!
Jump to:
🔪 How to make it?
Here is an overview of how to make this from scratch. The full recipe is in the recipe card further below.
Step 1
Saute onion, sausage slices, and cabbage.
Season with spices.
Step 2
Pour in stock and season with salt and black pepper.
Mix everything.
Step 3
Cook soup.
When done, pick out the whole large spices and serve up.
📕 Recipe Origins
Cabbage and sausage are best friends.
I grew up eating a lot of sausages and we were cultivating our own cabbage in the garden which we would harvest by September.
A Cabbage head has many uses in European cuisine, it's an ingredient you will find almost anywhere in the world at a very affordable cost.
So when I traveled the world and started to cook for myself, I usually would come back to my beloved cabbage to turn it into something like today's cabbage sausage soup or occasionally in summer into a quick cabbage sausage stir-fry.
I wish I could make Sauerkraut anytime, but real homemade Sauerkraut with the proper fermented taste can only be prepared in a clay fermentation pot, just like the one my mum has to prepare Sauerkraut from scratch.
Because I was longing for Sauerkraut flavors, I started to recreate them in my Cabbage and Sausage Soup by using certain spices.
It was an instant success at home and in fact, this soup should be called a soup with sausage that tastes like cooked Sauerkraut (just minus the fermented flavors and beer).
🧅 Ingredients
Cabbage
Cabbage is not always cabbage.
did you know that?
In fact, there are a couple of cabbage varieties out there and some are more suitable than others.
In this world, we differentiate between western cabbage varieties such as cannonball cabbages or savoy cabbages and the Chinese cabbage varieties such as Bok Choy.
For this particular cabbage sausage soup recipe, I recommend either the cannonball (aka green cabbage) or the savoy cabbage.
Cannonball cabbages are the most common cabbage variety in this world, the leaves are more tightly packed and dense.
The Savoy cabbage is tender, has thick rills, and is loosely packed hence why it has a shorter shelf life.
Sausage
I love to use a flavorful sausage such as the ones we have in Europe but you can pick whichever sausage suits you.
Normally I add Frankfurters or Wiener sausages to my cabbage soup but you can also add a Polish Kielbasa sausage or an Italian sausage or even a smoked sausage.
Whichever you prefer and you get to buy.
Just keep in mind to get quality sausages that are flavorful.
If it has pork and beef, you are usually good.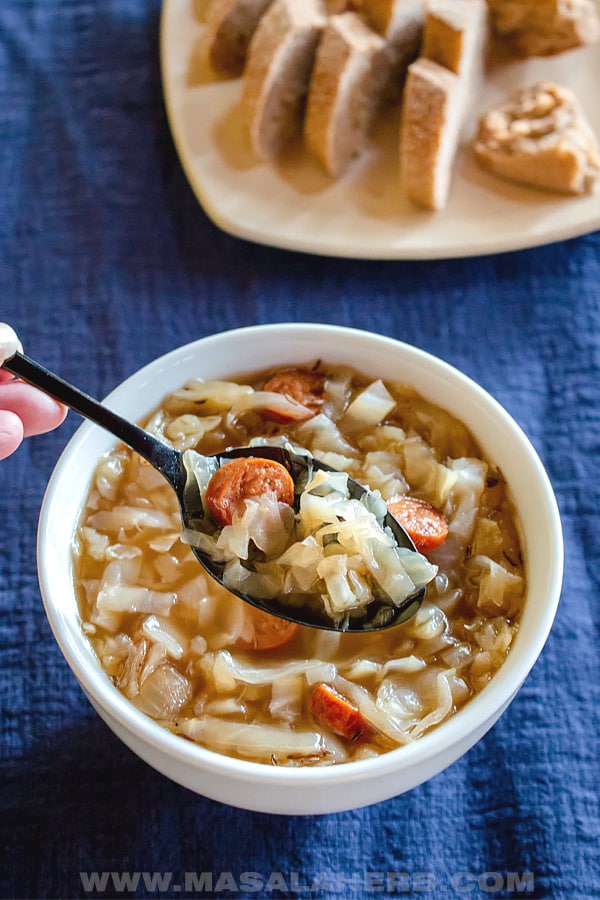 Seasoning
I imitated the seasoning of a cooked Sauerkraut with Sausage meal in this cabbage sausage soup.
The spices are all needed to give flavor to the soup, so if you skip a spice in the recipe, your soup might turn out boring.
So stick to the recipe!
The cabbage and sausage soup recipe includes a bay leaf, juniper berries, allspice berries (aka pimento), nutmeg, black pepper, cloves, and caraway seeds.
These are all typical spices used to either season Sauerkraut or soups.
More Soup Ideas
Dear Reader, which sausage did you use to prepare the cabbage sausage soup?
Global Food Recipes
with Spices and Herbs
Free E-Book available for a limited time. Grab yours now and get instantly inspired!
📖 Recipe
Flavorful Cabbage Sausage Soup Recipe
Super flavorful and tasty cabbage soup with sausage. Pick your favorite sausage for this amazing hearty soup. Stick to the seasoning ingredients and get to know the power of spices. Ready within 30 minutes, this budget-friendly meal is a family favorite.
Print
Pin
Rate
Instructions
Slice onion and cabbage, as well as sausages. Keep aside.

Heat up a pot with oil and fry the onion slices soft.

Then add in the sausage slices and just stir. Let the sausage fry for a minute or two so that the flavors come out.

Next, throw in the cabbage and continue to add in the spices including, bay leaf, juniper berries, cloves, allspice berries turned into powder, grated nutmeg and caraway seeds.

Stir to combine and pour the water with concentrated stock into the pot.

Season with black pepper and salt and mix everything through.

Bring to a boil, cover with a lid and let it cook for about 30 minutes on slow to medium heat.

Pick out the whole spices, the juniper berries, and cloves.

Serve the cabbage and sausage soup hot with bread. I like it with black bread or whole wheat sunflower seed bread.
Notes
Stock can be liquid or in cubes. Just mix it with the water. I tend to use vegetable broth but you can pick chicken or beef broth if you prefer. Use homemade stock for the best flavor experience or just the commercially available version.
1 sausage per person
Nutrition
Nutrition Facts
Flavorful Cabbage Sausage Soup Recipe
Amount Per Serving (414 g)
Calories 228
Calories from Fat 72
% Daily Value*
Fat 8g12%
Sodium 2422mg101%
Potassium 713mg20%
Carbohydrates 37g12%
Protein 5g10%
Vitamin A 1600IU32%
Vitamin C 135.7mg164%
Calcium 179mg18%
Iron 2.1mg12%
* Percent Daily Values are based on a 2000 calorie diet.