The mango season honored our beings this year with a load of fruity, quality fresh Mangoes. The trees worked hard on their fruits and we get to indulge them. A lovely gift, don't you think? Earlier this year in February we were surprised by some short rains, which kind of affected the mango production in the Goan state to the worse. However, we collected a proud and envious amount of fruits and shared it with our neighbors. They in turn did the same thing. So I ended up with a few different Mango types. My first thought, a Mango Jam Recipe!
I know many of us don't have the "luxury" to own a garden and I feel with you! But if it makes you feel any better, it's a lot of work, especially during the rainy season! So, getting organic mangoes, or other fruits, from the  market or store isn't a bad alternative at the end of the day. At least you won't have to find a solution for those half smashed mangoes that fell from the tree, or the fruits with a million worms…
-> Get the free Masala Herb Newsletter
Anyway, for my mango jam you will only need the fruit itself, some Lemons and Sugar, that's it. No preservatives and maybe one could call it Vegan. As you must have noticed today, we at the #Sundaysupper Team, are in a "free" mood. My colleagues have chosen dishes that are either Gluten free, Lactose free, Vegan, Nut free etc etc. I guess you get the idea? As you know I am anything but an expert in this field since I don't know anybody personally who is suffering from a food allergy. Some of you might not believe me but food allergies are very rare in my corner of the world, so the need for alternative food choices isn't there.
Yet I understand the hardship of cutting down on some kind of foods. Especially I imagine the shock when one learns about some food intolerance. Yes, it would be a nightmare if I for example would learn that I could not eat cheese or bread anymore! Good god my foodie being would be smashed completely and I would consider myself doomed. I don't want anybody with a food intolerance to feel bad of my words, but that's how I would feel (and I bet many people would feel this way). But I am a flexible person so therefore I would accept my destiny and see it as a good challenge and maybe a health experience.
If you are a food allergic or not, you may enjoy my natural, organic, homemade, from scratch Mango Jam. Keep in mind that my recipe uses a whole mango with the core while cooking. I chose this way because I find the core gives the jam a certain rich flavour that I enjoy in a jam. Of course you can choose to cut and discard the core before cooking but that's up to you. Also by doing it my way, you ll just have to fish out the core with the strings attached to it. Some Mango types have lots of annoying strings and I don't like those in my jam, so leaving the core can be a big bonus. When following my recipe, notice that you ll need a big pot, bigger than the one I used so that you can mix the jam in peace. I had no choice since we don't own a bigger pot, but anyway as you can see I managed with the one in the pictures.
Happy Jamming!
Homemade Mango Jam Recipe
Serves:
1 big 950 milliliter Jar
Ingredients
10 medium sized mangoes ( I used 8 Mankurad mangoes and 1 big Bishops mango which counts for 2 mangoes, and of those half of the mangoes were over ripe and the other half normal)
600 grams Sugar
Lemon peel of 2 Lemons
2 "naked" peeled Lemons
Instructions
Start by peeling your mangoes and discard the peel. Keep the mangoes in a big cooking pot.
Peel your lemon and add to the pot the peel and the lemon flesh. Cover the fruits with the whole amount of the sugar.
Heat up your pot on low heat and start to stir the fruits. Stir on low heat for about 30 minutes or until you see the rolling boil happening and when the fruit flesh is completely unattached from the core and only the strings are left. Always keep an eye on the cooking Jam!
Test the jam by dropping some of it on a cold plate. If the jam is running then it will need some more cooking time, if it remains and a thin skin appear on the drop, it is ready to be jarred.
But first remove and discard the Lemon rind, lemons and the Mango cores with the strings attached to the cores (some mango types don't have strings which is all the better).
Grab a sterilized Jar and fill it full with the jam. Drop a few drops of alcohol into the cap so that it gets disinfected. Seal the Jar and turn it up side down and leave it like that for a few hours before you store the mango jam jars in a cool and dry place.
Notes
More about jamming.
Make sure that you store your jam jar in a cold and dry place and if you live in a tropical climate then make sure that you store it in a fridge.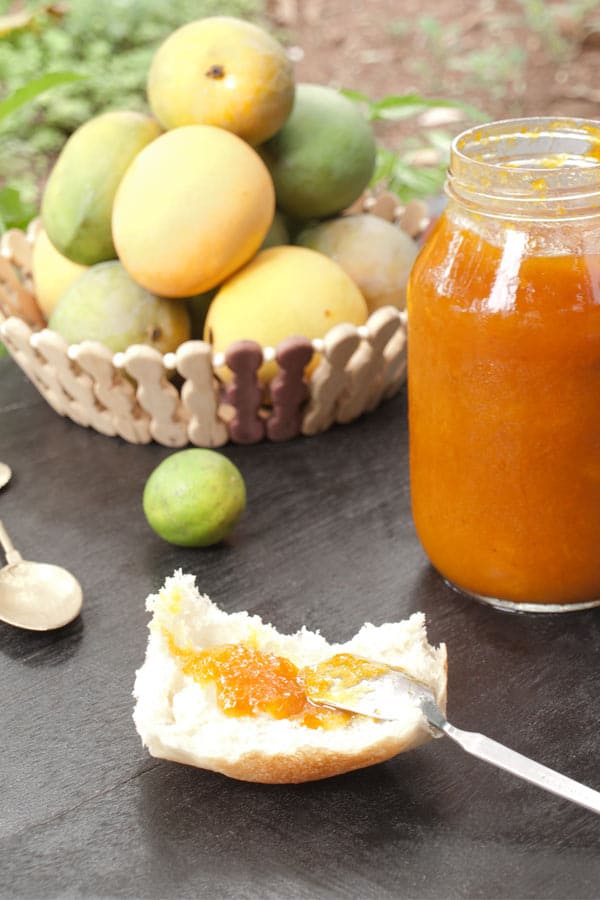 #Sundaysupper Free for All Menu line up!
Breakfast
Main Courses
Treats
Drinks
Be sure to come back on Sunday for all the amazing "Free For All" recipes! We would love to have you join our Twitter #SundaySupper chat party starting at 7:00 pm EST. Follow the #SundaySupper hashtag throughout the day to see the amazing recipes. We look forward to see you
to join all you need to do is follow the #SundaySupper hashtag and please do not forget to include the hashtag in your tweets as well. Be sure to check out our #SundaySupper Pinterest board for more delicious recipes and photos.
---
You might like...
The following two tabs change content below.
I am Helene, the author behind Masala Herb! My aim is to show you an incredible world full of surprises. Food, Culture and Travel are my forte and that's what I enjoy. Follow my Food and Travel adventures and learn some incredible things! Now in the beautifull Indian coastline state, Goa.
Latest posts by Helene Dsouza (see all)