Tsampa porridge is a nutritious basic meal consisting of whole roasted and ground barley. Tsampa flour is barley that has already been cooked.
Tibetan Tsampa Porridge is a nutritious, budget-friendly and simple to prepare breakfast meal prepared with roasted barley.
I show you how it's made in this recipe, which includes a video.
Global Food Recipes
with Spices and Herbs
Free E-Book available for a limited time. Grab yours now and get instantly inspired!
Jump to:
📕 What is Tsampa?
Tsampa is whole barley cereal grains roasted over fire and then stone ground into a coarse flour. It is not raw barley flour that has been roasted. There is a difference here.
It is the food of the Tibetan people. This food staple, as it has already cooked, can be just mixed into anything.
In the Himalayas at higher altitudes and Tibetan plateau you will find barley growing like no-other grain.
Barley is drought resistant and still thrives on nutrient deprived earth. This is the case in the Himalayan highlands, where people live at altitudes above 3000 meters.
Tibetans in Tibet and in neighboring surrounding regions such as India and Nepal, use barley in all their foods and drinks.
It is said to give strength, which is needed in a world where hard-manual work is your day-to-day grind. I found that it would help me to stay fuller longer, and I think it helped my altitude sickness a bit.
Grains are separated from the chaff. They are then soaked, boiled soft, dried in the sun and roasted in sand over a fire before they are sieved, cleaned and coarsely ground. The result is called Tsampa.
As it has cooked, barley Tsampa is then used in various ways by, just mixing it in.
You can make yak butter tea with that, yak butter energy balls for sherpas, a tsampa soup (Tsam-Thuk) and even a tsampa porridge.
When we traveled from one Tibetan village to another in the Indian Himalayas, we were served this porridge for breakfast.
Many Tibetans have been living in communities in Spiti and Kinnaur valley next to the Tibet border for centuries. We stayed with families in villages in Dankhar and Langzha and this is where I learned to make this simple tsampa porridge.
🌾 Ingredients
To make a Tsampa porridge, you will need a few handfuls of ingredients. It's a super basic dish.
It's suitable as a breakfast meal, healthier after workout meal, when I'm sick meal or as a first solid food baby meal. I like it as a snack.
This is what you need, the US and metric measurements are in the recipe card further below:
Roasted Barley Tsampa - Not RAW Barley flour!
Milk
Water
Butter
Salt (optional)
Sugar (optional)
Barley is an ancient cereal that has been cultivated across Asia and Europe for thousands of years.
You can buy barley Tsampa in health promoting grocery stores or Asian shops.
If you don't consume cow milk, you can use any other milk too, such as almond milk. Traditionally they use yak's milk.
In the mountains they use yak butter which is really thick and smells strong. You can, of course, use regular butter. If you want this to be vegan, use a vegan margarine.
Salt is only required if you use unsalted butter and I didn't get served Tsampa in the mountains with sugar, but if you want to sweeten it a bit, you can do so.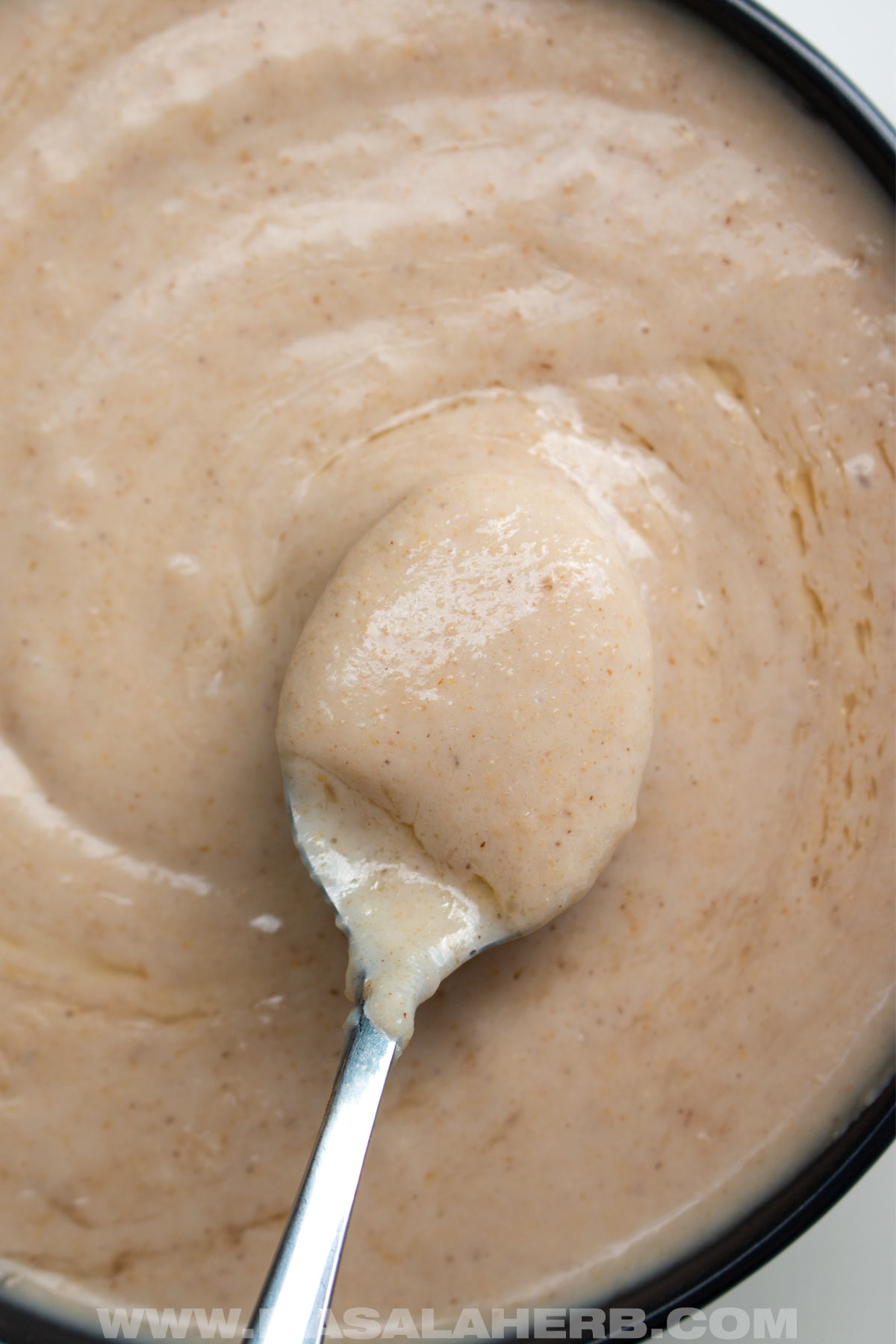 🥣 How to make it?
Many variations of this dish exist and some will make it thicker while others like it thinner, depending on the region in Tibet.
Here is how it's done in a few steps. The detailed recipe instructions are further below with the video.
Step 1
Place the Tsampa barley flour into a sauce pan.
Pour in some of the milk and water and add the salt
Step 2
Mix over a medium heat setting. Whisk all well together so that no lumps are left.
Stir in the butter. Keep on whisking until it thickens a bit
Step 3
Pour in remaining water and milk. Mix and cook downs further until you are satisfied with the thickness.
Stir in sugar if you want it a bit sweet. Serve up.
🥄 Serving Ideas
You can pep this nutritious porridge up a bit or make it your own by adding a topping of your choice.
Tibetans also like to add a dash of ground yak cheese. In that sense, it's more like a savory meal.
I don't think you should limit yourself, so in that case you can choose to add something sweet such as a tablespoon of your favorite jam or cut fresh fruits.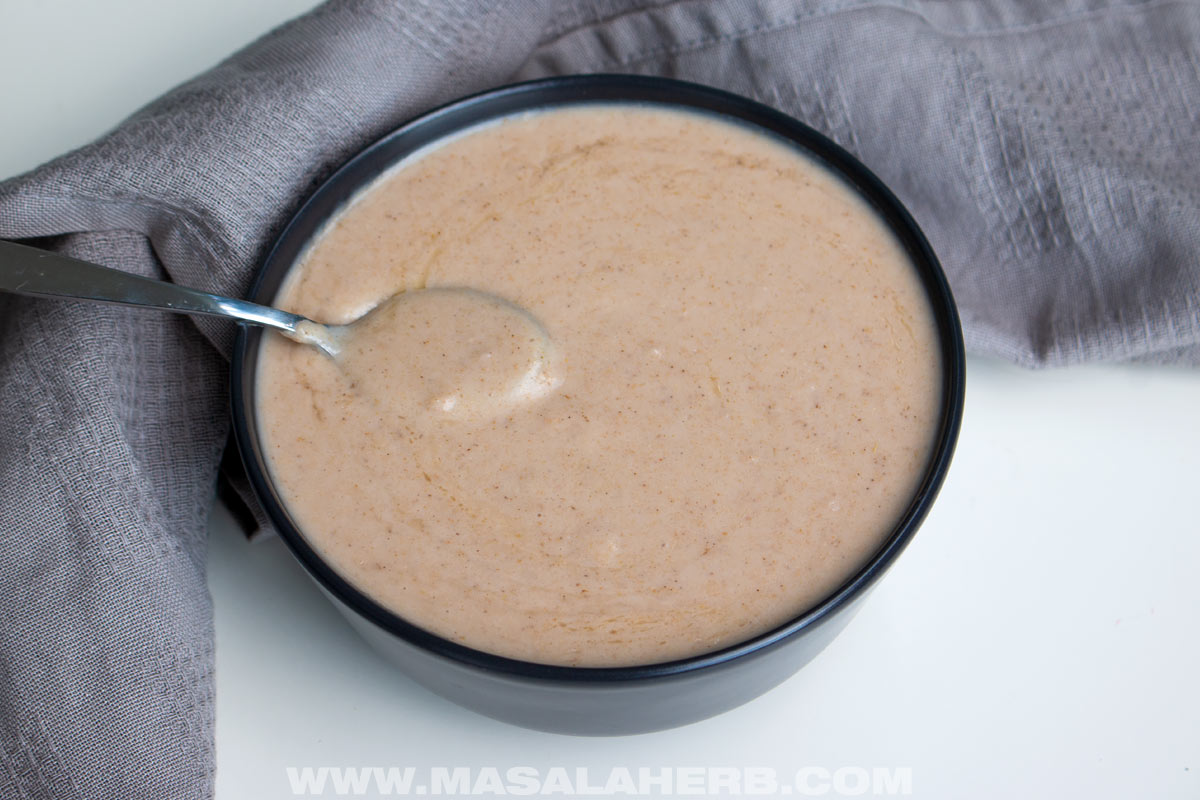 🍱 Storing
Cooked Tsampa can be prepared in larger batches, which can then be stores in containers in the fridge or freezer.
This can be handy if you have a busy work or school life, or if you want to minimize your time spent in the kitchen.
If your partner is down with the flu, and you can see it taking over your household, prepare a batch of Tsampa and freeze it. You will thank yourself when you are down with the flu.
Also, health – conscious people working out regularly may want to add this cereal to their diet and preparing batches can be useful. It is the food that sherpas eat when they hike up Mount Everest with more than 100% of their body weight.
Just take it out after workout and you have a homemade nutrient-rich power meal.
💭 FAQs
Where can I get Tsampa?
In North America you can get Tsampa from Purple Mountain and from Myers Tsampa. In Europe look out for Sonam's Tsampa, which can be bought in organic shops and drug stores (DM, Rossmann, Coop). It's easily available in German-speaking countries. Remember, Tsampa is whole grains roasted and then ground. It's not RAW barley flour or barley flour that has been roasted. There is a difference in that.

Your second option is to get raw whole barley and to prepare tsampa flour from scratch.
Can tsampa be eaten without cooking?
Yes because it has already been roasted!
Is there another country or culture that uses roasted ground Barley?
Yes, in Ethiophia they have Besso, roasted and ground barley mixed with honey and water. If you can't get tsampa, look out for besso instead.
Are there different varieties of barley?
Yes, I have seen white and purple barley. Surely there should be more varieties.
👁️ More Tibetan Food:
📖 Recipe
Tibetan Tsampa Porridge Recipe
Tsampa porridge is a nutritious basic meal consisting of whole roasted and ground barley. Tsampa flour is barley that has already been cooked.
Print
Pin
Rate
Ingredients
1

Cup

Tsampa

whole roasted and ground Barley

1¼

Cup

Milk

1

Cup

Water

3

Tablespoon

Butter

⅛

Teaspoon

Salt

optional, not needed if butter is very salty

1

Tablespoon

Sugar

optional, adjust to taste
topping (not traditional)
Instructions
In a sauce pan, stir in the tsampa ground barley. Keep the pan on a medium heat setting.

Quickly pour in half of the milk and water. Season with salt.

1¼ Cup Milk,

1 Cup Water,

⅛ Teaspoon Salt

Stir and whisk the tsampa together with the salt, milk and water over a medium heat setting. Whisk to reduce and remove all lumps.

Add butter to the pan and keep on stirring. Whisk and watch it thicken a bit.

Pour in remaining milk and water.

Whisk everything together to a smooth consistency without lumps. Cook down until you are satisfied with the thickness.

Stir in sugar if you want to sweeten it a bit.

Take from the heat and serve up.

I topped my tsampa with more butter and some sugar granules on the pictures.
Notes
Use only Tsampa, which is Tibetan whole grain barley that has been roasted and then ground. Do not use raw barley flour, that's not the same ingredient.
Nutrition
Nutrition Facts
Tibetan Tsampa Porridge Recipe
Amount Per Serving
Calories 520
Calories from Fat 207
% Daily Value*
Fat 23g35%
Cholesterol 63mg21%
Sodium 202mg8%
Potassium 463mg13%
Carbohydrates 68g23%
Protein 13g26%
Vitamin A 772IU15%
Calcium 220mg22%
Iron 2mg11%
* Percent Daily Values are based on a 2000 calorie diet.