Aromatic basic Thai yellow Curry paste to prepare flavorful easy Thai yellow curry meals! Make this 5 min paste, store the paste in the fridge and use it to create delicious Thai curries in less than 20 minutes!
Quick basic Thai Yellow Curry Paste Recipe.
Prepare this amazing aromatic curry paste within 5 minutes, and save time later when you make your own delicious Thai yellow curry in minutes!
Looking for another Thai curry paste?
Then check out my Thai red curry paste.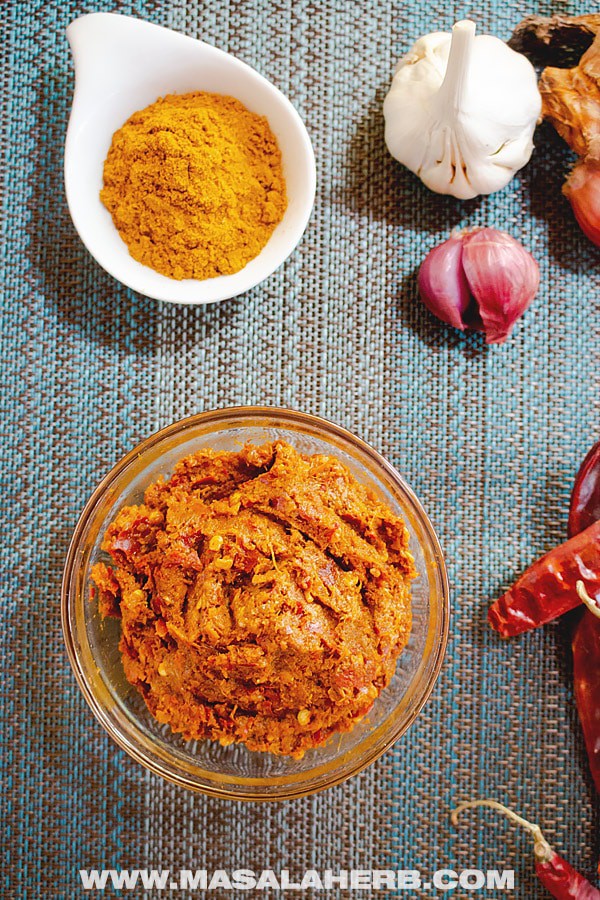 Jump to:
What is Thai yellow curry paste?
Thai Yellow Curry Paste is one of the three major Thai paste condiments to prepare curry from scratch.
The other two curry pastes are the world-famous red and curry paste.
Thai yellow VS red VS green curry paste
The Thai yellow curry paste is different from the red and green Thai curry paste because it uses a lot of spices.
The paste has Indian influences and uses spices such as coriander, cumin, and turmeric powder.
At the same time, the Thai yellow paste includes curry powder, which lends the cooking condiment and curries the distinctive flavor.
Other curry pastes such as the red and green curry paste don't use spices the way the yellow paste.
The yellow curry paste resembles a lot an Indian curry paste (minus the coconut).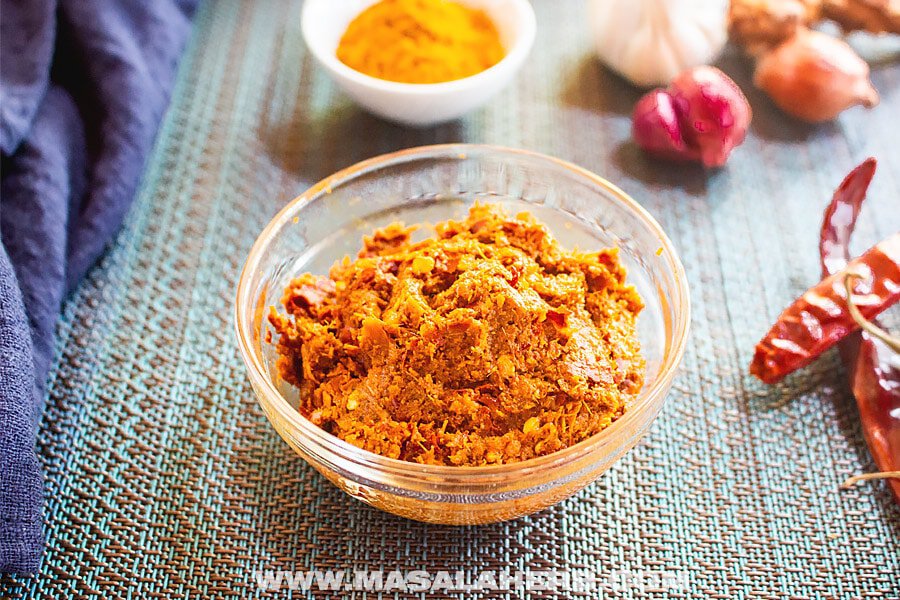 Ingredients
The yellow Thai curry paste is a popular basic paste condiment in Thailand.
To prepare this aromatic paste, you will need fresh ingredients and spices.
For substitutions see further below.
Ingredients:
Galangal is plentiful in this yellow curry paste!
This particular root is a popular ingredient in Thai cooking.
Galangal has a pine flavor.
Often while people think that galangal can be substituted with ginger, which is not true.
Ginger and Galangal are two different ingredients, so don't mix them up.
BUT Galangal is also known as Thai ginger (if that is not confusing...)
Ginger is added in small amounts to this yellow curry paste.
This is because we want to balance the galangal flavors here and ginger works really well with other ingredients in this recipe.
The ginger aroma is a flavor bridge.
The yellow curry paste is full of Garlic, in fact, a whole bulb full!
Garlic helps in preserving the paste thanks to its antibacterial and antifungal properties.
Thai Shallots are smaller than the regular shallot variety which we get in the west.
They are deep purplish and the size of a knob.
Besides that, they are rather mild in flavor.
For the Lemongrass use only the white soft stalks.
The green parts are stringy.
Don't ever skip the lemongrass in your paste, it adds so much freshness to the Thai yellow curry paste!
The Chilis usually used in a yellow curry paste are Thai chilis.
If you can get yellow chili varieties, use those so that your yellow curry paste gets a shiny yellow color.
I used a mix of two Thai chili varieties.
Curry Powder adds the combined flavor of various spices and lends as well as that some of the colors.
Curry powder is kind of the star and main ingredient in this yellow curry paste because of the Indian influence.
You can pick whichever curry powder you fancy, which can be Thai curry powder, madras curry powder, British curry powder, or German curry powder.
After all, you are the one who will enjoy the curry paste, right?
Coriander Powder will take your yellow curry paste to the next level.
Try it out and you will see what I mean.
Cumin Powder compliments and rounds up the coriander powder.
These two spices are frequently used together in Indian cooking (remember this is an Indian influenced curry paste)
Turmeric Powder (aka Curcuma) adds a yellow color to your curry paste AND turmeric is anti-bacterial and anti-fungal.
Hence, your paste will keep longer.
Salt and Black Pepper are added as well to season the paste.
The salt also helps in prolonging the shelf life of your yellow curry paste.
Shrimp Paste is a delicious addition to your yellow curry paste.
It will make your paste a flavorful delight.
You can skip this ingredient if you want to prepare a vegan Thai yellow curry paste.
Buying fresh ingredients
The ingredients in this Thai yellow curry paste are not that fancy, so most probably you will be able to find them in your supermarket or in your neighborhood Asian store.
Another idea is to buy some of the fresh ingredients online on Amazon.
You can get other ingredients there as well such as the Thai shrimp paste.
Or plan a trip to Thailand.
That's what we did.
Grocery shopping in Bangkok!
Substitutions
The Thai yellow curry paste is prepared with some common Thai ingredients.
Below, you can see how you can use another ingredient instead if you struggle to get the real deal.
Thai shallots - Use mild regular shallots instead
Thai yellow or red Chilies - Pick one or two mild or hot Chilies, doesn't matter which variety (except try to avoid habanero, ghost pepper or scotch bonnet, and any other super hot Caribbean chilis.)
White Lemongrass stem - Use lemongrass paste in a tube
Galangal - Can't be substituted. You will have to get galangal for the recipe or you can't make this Thai yellow curry. Never ever substitute galangal with ginger. These are two very different flavor profiles.
Shrimp Paste - Either you use an original Thai shrimp paste or you skip it altogether. I love my shrimp paste because it adds great flavors to my curry.
Curry Powder - Thailand has its own Curry powder and each brand tastes differently, as do other curry powder variations from Madras, Java, Britain, and Germany. Pick a curry powder that you like, it doesn't matter which one, as long as you enjoy the flavor. That's most important.
How to make it?
In Thailand, people use mortar and pestle to pound all the ingredients into a smooth paste.
While the stone mortar adds minerals to the paste, the ingredients get to release their aroma.
As much as I love to work out while preparing a Thai curry paste, I still tend to use a food processor or blender instead.
That way your paste will get ready within minutes!
Storing
You can store your yellow curry paste in a clean sterilized glass jar.
Pick a jar that suites the amount of paste that needs to be stored and stored in the fridge.
Don't store the paste for too long (months and months) because it can get hard over time.
Hence why I make a smaller batch, as described in the recipe below.
You can also store your paste in vacuum bags or reusable food pouches.
Uses
Dear Reader, how are you intending to use your homemade Thai yellow curry paste?
Global Food Recipes
with Spices and Herbs
Free E-Book available for a limited time. Grab yours now and get instantly inspired!
📖 Recipe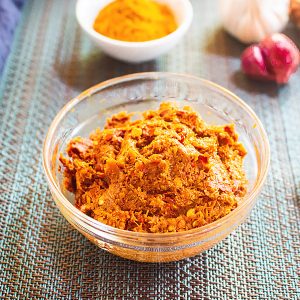 5-Minute Thai Yellow Curry Paste Recipe
Aromatic basic Thai yellow Curry paste to prepare flavorful easy Thai yellow curry meals! Make this 5 min paste, store the paste in the fridge and use it to create delicious Thai curries in less than 20 minutes!
Print
Pin
Rate
Servings:
6
Tablespoons of Paste
Instructions
Place your dried chilies without stem into the water to soak until somewhat soft.

Keep all your fresh ingredients ready. Peel and roughly cut shallots, galangal, ginger, garlic, and lemongrass.

Place all the ingredients into the food processor or blender jar, that means from the strained chilies to the shrimp paste.

Blend all the ingredients to a smooth wet paste. Do not add water! Water reduces the shelf life of the Thai yellow curry paste.

Store the yellow curry paste in a jar, airtight container or vacuum bag in the fridge or freezer until further use.
Notes
Pick red, or even better yellow, Chili peppers. They can be Thai varieties, hot or mild, this is up to you.
Use a Curry blend that you like. Can be a Thai, Java, Indian, British or German Curry powder blend, it doesn't really matter. What is important is that you like the smell of it. The paste should taste great and suite your taste preferences after all.
You can add Shrimp paste, it's optional. Skip the shrimp paste to turn this Thai yellow curry paste vegan.
Nutrition
Nutrition Facts
5-Minute Thai Yellow Curry Paste Recipe
Amount Per Serving
Calories 39
% Daily Value*
Cholesterol 28mg9%
Sodium 480mg20%
Potassium 143mg4%
Carbohydrates 6g2%
Protein 2g4%
Vitamin A 130IU3%
Vitamin C 2.2mg3%
Calcium 35mg4%
Iron 1.6mg9%
* Percent Daily Values are based on a 2000 calorie diet.