You are going to love this strawberry water! Decide which container you would like to use to make this infused flavored fruit water and make a batch. Fill it up again for up to 4 times with fresh water! Try using Mineral water for extra nutritional value.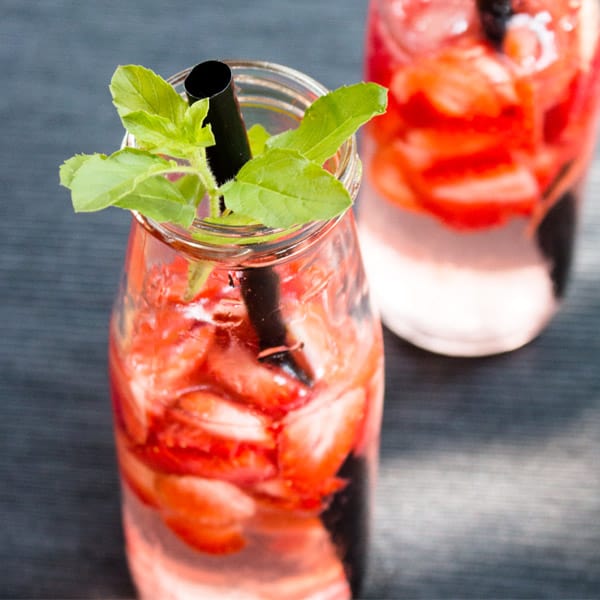 Strawberry infused water is a refreshing and brilliant way to enjoy the upcoming strawberry season!
You can make this strawberry flavored water easily and enjoy it at home or you can take it along with you to work or to school.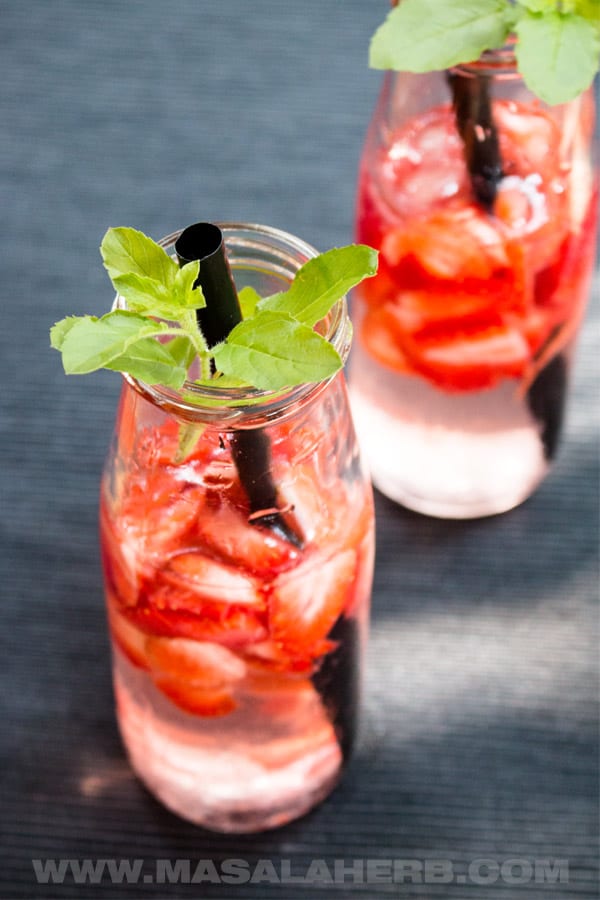 I am a huge fan of fruit infused water and I think it' s about time that I shared my passion with you guys.
In Austria, we have been getting for years no so-called fruit flavored water.
The major mineral water companies started this trend and they have been hugely successful.
At some point, I noticed that people got away completely from handy juice bottles and enjoyed mostly these fruit flavored waters.
At the same time, these fruit flavored waters in Austria had different, commonly available local fruits, as flavors such as Lingonberry water or jostaberry water.
So these fruit infused waters can be prepared with various fruits too!
but first...
What is strawberry infused water?
Strawberry infused water, or fruit infused waters in general, are, as the name suggests, water with strawberries as a natural flavor agent.
These waters contain the flavor of a fruit or two.
Yet contain only a hint of the fruit, but with a strong distinctive flavor.
How is a fruit infused water different to a fruit juice?
The difference between strawberry infused water and a strawberry juice is very clear.
A strawberry juice contains the fruit pulp which is turned into a drinkable version.
A juice is sweet and you can taste only the fruit.
The strawberry water, on the other hand, is plain water with strawberry.
The fruit is more in the background, the water is still the main ingredient and not sweet at all.
Fruit waters are never sweet but contain enough flavor to keep it interesting.
Besides that fruit infused waters are often while referred to as detox water or spa water.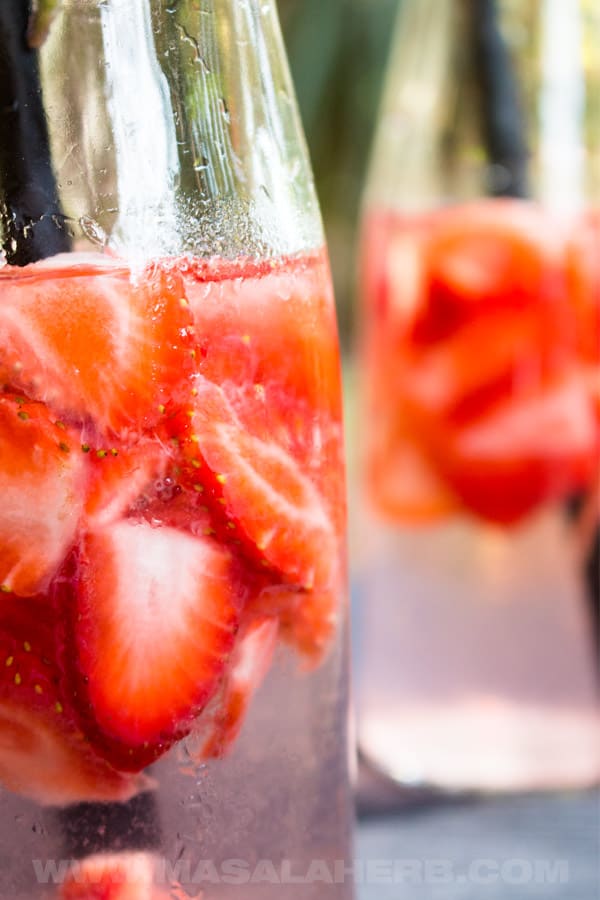 How to make strawberry infused water?
You can prepare a batch of strawberry infused water easily at home.
Even with plain water!
The amount of strawberries you want to use in your strawberry water is up to you.
The more you add, the more flavor the water will have and the more often you will be able to refill the bottle.
Yes, you get o refill the bottle with the fruits in it!
This is one of the cool perks of fruit infused water.
To make strawberry flavored water:
Step 1
Cut your strawberries into slices.
Step 2
Place the strawberry into a glass, pitcher or bottle infuser.
Step 3
Add some ice cubes and pour the water of the fruits, so that the fruits are all covered with water.
Step 4
Let the water with strawberries sit for a while in the fridge before enjoying it. The longer the more flavor
Reasons why you should make your own fruit-flavored water
The great part is that you can refill the glass/pitcher/bottle, with the fruits in it, with fresh water.
So the strawberry infused water can last you for the whole day.
The first batch is always the most flavorful.
I usually keep my fruits for 30 minutes minimum in the water so that the water gets to soak up the flavors.
Then, I refill to create more strawberry detox water.
I refill the glass/bottle/jar usually 3-4 times.
If the fruits are still in good shape (say after the first time refilling) then you can eat the fruits too.
Otherwise, when I refill it up to 4 times, I usually don't eat the fruits because they lost their form and I just throw them on the compost for the garden plants.
What strawberries to pick for the strawberry infused water?
For a more flavorful strawberry infused water experience, pick only ripe fruits.
Don't use hard or overly mushy fruits, pick fruits which are strong in flavor.
If strawberries are in season, then this is the time to make this strawberry infused water.
Always go for seasonal local produce.
Try to use only non-treated organic type of strawberries because you don' t want to have these pesticides in your glass!
The BEST strawberries are the ones you grow yourself.
Loving care and watching them grow adds a special flavor to your strawberry infused water.
No store-bought strawberry has that power.
Another amazing option is to collect wild forest berries.
These small forest strawberries are the most flavorful strawberries you will ever encounter.
They usually grow in the northern hemisphere between pine and leave trees.
Sometimes you can find these little bright red strawberries growing next to blackberries at the roadside.
Therefore, if I had a choice, I would use small hand-picked forest strawberries because they are really worth gold!
What container to use to make strawberry water?
In a glass
I LOVE preparing strawberry water in those tall, milk bottle style, glasses as seen in the pictures.
The tall shape helps in scattering the strawberries evenly and I think the water gets faster infused that way.
At the same time, you can always close these tall milk bottle glasses with a lid for hygienic reasons or to take along the bottle.
The same effect can be achieved with a mason glass but I think those milk bottle glasses work way better in creating quality strawberry "spa water".
In a pitcher
You can also prepare strawberry water in a large pitcher if you are planning to entertain a larger crowd.
This a great idea too for kids.
Children love strawberry infused water and it' s much healthier for them as the sugar is non-existent.
If you have small children, try to get them used to fruit-infused waters before they get hooked on cola and fanta, because they will less likely enjoy these sweet beverages at a later stage of their life.
In a bottle
Prepare strawberry infused water in a portable bottle when you are always on the move.
This option is great for you if you want to take your fruit water to work or to school.
At the same time, the fruit water detox in a bottle is a perfect workout companion.
It will keep you motivated during the workout!
Get the container of your choice to make strawberry infused water:
More healthy beverages
Dear Reader, where were you introduced to strawberry water?
Please, feel free to share with us your thoughts and ideas further below in the comment section!
Global Food Recipes
with Spices and Herbs
Free E-Book available for a limited time. Grab yours now and get instantly inspired!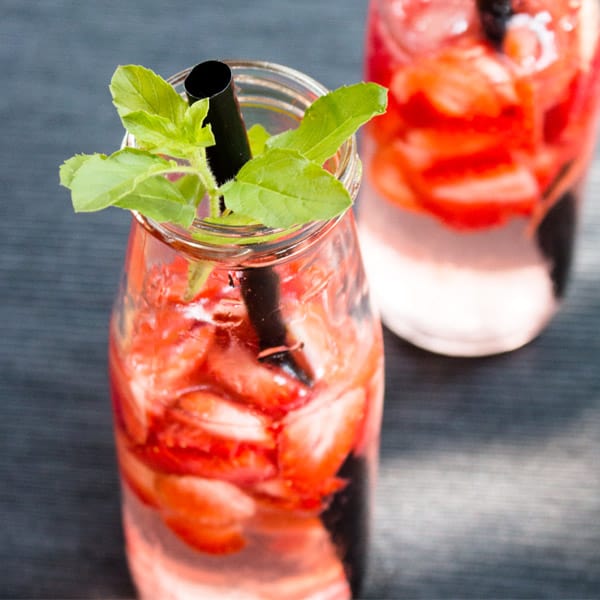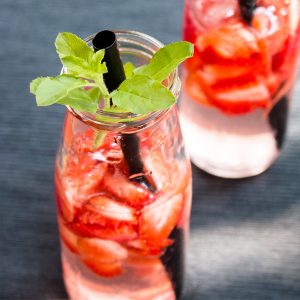 Fresh Strawberry Infused Water Recipe
You are going to love this strawberry water! Decide which container you would like to use to make this infused flavored fruit water and make a batch. Fill it up again for up to 4 times with fresh water! Try using Mineral water for extra nutritional value.
Print
Pin
Rate
Ingredients
For the Strawberry infused water:
Container:
use a tall glass

jar such as milk bottle glass jars so that you can close the glass too for hygienic reasons.

or use a pitcher

or a portable fruit infuser bottle infuser.
Instructions
Keep your glass/pitcher/bottle ready.

Cut your clean strawberries into slices and place as many as you want into your glass/jar/bottle. The more you add the flavor. Just make sure that there is enough space to add water to infuse.

Add Ice cubes and drinking water.

Store in a cool place.

You can enjoy the first round already after 30 minutes.

Refill again up to 4 times max with fresh cool water and let the fruits infuse each time again before enjoying the strawberry infused water.