Low Carb Sauteed Swiss Chard with bacon prepared in one skillet quickly and easily.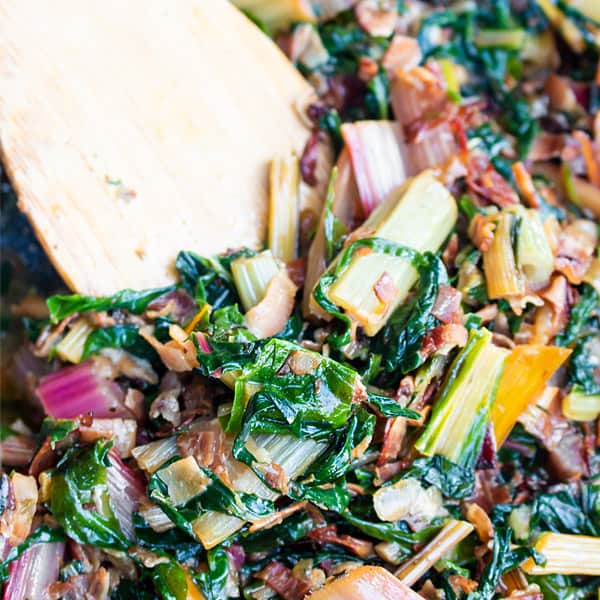 One Pan sauteed swiss chard with bacon is a delightful low carb dinner meal idea.
Watch how I prepare this easy recipe from scratch with garden-fresh swiss chard in my video further below.
The complete recipe with tips and more is waiting for you further below in the post.
Global Food Recipes
with Spices and Herbs
Free E-Book available for a limited time. Grab yours now and get instantly inspired!
Do you enjoy low carb one pan skillet dinner meals just like this sauteed swiss chard with bacon?
If yes, then I think you will appreciate my quick chicken cabbage stir fry and my cabbage and sausage skillet.
Jump to:
What is swiss chard?
Swiss Chard is a leafy green vegetable with an elongated stalk.
The vegetable is also simply known as chard, however other names exist as well.
Chards with colorful stalks, such as the red or yellow chard, are also known as rainbow chard.
Rainbow chard is the same species as swiss chard, so both names can be used for the vibrant chard varieties.
Swiss Chard resembles rhubarb by the looks and taste like earthy beets and spinach.
Growing chard
We like to grow our own swiss chard in the northern hemisphere.
The vegetable doesn't grow in a tropical climate, I tried it.
Swiss Chard seeds are sown out in March and April after the last frost and by June you may already harvest your first leaves with stalks.
In fact, you can harvest your first leaves 30 days after sowing.
I found this swiss chard growing guide useful.
You can continue to harvest until the first frost in fall.
Young smaller leaves are more tender and tend to be better suited for salads because they are not that strong in flavor.
We have a habit of allowing the plant to grow oversized, which is ok too.
Swiss Chard is harvested by cutting it at the lowest point of the stem close to the floor and bulb.
Storing fresh chard
Swiss chard is a leafy green vegetable. That means that fresh leaves are fragile and wilt quickly right after harvesting.
Chard is best enjoyed directly harvested from your garden and used within the hour in your food.
Chard from your grocery store is fine too but always buy the freshest one because the longer they lie around the more the leaves lose on quality.
Store fresh swiss chard in your fridge:
Pick out the bad leaves
Rinse your fresh swiss chard leaves and stalks
Pat dry your chard. There shouldn't be any water left or else your greens won't keep that well.
Cut large leaves and stalks apart. If you have young small leaves, keep them as they are.
Place chard into closed perforated bags
Store in the fridge in your fresh vegetable section for up to 10 days or until you see the first leaves turning bad.
To freeze your swiss chard:
Pick out the bad leaves.
Rinse
Cut leaves and stalks into smaller pieces
Heat up a pot with water and allow to boil
Place your cut chard leaves and stalks into the cooking water and blanche for 2-3 minutes.
Take out your swiss chard and halt the cooking process by placing the chard into a bowl with ice water. This will help retain the shape and color of your chard.
Once cooled, dry your swiss chard in a clean towel.
Prepare small batches and place them into freezer bags.
Freeze completely
To use in this recipe, thaw completely and discard excess liquids from the chard. Use as per recipe instructions.
How to prepare chard?
I use large garden-fresh swiss chard leaves (as seen in the pictures) because they are more suitable than small tender leaves in this sauteed swiss chard recipe.
Colorful large rainbow chard stalks are your best choice for this one-pot skillet dinner meal because of the color contrast and deep earthy flavors.
Step 1
Start by breaking apart your swiss chard leaves from the stalks.
That way your large leaves and stalks can be easily rinsed.
Pat dry your swiss chard.
Step 2
Cut your stalks to your preferred size. I like them to be bite-sized.
Cut your leaves small.
Keep chard leaves and stalk pieces separate.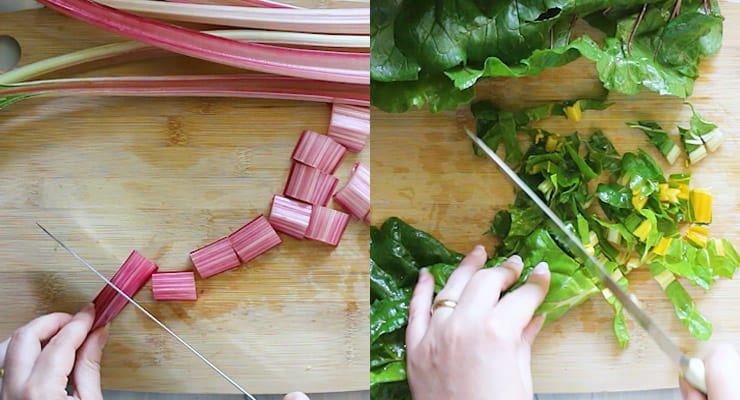 How to cook this dish?
To cook and sautee swiss chard is actually super easy!
Just make sure that you followed my how to prepare and cut fresh swiss chard instructions further on top and you are good to go.
The complete sauteed swiss chard Recipe to print with all the ingredients and instruction details is located at the bottom of this post with the how-to video.
Step 1
Heat up a pan with olive oil and butter and cook your onion slices soft.
Add your bacon pieces to your pan and cook on high heat until crispy.
Step 2
Place cut chard stalks into your pan and stir cook on high heat for a minute.
Reduce heat and sautee your stalks. We cook the stalks first because they take longer to cook through.
Season with salt, black pepper and thyme, and mix.
Step 3
Once the stalks are somewhat cooked through, add in half of your cut chard leaves into the pan and sautee.
The leaves will reduce in size and then you can add the remaining chard leaves to sautee and mix in those too.
Pour your cream over your cooked chard, mix and stir cook for another minute or two.
Serve hot.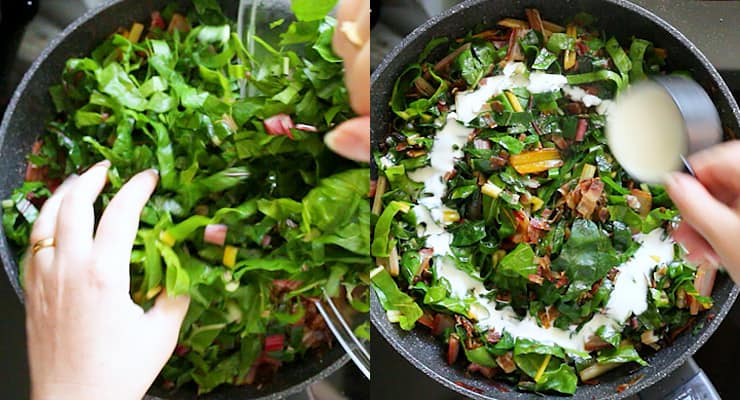 More chard recipes
Global Food Recipes
with Spices and Herbs
Free E-Book available for a limited time. Grab yours now and get instantly inspired!
📖 Recipe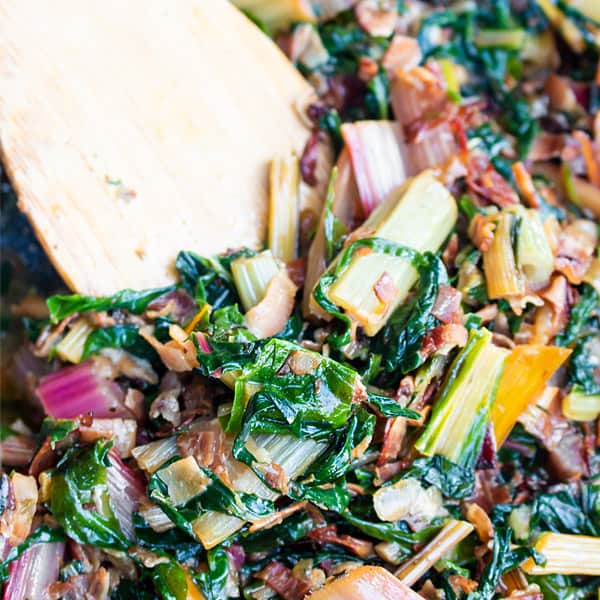 Sauteed Swiss Chard Recipe
Low Carb Sauteed Swiss Chard with bacon prepared in one skillet quickly and easily.
Print
Pin
Rate
Ingredients
12

medium

Swiss Chard Stalks with Leaves

5.3

ounces

Bacon Slices

about 7 slices

1

Tablespoon

Olive Oil

1

Tablespoon

Butter

1

Onion

sliced

½

Teaspoon

Salt

¼

Teaspoon

Black Pepper

1

Tablespoon

Thyme

dried, *see Notes

⅔

cup

Cream

liquid or half and half
Instructions
Take your chard stems with leaves in the hand and break them apart where the leave and the stem meet. That way its easier to rinse off impurities. Pat dry after rinsing.

Cut your stems into smaller pieces and keep in a bowl aside.

Cut your leaves small as well and keep separate from the cut stalks. The leaves need short cooking then the stems.

Cut your bacon into small pieces.

Heat up a pan with the olive oil and butter and add in your onion slices. Cook your onion soft.

Add the bacon pieces and fry your bacon until crisp over medium to high heat.

Throw in your swiss chard stem pieces and stir cook for a minute on high heat. Then sautee your swiss chard stalk pieces over medium heat.

Season with salt, black pepper and thyme, and mix.

Sautee your chard stems until they look almost cooked through.

Now add half of the swiss chard leaves to your pan and over high heat mix and cook so that the leaves reduce in size. Then add the remaining rainbow chard leaves and cook further over high heat until the leaves have considerably reduced in size.

Reduce heat to medium and pour cream over the chard in the pan. Cook and mix for another 1-2 minutes.

Serve your sauteed swiss chard with bacon hot.
Notes
You can use dried thyme or rosemary or savory or a mix of all these spices. Sometimes I like to use a Italian seasoning blend too.
Nutrition
Nutrition Facts
Sauteed Swiss Chard Recipe
Amount Per Serving
Calories 520
Calories from Fat 432
% Daily Value*
Fat 48g74%
Cholesterol 116mg39%
Sodium 1183mg49%
Potassium 934mg27%
Carbohydrates 13g4%
Protein 11g22%
Vitamin A 12766IU255%
Vitamin C 64mg78%
Calcium 150mg15%
Iron 4mg22%
* Percent Daily Values are based on a 2000 calorie diet.