Saffron is a special, very valuable, spice. I talk further below about saffron uses and share useful tips on how to spot a fake.
Global Food Recipes
with Spices and Herbs
Free E-Book available for a limited time. Grab yours now and get instantly inspired!
Jump to:
📕 What is Saffron?
Saffron is a red spice thread, which grows in a flower called crocus.
The spice has a mild distinctive flavor and is actually known for coloring food bright yellow.
Persian, Indian and Spanish cuisines use saffron extensively in dishes.
It's the most expensive spice in the world because extracting large quantities is difficult.
Saffron flowers open up for a brief moment and each flower has to be handpicked.
The purple saffron crocus flowers bloom in autumn, in Spain, South Italy, Iran and Kashmir (India).
Other crocus varieties in white and yellow exist as well, such as the spring crocus seen in the picture below, but those don't grow saffron threads. This is another reason why Saffron is expensive.
The 3 major growing regions are Spain, Iran and Kashmir (India). Farmers in some regions struggle with production due to civil unrest and climate change and saffron prices are definitely affected by that.
🆚 Saffron VS Turmeric
As we just learned, saffron is a flower thread that grows in the autumn-flowering crocus variety.
Turmeric, on the other hand, is a root, that turns food yellow too but the flavors are more intense and nothing like the flavor of saffron.
Some places in India call turmeric also saffron, although each is very different.
Saffron is commonly used in food dishes in North India. Turmeric is more commonly used in South India.
Some dishes can use turmeric instead of saffron but the dosage makes the difference. Turmeric in masses can change dish flavors so use with caution.
🔪 How to identify real saffron and avoid fakes?
Saffron has been in fashion for hundreds of years and people have always tried to sell fakes to those who didn't know any better.
Look out for the following when buying saffron threads:
elongated trumped shaped
threads are red in color but turn the water yellow. If the water turns red, and the threads disintegrate, it ain't good!
Test by rubbing a thread between your wet fingers and the rea stuff will turn your fingers yellow.
if it's expensive it's a good sign. Fake stuff is ridiculously cheap. Also, keep in mind that different qualities exist. You get what you pay for.
🍱 Storing
Store your saffron threads in a glass jar with a closed lid, away from direct sunlight and humidity.
Glass jars are great because that way you can see your threads and you won't forget using them.
I place mine on a retractable bamboo spice rack, which doesn't take too much space.
The ones that I bought always had an expiration date on them. So look out for that too so that you know when your saffron has turned bad.
Global Food Recipes
with Spices and Herbs
Free E-Book available for a limited time. Grab yours now and get instantly inspired!
💡 Recipe uses
I have compiled a useful list of the best uses for your saffron threads.
You can use saffron in savory and sweet dishes, here are some ideas:
Easy Spanish Paella Recipe
This Spanish Paella includes seafood, chicken and saffron for the lovely yellow color.. This is a quick and easy one pot dinner meal!
Get the Recipe
5-Minute Shrikhand Recipe
5-minutes shrikhand prepared with greek yogurt. This sweet spiced Indian dessert is heaven on earth.
Get the Recipe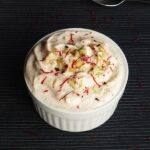 Saffron Buns
Scandinavian Saffron Buns, sweet and fluffy buns, buttery and with a hint of the delicious honey and floral like aroma of saffron.
Get the Recipe
Saffron Cardamom Carrot Quinoa
Earthy quinoa scented and flavored with saffron and cardamon!
Get the Recipe
Saffron Rice
This Saffron Rice is an easy, aromatic and light rice dish.
Get the Recipe
Manda Roti Flatbread
Soft and thin Manda Roti, flavored with aromatic spices like saffron, cardamom and nutmeg, a real treat with Indian curries!
Get the Recipe
Saffron Rice Pudding (Kheer)
Creamy, Delicious saffron Rice pudding kheer. So easy to make and great on any occasion!
Get the Recipe
💭 FAQs
What are some other names for Saffron?
It's called Kesar or Kesari in India, Saffran in some languages in Europe, Crocus as well as Zafran in Arabic.
Where does saffron crocus grow?
It grows well in higher altitudes but the flower is rather sensible and needs a certain semi-wet and dry environment to grow well. Flowers do best in direct sunlight and short grass fields and lawns. Spain, Iran, and India are the biggest producers with the best quality saffron.
What does Saffron taste like?
To be honest I always struggle trying to explain the taste of saffron. It's not sweet and I don't think I would call it bitter. The spice has got its own flavor and I don't think we should even try to compare it to another spice out there. Point. Just buy the real deal, taste it and see for yourself.
Have you ever tried cooking with Saffron?