5-minutes shrikhand prepared with greek yogurt. This sweet spiced Indian dessert is heaven on earth.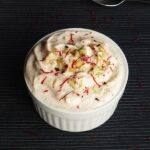 The Shrikhand Recipe is made with greek yogurt, saffron threads, green cardamom, and nuts.
This popular nutritious dessert is for you if you love finishing your meal with something sweet but wholesome.
Global Food Recipes
with Spices and Herbs
Free E-Book available for a limited time. Grab yours now and get instantly inspired!
It's easy to make your own Shrikhand at home with greek yogurt.
If you get the taste for something sweet in the night, you are going to love a bowl of Shrikhand!
Jump to:
Contrary to common belief, Shrikhand is easy to make at home.
My husband tried to tell me a while ago that it was an impossibility to make Shrikhand from scratch because according to him it is a secret art.
You should have seen his face when I whipped up this shrikhand recipe with greek yogurt in less than 5 minutes.
He couldn't stop gobbling up the shrikhand, it was perfect.
My husband would make his life complicated, seeking out a good cup of Shrikhand anywhere in the world.
Nowadays I fill up the jars.
I always keep a pack of Greek Yogurt in the house.
Ultimately, making and following your own shrikhand recipe from scratch is way better than the ready-made store-bought version.
The flavors can be adjusted and it just tastes much fresher!
So, if you have a nut allergy, you just need to skip the nuts and you are good to go.
If you want to add more cardamom then you are free to do so with this shrikhand recipe with Greek Yogurt.
🔪 How to make it?
Here is an overview of how this comes together. The full recipe is further below.
Step 1
Mix yogurt smooth. Soak saffron strings in water
Step 2
Add to the yogurt sugar and cardamom.
Step 3
Stir in saffron water with strings, crushed pistachios, and almonds. Enjoy or store.
🥣 Ingredients
To make shrikhand you need thick fatty hung curd so that you can achieve the consistency and flavors, which make shrikhand so popular.
Here you can learn how to make hung curd.
If you make hung curd at home you will need a muslin cheese cloth to strain the curd.
I skip the hanging curd part to save time.
Instead, I use Greek Yogurt, which is nice creamy and high in fats.
Plain Greek Yogurt is common in most parts of the world, major yogurt brands sell Greek Yogurt.
Greek Yogurt is a great dairy product to prepare shrikhand!
📕 What is Shrikhand?
Shrikhand is a curd specialty from India.
The curd is strained so that the remaining thick curd is left without liquids but remains high in fats.
The strained thick Greek Yogurt-like curd is then flavored either with spices and nuts or also with fruits such as Mango Pulp.
A friend shared with me her shrikhand recipe, which she had made with rose water (gulab).
Adding Rosewater makes another tasty shrikhand recipe!
My husband's family members would remember and tell me stories from ages ago, how traders used to walk around and go from home to home with a bucket of butter and some would have shrikhand too and they would take out the most beautiful creamy butter and shrikhand (whichever amount you needed) with a ladle.
I am not sure which time period this was, however, my husband still remembers these sellers too.
Have you tried Shrikhand before and do you have a favorite Shrikhand flavor?
Global Food Recipes
with Spices and Herbs
Free E-Book available for a limited time. Grab yours now and get instantly inspired!
📖 Recipe
5-Minute Shrikhand Recipe
5-minutes shrikhand prepared with greek yogurt. This sweet spiced Indian dessert is heaven on earth.
Print
Pin
Rate
Ingredients
1

pound

Greek Yogurt

2

pinch

Saffron

1

Tablespoon

Water

luke warm

5

Tablespoon

Powdered Sugar

1 ½

Teaspoon

Green Cardamom Ground

1

Tablespoon

Pistachios

crushed

1

Tablespoon

Almonds

crushed
Instructions
Place the greek yogurt into a mixing bowl and mix it smooth.

In a small bowl add the saffron strings and the water. The water will take out the orange red natural color from the saffron strings. Let the strings soak a little bit,

2 pinch Saffron,

1 Tablespoon Water

Add to the yogurt the sugar and cardamom powder. Mix well.

1 pound Greek Yogurt,

5 Tablespoon Powdered Sugar,

1 ½ Teaspoon Green Cardamom Ground

Continue to add to the yogurt mixture the saffron strings with the colored red water. Also, add in the crushed pistachios and almonds. Mix the whole content well.

1 Tablespoon Pistachios,

1 Tablespoon Almonds

Keep in the fridge to cool. Shrikhand has to be served cold. You can garnish the Shrikhand with some saffron and nuts if you want.
Nutrition
Nutrition Facts
5-Minute Shrikhand Recipe
Amount Per Serving (175 g)
Calories 133
Calories from Fat 18
% Daily Value*
Fat 2g3%
Cholesterol 5mg2%
Sodium 41mg2%
Potassium 196mg6%
Carbohydrates 15g5%
Protein 12g24%
Calcium 134mg13%
Iron 0.3mg2%
* Percent Daily Values are based on a 2000 calorie diet.