Homemade Rhubarb Strawberry Jam Recipe with fresh ingredients. Make this amazing jam today and enjoy it tomorrow on your breakfast bread!
Homemade Rhubarb Strawberry Jam Recipe with fresh ingredients that are in season.
Make a batch of this delicious jam to spread a spoonful of it over your toasted breakfast bread.
Minus the Rhubarb and you have a strawberry jam recipe to make.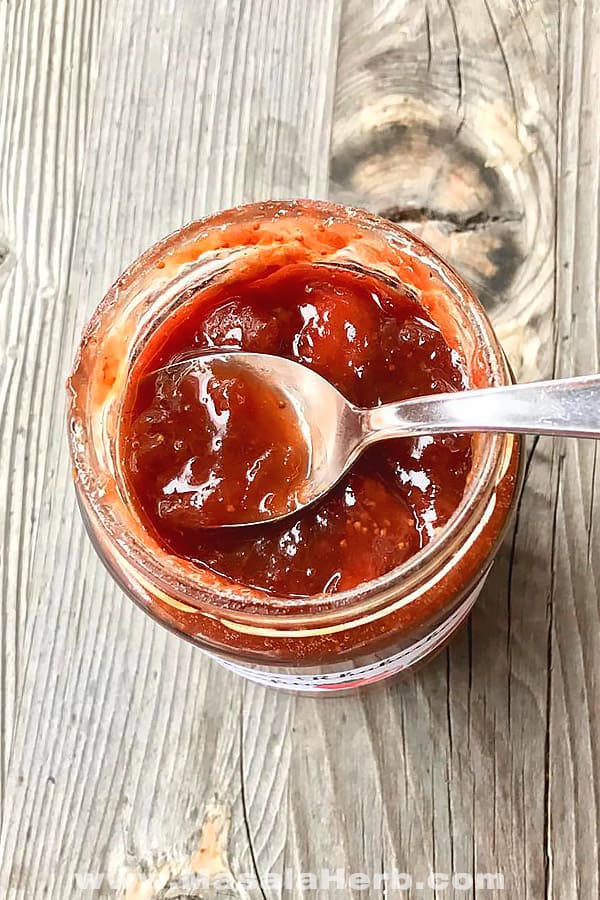 We love Rhubarb, don't we?
The sour, tart flavor of those crisp stalks have become quite popular in recent years.
It happened actually all of a sudden, that the world started to enjoy this unusual "vegetable", in fact, I remember that nobody knew what rhubarb was some 15 years back, well at least where I grew up.
My family in France have huge plants there, which they use excessively in the summer months for tarts and jams and so my mum was inspired to grow her own batch in our garden.
Today it is a huge plant, but even this plant seems to be too small for our own consumption, it simply gets over too quickly.
Yet, comparing the supermarket bought stalks with the homegrown ones, I thought the latter to be tastier (obviously).
That's a good reason for the one of us who have a garden or enjoy gardening and harvesting their homegrown stuff, to plant some rhubarb.
Now, let's turn our attention now toward my favorite childhood jam!
I am not that much of a strawberry head like the rest of the world, but strawberry and rhubarb are an ingenious combination, kind of like the gods' ambrosia and nectar, simply perfect!
Here I am, passing over another precious family recipe.
For sure you will enjoy this yummy sticky jam as much as we do and I bet that I can count you soon to the strawberry & rhubarb obsessed!
If you are looking for another excellent use for Rhubarb, then I can recommend my mums Rhubarb Tart recipe right over here!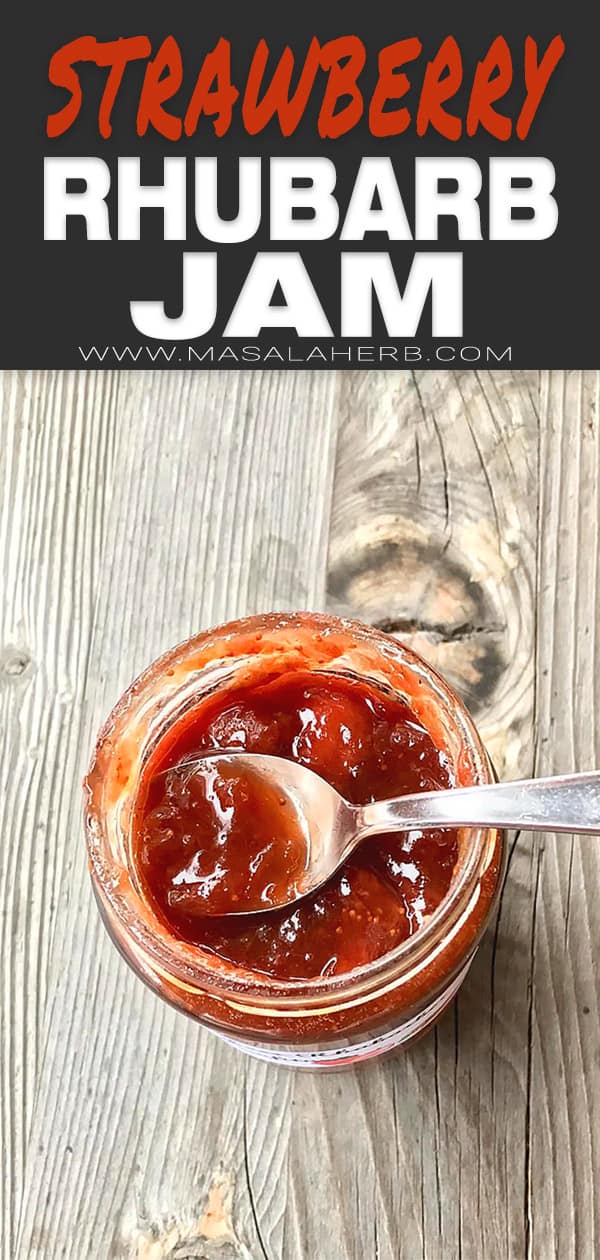 Global Food Recipes
with Spices and Herbs
Free E-Book available for a limited time. Grab yours now and get instantly inspired!
Rhubarb Strawberry Jam Recipe
Homemade Rhubarb Strawberry Jam Recipe with fresh ingredients. Make this amazing jam today and enjoy it tomorrow on your breakfast bread!
Print
Pin
Rate
Ingredients
11

ounces

Rhubarb

fresh stalks

32

ounces

Strawberries

5

cups

Sugar
Instructions
First, peel the freshly cut rhubarb stalks and rinse.

Then cut the rhubarb stalks into 1 inch thick pieces. Place into the jam cooking pot

Clean, rinse and cut the Strawberries into smaller pieces. Add the strawberry to the rhubarb pieces into the jam pot.

Pour sugar over the fresh ingredients into the pot

Mix it all well and keep on the heat until you get a rolling boil. Then take down the heat.

Let the jam simmer until setting point. check if your jam is set by dropping some of the hot jam on a cold plate which you kept in the freezer earlier. Jam setting temperature is 105 Celcius/220 Fahrenheit with a candy thermometer.

You can turn your jam into a smooth consistency by blending it with an immersion blender.

Keep your clean sterilized jars ready and pour your jam into the jars. Fill up to the rim. drop some rum or vodka into the lid to kill remaining bacteria etc. Close the jar with the lid tight and turn quickly upside down to create a vacuum.

Leave the jam to cool upside down for 24 hours, then label them with date and details and store in a cool and dry place. Keep in the fridge once opened.
Nutrition
Nutrition Facts
Rhubarb Strawberry Jam Recipe
Amount Per Serving
Calories 60
% Daily Value*
Potassium 32mg1%
Carbohydrates 15g5%
Vitamin A 5IU0%
Vitamin C 8mg10%
Calcium 6mg1%
Iron 0.1mg1%
* Percent Daily Values are based on a 2000 calorie diet.