Natural Rhubarb Jam Recipe prepared with 3 ingredients.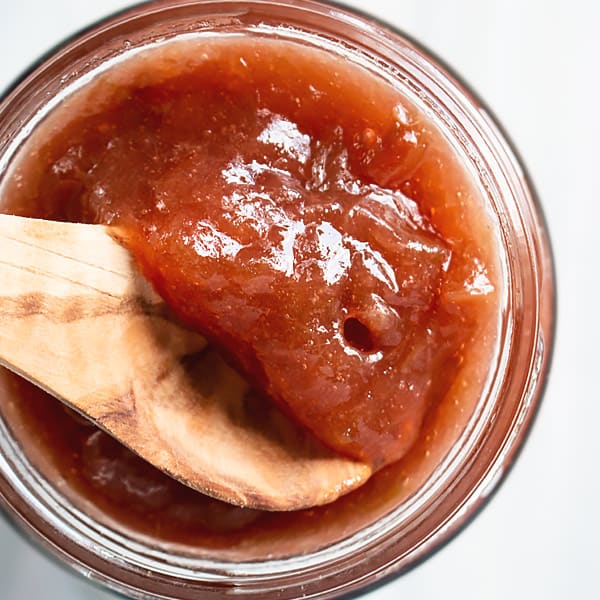 French Rhubarb Jam Recipe prepared with only 3 ingredients, and without pectin or any other artificial setting ingredients.
Jump to:
🔪 How to make it?
To prepare this rhubarb jam without pectin you will need only 3 ingredients.
The rhubarb preserve is prepared without pectin and is a French recipe.
This is how it's done.
Step 1
Rinse, peel and cut your rhubarb stalks into pieces.
Bring the rhubarb with the sugar and lemon to a rolling boil
Step 2
Let the jam simmer on medium to slow flame until the jam is set.
You can blend the jam smooth with a hand blender.
Step 3
Test if the jam is set and place into clean sterilized jars.
Close jars tight with lids and turn upside down to create a vacuum.
💭 FAQs
Here are some commonly asked jam making questions so that you succeed in making this tart rhubarb ham recipe.
Why don't you add pectin sugar to this rhubarb jam?
This is a french rhubarb jam recipe from my maternal family side.
We don't add pectin sugar or sure jell to our rhubarb jams because our jams preserve well without thanks to our preservation technique.
Commercial pectin sugar tends to alter the taste and texture of a jam, turning it artificial and unnatural.
To preserve all goodness of the fruits, we choose to continue our family tradition by using only quality fruits and regular sugar in our homemade jams.
Why do you add this amount of sugar to your jam?
Sugar helps in preserving the fruits and ultimately prolong the shelf life of a homemade jam.
The sugar quantity in this recipe was perfected and should not be modified because rhubarb is sour as it is and varieties of rhubarb don't differ much.
Keep in mind that a jam is meant to be eaten in small quantities spread over your breakfast bread or used as a doughnut filling.
Is Rhubarb high in Pectin?
Fresh Rhubarb is low on natural pectin, just like strawberries and apricots.
However, to prepare a pectin-free rhubarb preserve you can add lemon juice and even the lemon halves with seeds to the jam.
You can choose to add the lemon halves, it's optional.
Citrus fruits are high in pectin and lemon is a great addition to your jam to add natural pectin.
Why is my jam runny?
Your jam is runny if the jam hasn't set and needs to cook further until setting temperature has been reached.
The setting temperature can be checked with a candy thermometer and is at 220 Fahrenheit/ 105 Celsius.
You can also test if the jam is set by dropping some of the hot jam on an ice cold plate
Turn around the plate and if the jam is running, it's not set and you just need to cook your jam further
Repeat the process.
Also please keep to the recipe ingredients and don't cut down on the sugar or don't add water to the jam as this can be another reason why your jam is runny.
Why is my rhubarb jam hard?
Sometimes when we are unsure if the jam has set, and we cook the jam further, it can turn hard.
This is where a candy thermometer comes handy so that you don't exceed the 220 Fahrenheit/ 105 Celsius.
Jam looks liquid when it's hot cooking, and that can be the misleading factor.
The jam turns thick when it's cooling down and this is the prime reason why a jam turns stone hard.
It's easier to fix a runny jam then a hard jam.
You can try to add a small amount of water by heating the jam up and mixing it all.
Keep in mind to use up the jam asap because you have added water and this can reduce the shelf life of your jam.
How long to cook my rhubarb jam?
There is no exact time frame.
Your jam can be done after 30 minutes or 80+ minutes as it depends on the fruits, stove and heat level that you used.
I like to cook my jam on a medium to light simmer after the rolling boil until it's set.
Usually, my rhubarb jam takes about 30- 45 minutes until it's set.
You need to test to see if your jam is set, that is important!
How to store my rhubarb jam?
Store your rhubarb jam in clean sterilized jam jars with clean lids.
You can sterilize your jars by placing them in a water bath on the stove, or by keeping them in the oven to kill all germs.
Fill up your jam jars up to the rim with jam.
Add 2-3 drops rum, vodka or similar into the lids to kill further all germs.
Close your jars tight with the lids and quickly turn your jam upside down to create a vacuum.
Keep the jars like that for a few hours or overnight, label them, and store in a cool and dry place until further use.
Store your jar in the fridge once opened or if you live in a tropical humid climate.
How long will my jam last?
If you follow all preservation steps as described above, your jam will last months.
We store our jams for up to 10-12 months.
Usually, our rhubarb jams don't last that long because the jam is consumed or sold out before that (my mother sells her jams in the farmer's market in Austria)
👁️ More rhubarb recipes
Dear Reader, have you tried the French rhubarb jam?
Global Food Recipes
with Spices and Herbs
Free E-Book available for a limited time. Grab yours now and get instantly inspired!
📖 Recipe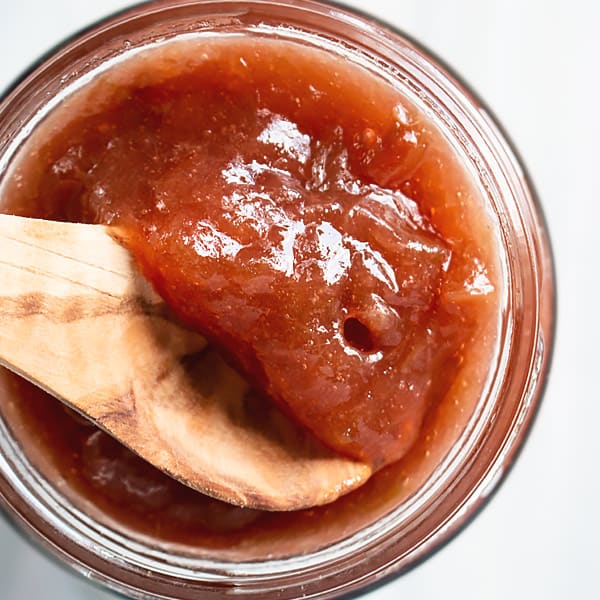 Rhubarb Jam Recipe
Natural Rhubarb Jam Recipe prepared with 3 ingredients.
Print
Pin
Rate
Instructions
Rinse your rhubarb stalks and peel.

Cut your rhubarb stalks into smaller pieces/slices.

Place the rhubarb pieces into a large jam pot.

Add sugar and the juice of the lemon. You can add the lemon halves too if you like (extra natural pectin).

Mix everything well. At this point, you can choose to leave the ingredients to infuse for a while (Which might result in a better jam) or you can start to cook the jam.

Bring your jam to a rolling boil and stir occasionally.

Take down the heat and allow your jam to simmer or cook slowly until it is set

Check if your jam is set with a candy thermometer, 220 Fahrenheit/ 105 Celsius. Also, do the setting test by dropping some of the hot jam on an ice cold plate (which you kept in the freezer previously) and move around the plate to see if the jam is running. The jam is set if it's not moving, if not, cook your jam further and repeat the test until set.

Pour jam into clean sterilized jars and fill up to the rim. Close with a lid tight and turn upside down quickly. Leave the jam like that for a few hours, label and store in a cool and dry place until further use. Store in the fridge once opened.
Notes
Use garden fresh organic untreated rhubarb if possible
Do not reduce the sugar in the recipe. Read up in my post why.
Use the lemon juice and lemon rind in your jam. The rind contains plenty of natural pectins, which helps to preserve the jam.
Only use organic untreated lemon if you use the rind in the jam because of the pesticides.
The cooking time is relative and can be anywhere somewhere between 30 and 90 minutes. Please read up post for details about setting tempreture and time.
Serving of 70 Teaspoons = about 3 jam jars.
Use quality jam jars and jam making equipment.
Nutrition
Nutrition Facts
Rhubarb Jam Recipe
Amount Per Serving
Calories 49
Calories from Fat 9
% Daily Value*
Fat 1g2%
Sodium 1mg0%
Potassium 43mg1%
Carbohydrates 13g4%
Protein 1g2%
Vitamin A 15IU0%
Vitamin C 2mg2%
Calcium 13mg1%
Iron 0.1mg1%
* Percent Daily Values are based on a 2000 calorie diet.