One-pot flavor packed easy red beans and rice with sausages. This will be your new dinner favorite!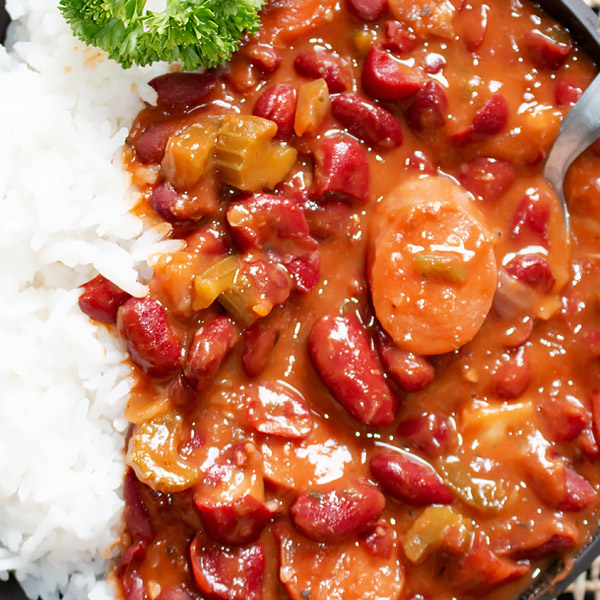 Red beans and rice flavored with sausages, veggies and a set of spices.
This is a wholesome dinner meal that you can prepare in one-pot easily from scratch.
Global Food Recipes
with Spices and Herbs
Free E-Book available for a limited time. Grab yours now and get instantly inspired!
Jump to:
📕 What are red beans and rice?
Red beans and rice is mostly known thanks to the South in the US. New Orleans in Louisiana calls this cajun comfort dish its own!
Historically this dish was prepared on mondays.
Yet, Caribbean island nations also love their own creole red beans and rice. Cubans, Jamaicans, and Puerto Ricans made it a staple in their homes.
The red beans and rice dish from the Americas contain usually pork meat such as sausages, ham, or bacon.
The meat lends the dish all the flavors.
This is why red beans and rice shouldn't be confused with the Indian rajma dal, which is a kidney bean curry from North India. It is served with rice as well.
🫘 Ingredients
Here is what you will need to make this spiced stew-like beans with rice:
Rice - Try to get toro long grain rice which is native to the South
Red beans or kidney beans - Preferably canned to make this dish faster in one pot. Dried beans take time to soak.
Onion and garlic
Bell pepper
Celery
Sausages - Preferably pork and smoked for extra flavor. Andouilles or Kielbasas are great, I like Franks.
Olive oil
Seasoning - thyme, cayenne pepper, salt, black pepper, bay leaf, and oregano. The more cayenne pepper the spicier hot it gets! You can also use cajun seasoning.
Tomato sauce
Broth - vegetable broth preferably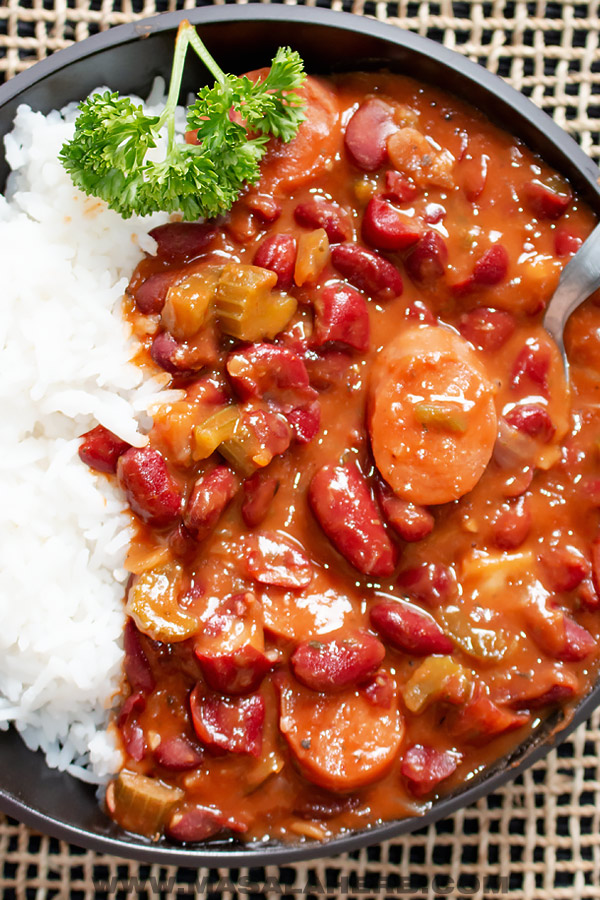 🔪 How to make red beans and rice?
The Rice is cooked on its own
For the red beans, you will start out by cutting the vegetables small, and then comes the cooking process.
Here is an overview of how it's done, the detailed recipe with instructions are located at the bottom of this post.
Step 1
Cook the rice through with water and salt. Strain when done and keep aside.
Prep and cut your fresh produce and the sausage small.
Step 2
Heat up a larger cooking vessel with oil and saute vegetables and sausage.
Add in beans, broth tomato sauce, and seasoning.
Step 3
Cook the red beans until it all thickens and it has reduced. The flavors will develop in time.
🥣 Serving
The obvious answer here is, the beans come with the rice in a bowl. It's that simple.
Yet, you can choose to serve up your red beans without rice too. In that case, it's nice to have the beans with bread.
I also love a tangy and light green salad with my beans and rice.
Garnish with chopped fresh chives or parsley.
🍱 Storing
Try to keep the rice and beans separate.
You can store leftovers in airtight containers for up to 5 days in your fridge.
Heat them up again over the stove top or in a microwave save container in the micro for a few minutes.
You can freeze batches of the red beans in smaller containers. To thaw, keep in the fridge overnight and reheat as per earlier instructions.
I don't recommend freezing cooked rice because it gets all mushy. Just cook up a batch while the beans are getting hot.
💭 FAQs
Dried VS Canned Red Beans. Which ones to pick?
I prefer canned beans because they have been soaking already, and they don't need extra cooking, so they are sot as is. Dried beans are cheaper on the other hand, but they require more dedication. Pick out stones if there are any, rinse, soak and cook your beans in a pressure cooker until soft.
How can I fix my red beans when they are too salty?
Peel and quarter a raw potato and drop the potato quarters in the dish. this will soak up excess salt. Taste and your red beans should be moderately salty now.
How to thicken red beans?
The recipe calls for canned red beans and those are already soft so when you cook them with the other ingredients into a delicious stew, you are sure to get a thickened red beans dish. Also, the addition of tomato sauce helps in thickening the beans and of course cooking it all down over slow heating.
👁️ More Bean and Lentil Meals
Global Food Recipes
with Spices and Herbs
Free E-Book available for a limited time. Grab yours now and get instantly inspired!
📖 Recipe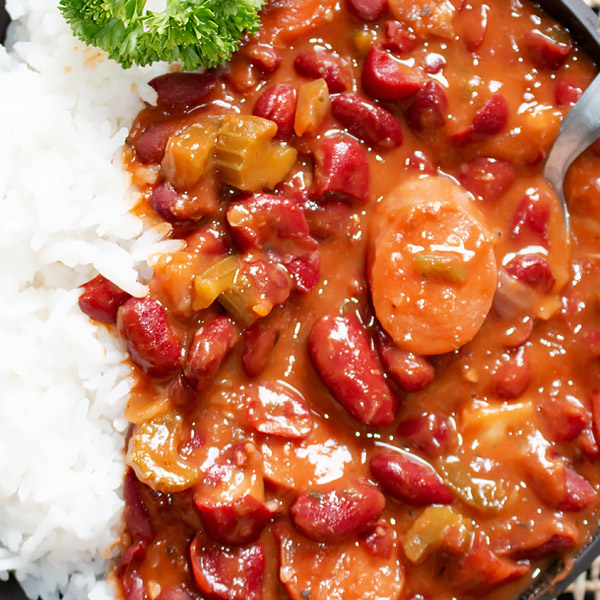 Red Beans and Rice with Sausage Recipe
One-pot flavor packed easy red beans and rice with sausages. This will be your new dinner favorite!
Print
Pin
Rate
Ingredients
For the Rice
2

Cups

Uncooked Rice

*see Notes

Water

Salt
Instructions
For the Rice
Boil the rice with salt and water until cooked through. Double the amount of water to the rice. Cook until done, strain, and keep aside.
For the Red Beans
Prep your fresh ingredients. Peel and slice onion, chopped garlic, sliced celery stalks, and bell pepper. Keep aside

Slice sausage to the desired size. Keep at the side.

Heat up a cooking vessel with the olive oil and saute onions and garlic first until soft.

Then add the sausage slices to that and stir cook over a higher heat setting for a minute or two.

Reduce heat and stir in cut celery and bell pepper.

Stir cook over high heat for a minute or two.

Reduce heat once again and stir in the remaining ingredients, the beans, the tomato sauce, broth, thyme, oregano, and basil leaf. Don't season with salt and black pepper yet, this is reserved for the end (*see Notes).

Mix it all well and keep over a medium heat setting. Cook your red beans covered for about 10 minutes or so.

Remove the cover and continue to simmer stirring occasionally over a lower heat setting. Just make sure nothing sticks at the bottom. The dish will reduce and thicken.

When you are satisfied with the flavors and consistency, take out the bay leaf and discard. Season with salt and black pepper. Combine well.

Serve up your red beans hot with cooked rice at the side in a bowl or shallow plate.

Garnish with parsley or cut fresh green chives.
Notes
Try to get Louisianna long grain rice. OR Basmati will do too.
You can use your choice of sausage. Andouilles are the traditional choice for this dish. I used smoked pork franks. I think what matters is that you use pork sausages because that's what gives the dish the flavor.
Always add salt and black pepper at the end when you cook beans and lentils. This is because they cook better through without those two seasonings.
Nutrition
Nutrition Facts
Red Beans and Rice with Sausage Recipe
Amount Per Serving
Calories 715
Calories from Fat 189
% Daily Value*
Fat 21g32%
Cholesterol 41mg14%
Sodium 1232mg51%
Potassium 621mg18%
Carbohydrates 110g37%
Protein 19g38%
Vitamin A 1618IU32%
Vitamin C 34mg41%
Calcium 85mg9%
Iron 3mg17%
* Percent Daily Values are based on a 2000 calorie diet.