I grew up with Gugelhupf, it is everywhere in our lives. That's the Austrian philosophy! This forefather of the American bundt cake originated in Austria, which was especially popular during the Biedermeier period in central Europe. The Gugelhupf has many names and might be better known in some parts of europe as kuglof, kouglof, Napfkuchen or babovka. It is a cake which both my heritages call their own and therefore even my mother knows a French Alsatian recipe for it. My Austrian grandmother would make it frequently too, not the mini Gugelhupf versions but the real big thing. She was a tough and strong woman who would work from morning till evening nonstop. She and my grandfather had survived the war and had met each other and married once the allies had moved out of our territories. I am telling you all this today because she succumbed to cancer a few years ago…
Today my friends and I got together to write and share a few recipes, so to raise awareness about Cancer. When I think of Cancer I think of my grandmothers and all the other friends who died during the last years because of cancer. Last year I had shared one story today I thought I would explain why it is important to go to regular check-ups. You see my grandmother hadn't checked herself and she was oblivious to the fact that she was sick with cancer until she exhaled her last breath. This is the truth and I thought about it a few times. It wasn't my decision at that time and I was still considered a kid by some, and nowadays I am not sure if I would have told her about her fate. If she would have checked herself more frequently she would have been able to prevent the illness and maybe she would have still been living amongst us. There are still people who survive it, most of them only because they prevented the carcinogens early enough.
Cancer is a condition where healthy body cells turn berserk, growing uncontrollably into malicious tumors. A healthy lifestyle can prevent the growth of those cancer cells and frequent checkups can detect them early enough before it is too late. All that sounds simpler then it is. A check-up is an impossible thing for poorer people or people who live in countries without social care. I am pretty sure that an Indian living in the rural parts of India doesn't even know what cancer is! The education about cancer and how to prevent it and how to treat it early on is an essential topic in this world!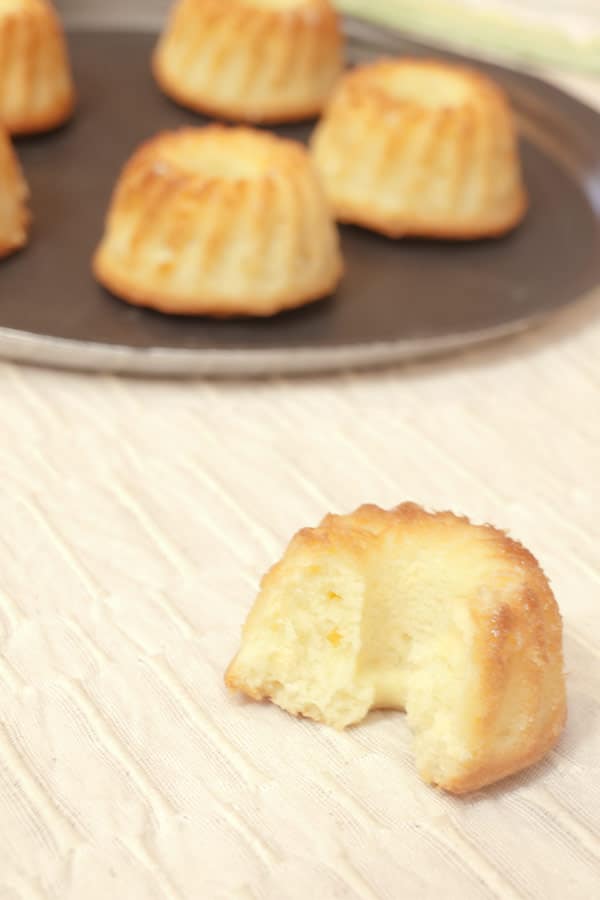 So when I think of cancer, I bake Gugelhupf. Since I don't have the original big mold, I use my mini molds which I prefer anyway because of the size. The original mold is anyway hard to get, except if you get to Austria because the German one is different too. The difference is small, in fact, it's just the depth of the mold. Anyhow you should be fine with small silicon molds as I have used here. Of course, don't forget to follow the recipe from beginning to end and you will have baked your own mini Gugelhupf.
Mini Gugelhupf
Serves:
12 mini Gugelhupf
Gugelhupf were traditionally baked in the Biedermeier age in Austria. Until today's day, it is a tradition to bake a Gugelhupf on Sunday's.
Ingredients
200 grams soft Butter
100 grams powdered Sugar
4 Egg Yolks
pinch Lemon Zest
few drops Vanilla Essence
150 grams White Flour
50 grams Cornstarch
4 Egg whites
100 grams crystal Sugar
Instructions
In a mixing bowl add the soft butter, egg yolks, lemon zest, Vanilla, White flour and Cornstarch. Mix it all well!
In another bowl beat the egg whites with the sugar stiff.
Preheat your oven to 180 Celcius.
Add first ⅓ of the stiff egg whites to the butter-flour mixture and fold it carefully in so that the airiness remains. Continue to add in the rest of the egg whites and carefully mix it in so that all ingredients are well incorporated.
Butter your molds and dust them with flour. If you use Silicon molds as I did, you won't need to grease them.
Bake your mini Gugelhupf for about 35 minutes at 180 Celcius or until the pastry is properly baked and not raw.
The event is being hosted by Kim of Cravings of a Lunatic and Jen of Juanita's Cocina. They teamed up with their blogger friends to help raise awareness and support for Cancer and Hospice today in memory of Kim's dad. We encourage everyone to read the posts and share their own experiences with cancer. We also would like to encourage everyone to donate to the Canadian Cancer Society, the American Cancer Society and also to the Canadian Hospice Palliative Care Association. Hospice was a key element during Kim's father's battle with cancer. They made it possible for Kim to care for him at home. So please show your support and donate if you can. You can also contact your local Hospice and donate directly to them if you wish. A little goes a long way!
Enter for your chance to Win an Artisan® Series KitchenAid®  Stand Mixer in the color of your choice (there are 26 to choose from) as well as an Ice Cream Maker Attachment. A sweet choice for all,  this creative attachment features the largest ice cream bowl capacity in the industry. Prepare 2 quarts of ice cream, sorbet, gelato or other frozen desserts. We're pleased to announce the giveaway is open to Canadian residents, as well as U.S. Residents. Winner will be chosen and announced during the pinchatlive event, described below. Winner will also be notified via email and has 48 hours to respond. If winner does not respond another winner will be chosen. 1 Stand Mixer and 1 Ice Cream Attachment are being given away as a group, not 1 per blog just to be clear for our readers.

There are bonus prizes for the pinchatlive event. We are giving away 1 Vanilla Infused Gift Box Set, 1 Lemon Infused Gift Box Set and a $30 Amazon Gift Card.  In order to participate in this event follow the Pinterest Board #recipesfromtheheart. Hop on the Pinterest board on June 22 at 2 pm Est to follow along. We'll ask questions and those who comment are entered to win the bonus prizes. There will be a G+ Hangout on Air during the event as well. Winners of the pinchatlive event must be Canadian or U.S. residents.
Visit Facebook.com/KitchenAidCanada and click on the "More than a Mixer" tab to explore all 12 attachments available for the KitchenAid® Stand Mixer.
Other Participants!
Vanilla Bean Ice Cream with Home-made Strawberry Topping by Cravings of a Lunatic
Chili Verde by Juanita's Cocina
S'Mores Brownies in Jars by That Skinny Chick Can Bake
Dark Chocolate and Orange Muffins by The Dutch Baker's Daughter
Boston Cream Pie by Pass The Sushi
My Fathers Day Recipe Round Up by Curry and Comfort
Tropical Smoothie by Dinners, Dishes and Desserts
Mini Gugelhupf by Masala Herb
Sauteed Strawberry and Sugarsnap Salad by Cook The Story
Cranberry Cashew Breakfast Muffins by In Fine Balance
Arugula Salad with Sundried Tomatoes and Mushrooms by Crazy Foodie Stunts
Spicy Beef Sliders by Katie's Cucina
Thai Red Curry Soup by Damn Delicious
Suman (Sweet Rice and Banana Leaves) by Culinary Adventures with Camilla
Fresh Vegetable Salad by White Lights on Wednesday
Peanut Butter Cup Ice Cream Sundae by The Girl in the Little Red Kitchen
Cinnamon Chip Cookie Butter Bars by The Messy Baker
Berry/Cherry Fro-Yo Ice Cream by Cookistry
Honey Beer Bread by Hungry Couple
Cinnamon-Chocolate Chip Pancakes by The Spiffy Cookie
Chocolate Cherry Granola Bars by Sweet Remedy
Cookies and Cream Brownies by Cooking in Stilettos
Blueberry Lemon Cake by Roxana's Home Baking
Angel Cake by Ninja Baking
Knit (or crocheted) Grey Brain Cancer Mustache Pin by Knit, Purl, Damn!
The following two tabs change content below.
I am Helene, and created Masala Herb to share my food and travel journey with the whole world. You will find Asian and Western dishes here, as well as unique travel guides to inspire your day. Don't miss a post! Subscribe to the free newsletter!
Latest posts by Helene Dsouza (see all)