A natural marzipan candy with honey and whole almonds.
Instead of using peeled almonds, as it is usually done, I use whole almonds for this honey and rose water flavored marzipan.
These can be shaped in various ways.
I like my marzipan candies shaped into balls because they are easier to handle that way.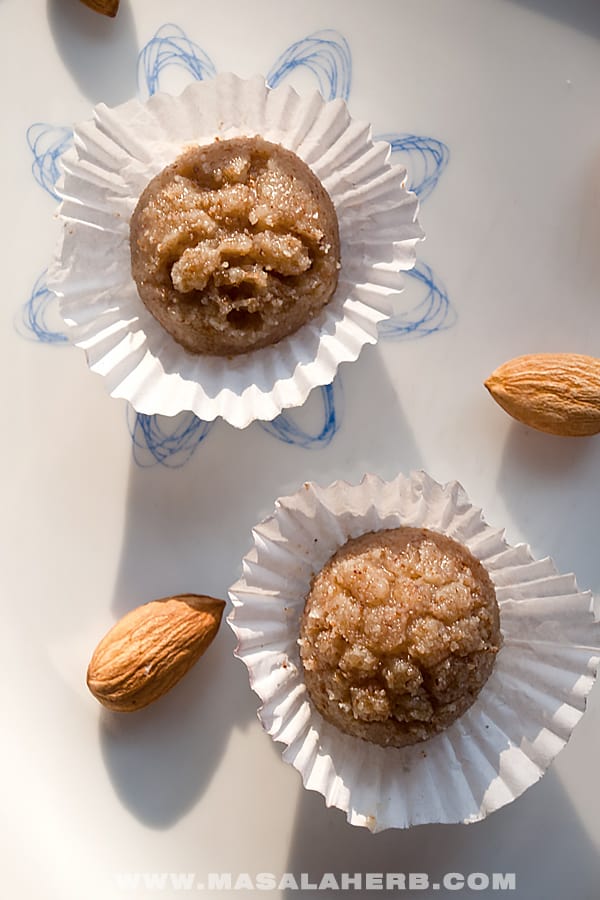 This sweet homemade almond paste is one of my favorite candies, but I am often disappointed by store bought marzipan.
They taste and look is way too artificial.
So I make my own, which is soo good!
What is Marzipan?
Marzipan is sweetened almond paste.
The difference might just be the name, the amount of sugar added and the fact that Marzipan is mostly European and Almond Paste North American.
Marzipan has many uses.
Cakes - Marzipan can be used to cover cakes with a layer of fondant or to create little cute decorations for classic cakes such as the Christmas Bûche de Noël (Yule Log).
Cookies - Marzipan can be baked to create marzipan cookies such as classic French Petit Fours or the Bavarian Bethmännchen.
Chocolates - A tradition in Austria, as in Mozart Balls. Chocolate makers such as Berger are specialized in marzipan chocolates.
Candy - The most well-known marzipan candies are the ones gifted to each other in the German-speaking countries to celebrate the new year. The marzipan candy is usually shaped as a little piglet, red mushroom, horseshoe, clover or as a chimney sweeper.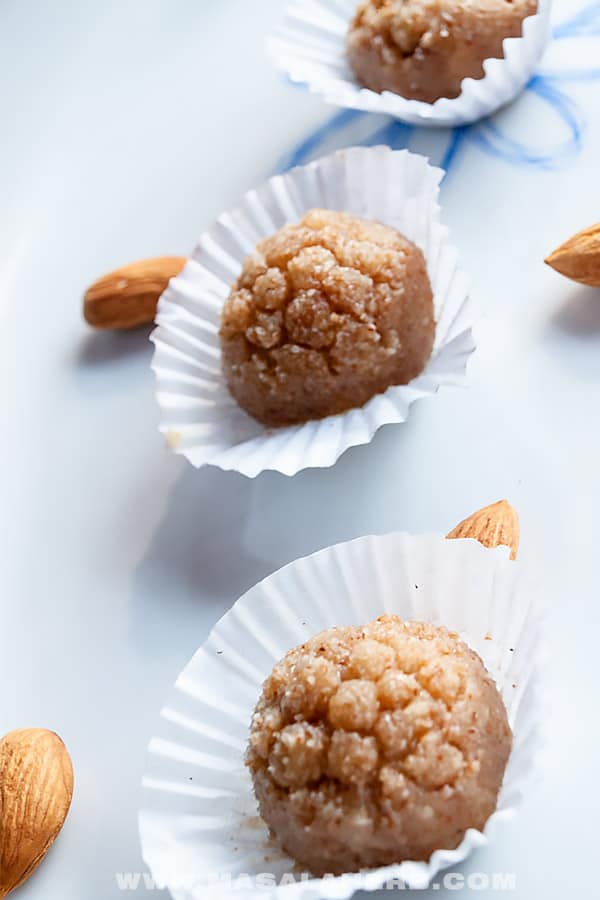 How to make Marzipan candy?
To make Marzipan candy you will need a few ingredients:
Almond meal - whole almond meal (unpeeled) or white (peeled) almond meal
powdered sugar
honey
rose water - a few drops
Cooked almond dough is great to use as a coating for cakes but simple uncomplicated Marzipan to prepare marzipan candy can be prepared without cooking too.
In this recipe, I preferred to use the almonds unpeeled.
Feel free to use whole almond meal instead of whole ground almonds to speed up the process.
To grind your almonds, I recommend you use a proper powerful mixer such as the Vitamix.
Whole almonds result in a natural brown coloring of the marzipan paste, which I feel looks gorgeous!
For a unique flavor, I chose to use linden honey, the honey's aroma can be described as flowery, fresh with a strong aftertaste.
You can pick whichever honey you like.
Try to choose artisanal honey or something that will support your local beekeeper.
For example, I support my uncle with his honey making.
You can try around different Honey variations and flavors.
Of course, I don't want to limit your creativity.
I use Linden Honey, but you can also try Lavender honey, forest honey or something like the Lehua Blossom Hawaiian Honey.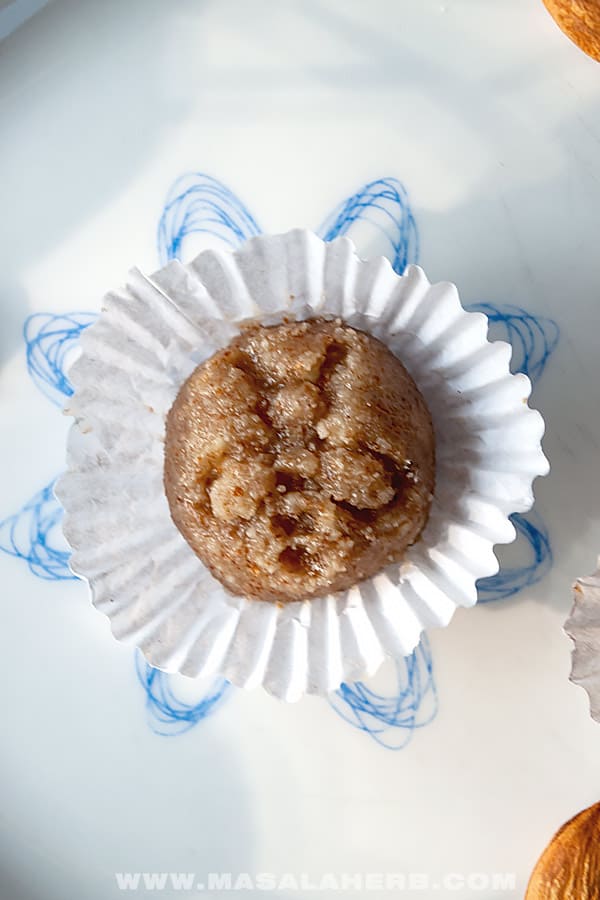 Basically to make the Marzipan paste you will need to create a paste from the almond meal, sugar, honey and add some rose water as a liquid.
It's a very simple and straightforward process!
I did another marzipan post for Valentine days where I created heart-shaped painted marzipan candy.
Dear Reader, Have you ever made your own marzipan before?
Please feel free to share your thoughts and ideas with us in the comment section further below!
PIN to save for later!
So you love SPICES and HERBS?
GET 5 FREE SEASONING LESSONS
Type in your email address below.
Including free access to the
Seasoning Members only Club!
Ingredients
100

g

whole Almonds

1 ½

Tbs

powdered Sugar

few drops rose water

2

hipped Tsp linden Honey
Instructions
Since my marzipan recipe is all natural, I dont blanche the almonds (if you prefer you can blanche them by keeping the Almonds in boiling water for a few seconds till the skin goes off, then simply peel).

Grind the Almonds in a mixer small as shown, then add the sugar and grind shortly again.

Throw in the rose water and mix it well to a paste dough. ( I used the mixer and broke my cheap quality Jar by doing that). Keep it for 2 hours covered in the fridge to rest.

After 2 hours, take it out of the fridge and add the honey to the marzipan. Mix it all well in with your fingers. Its a sticky story but its well worth the troubel.

Now your Marzipan is ready and you can form it anyhow you like it. Be creative and try out new ideas. =)
This post may contain affiliate links that point to things or services that I recommend. This may include Amazon, getyourguide and booking.com. As an Amazon Associate I earn from qualifying purchases.