A quick and easy spiced ridge gourd recipe from Goa India.
Luffa is a funny name for a Vegetable that is just so tasty!
When I hear the word Luffa, I think of soap and a hot bath.
In fact my thinking isn't that wrong, because this particular vegetable isn't just an amazing food item but in the same time a very popular natural sponge since the beginning of time.
However, the Luffa vegetables here in Goa/India is actually not known to be a bath item.
Hence why it took me sometime to make the connection at all.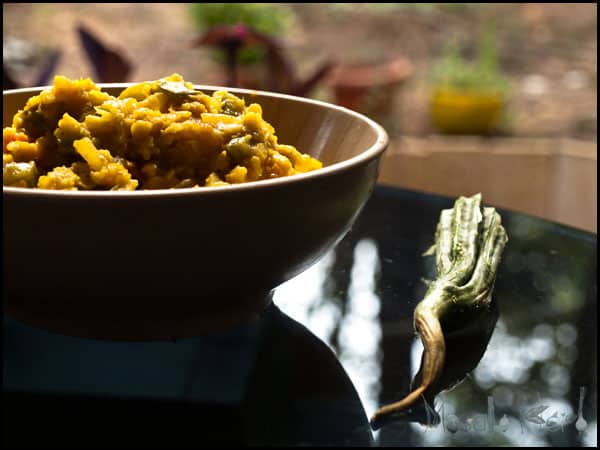 Global Food Recipes
with Spices and Herbs
Free E-Book available for a limited time. Grab yours now and get instantly inspired!
Jump to:
Nevertheless, we have been cooking this spongy gourd type since forever.
From my family here, I only learned about the existence of the vegetable some years back.
You know India has a bunch of different languages, and so everything has a couple of names such as the Luffa, which is also known in the sub continent as Ridge Gourd, Gossai (Konkani), Ghosavala (Maharathi) and Turai (North India/Pakistan).
The plant grows further too in Africa, in the Arabs, South East Asia and even in Paraguay/South America.
💡 Did you know that ridge gourd is used for other things?
The use of Luffa sponge was already known back then to the Egyptians and Romans.
Apart from cooking, the fibrous inner plant parts are still used in bathing accessories.
It is also used as a cushioning material and in Paraguay apparently they use the dried vegetable even to build houses.
Unfortunately, I have no idea how they do it, but I surely want to check that out on my own self.
It seems that the skin of the plant is removed and the inner soft sponge is kept in the sun to dry well.
For cooking, only the young gourds are used, while for the sponge material, mature dried ones are used.
We all know it to be an excellent vegetable in Indian bhajis and curries.
I would even say that the taste reminds me a bit of European courgettes, although the latter one is rather juicy compared.
After the rains I'll surely try to grow a batch of this all purpose, super useful vegetable!
I'll let you know how mine fared...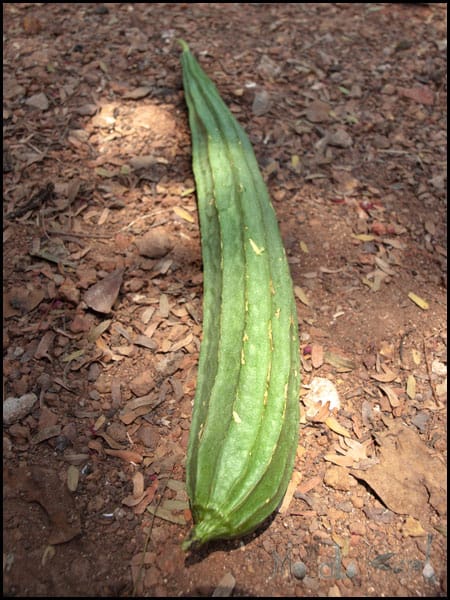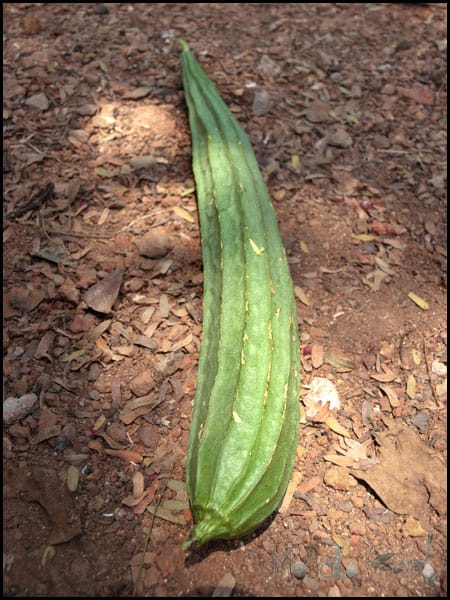 While researching for this article I came across an other insight of the ridge gourd.
📕 The magic wonders of Ridge Gourd
When the young vegetable/the seeds are eaten raw or when it is juiced and consumed it can help to cure Jaundice!
Maybe some few older generation locals from Goa might now this already, but I surely didn't!
You see here on the sub continent, there are numerous cases of jaundice.
In my family alone we have had number of life threatening Jaundice cases.
Often it is difficult to cure the illness and modern medicine often fails for some reason.
So, many people try out Ayurveda or natural medicines to get rid of the hepatic liver problems.
Patients are often advised not to consume any type of protein rich foods such as meat and eggs
Cases like this, a Vegetarian diet is absolutely required!
A Vegetable that promotes liver health, can of course only be of great value in this world, and that too it tastes wonderfully!
Normally, healthy vegetables are usually very bitter or taste horrible.
For once, nature has left us a little surprise on earth, to boost our health!
In our family recipe we even add a little amount of red lentils to the "Gossai Bhaji".
The combination of flavors is a real treat and super healthy with the use of Turmeric, Ginger and Garlic paste.
Both turmeric and ginger have antibacterial/antiseptic properties.
To enhance the taste and to give the dish another dimension, we add some freshly scraped coconut.
The dish is a combination of Vitamins, Minerals, Proteins, which makes it perfect for those of us who have cut out carbs from their diet.
Of course if you would like some carbs, then you can always serve it with some rice or fresh chapati bread!
Looking for more healthy delicious Goan bhaji recipes?
Check out these then...
Karela Bhaji - The Bitter Gourd
Global Food Recipes
with Spices and Herbs
Free E-Book available for a limited time. Grab yours now and get instantly inspired!
📖 Recipe
Sauteed Ridge Gourd
A quick and easy spiced ridge gourd recipe from Goa India.
Print
Rate
Instructions
Keep lentils to soak in water.

Peel the though corner parts of your ridge gourd. The soft green parts of the skin are left unpeeled.

Cut vegetable into half lengthwise.

Cut ridge gourd into dice.

Chop onion and dice tomato.

Heat up a pan with the oil and saute onion translucent. Stir in tomato and ginger garlic and cook a little soft.

Increase heat setting and stir in ridge gourd peices. Stir cook for about 2 minutes over high heat.

Decrease heat setting to medium. Stir in masoor dal lentils, turmeric powder, cayenne pepper, garam masala, black pepper, and salt.

Pour stock over the vegetable and combine. Bring to a boil and reduce heat to a simmer.

Simmer for about 15 minutes uncovered. Stir occasionally. Cook until soft or you are satisfied with the consistency.

Garnish with shredded coconut and serve hot with fish curry rice or with other Indian thali dishes.
Notes
Use either fresh ginger and garlic chopped fine with a ratio of (1:2) or use ginger garlic paste.
Servings are just a rough estimate and depend on how you are intending to serve it. For a thali or Goan fish curry rice, you will only need a small quantity per person. You can serve it as a stand-alone dish for one serving too as a vegetarian main course meal.
Nutrition
Nutrition Facts
Sauteed Ridge Gourd
Amount Per Serving
Calories 255
Calories from Fat 99
% Daily Value*
Fat 11g17%
Sodium 359mg15%
Potassium 505mg14%
Carbohydrates 32g11%
Protein 9g18%
Vitamin A 647IU13%
Vitamin C 10mg12%
Calcium 29mg3%
Iron 3mg17%
* Percent Daily Values are based on a 2000 calorie diet.