The only Italian seasoning blend that you will ever need.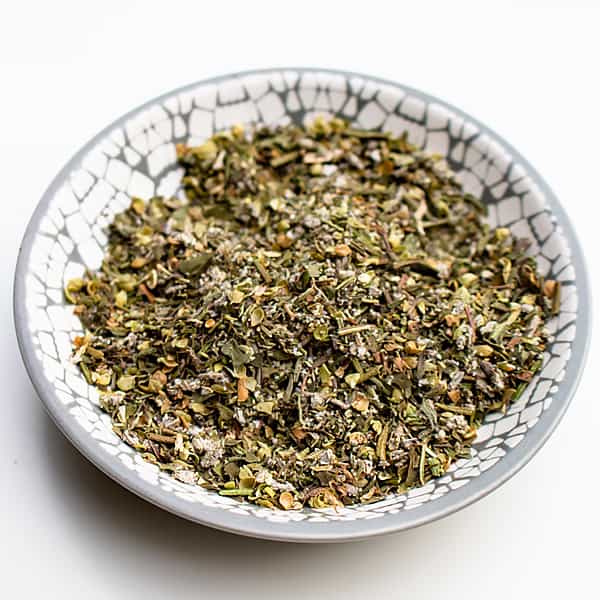 Your homemade Italian seasoning recipe to make endless quantities of this amazing flavorful blend.
That way you will never run out of this essential mix of herbs and spices.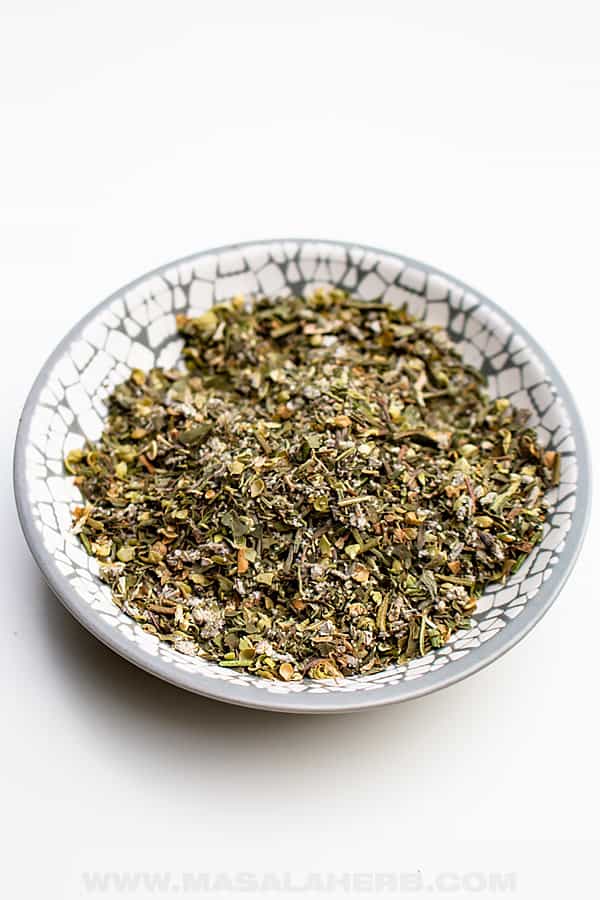 Global Food Recipes
with Spices and Herbs
Free E-Book available for a limited time. Grab yours now and get instantly inspired!
Jump to:
What is Italian Seasoning?
Italian Seasoning is an invention from folks who are not Italian and living in Italy.
The idea is to infuse food with the typical Italian flavors by using a simple blend of dried herbs and spices.
I think that's brilliant and that's why I prominently use and recommend Italian seasoning in some of my recipes
Homemade VS storebought
There are a few reasons why you will prefer homemade seasoning to the store-bought stuff.
Pros
You know what's in it. That means you can choose to use only organic ingredients or you can make yours gluten-free.
It only takes 5 minutes to mix together your own seasoning blend and it's effortless.
You can adapt the ingredients a bit to make it to your liking. (although, try to stick to my recipe for the best result)
Homemade DIY seasoning is your solution if you are out of the store-bought stuff. Make a large batch and keep in your pantry.
You may save on money if you grow your own herbs at home or if Italian seasonings are costly in your location.
Cons
You need dried herbs and spices at home to mix it together. Eventually, most of the ingredients can be found in your pantry anyway.
For some of us buying ready-made seasonings is still just a tad easier.
How to make it?
You are going to love making your own Italian seasoning because it's so easy to prepare the blend from scratch!
The easiest way is to get all ingredients dried and ground fine. The finer the better so that everything mixes together well.
Just place all the dried ingredients into a mixing bowl and combine with a spoon.
Storing
I keep my spices and herb blends in transparent airtight containers and I store them in such a way that I can always see them.
That way I don't forget about what I have especially with such a precious seasoning blend such as this Italian seasoning!
You can do that too with an expandable bamboo shelf. Just place your jars on it and keep it in a corner of your kitchen where you can see and use them when you want to cook.
For the jars use glass jars which are durable and dishwasher safe.
If you intend to make a bigger batch of herb seasoning, store it in a jam jar with a tight lid.
Seasoning blends, dried herbs, and spices will remain good for more then 10 months if stored in a cool and dry environment, away from direct sunlight.
Uses
You will discover that this seasoning mixture will turn out useful whenever you want to add flavors to a dish.
Especially Mediterranean dishes can be easily enhanced with this blend of herbs.
add it to your marinara spaghetti sauce. (I also have a spaghetti seasoning specifically for that)
season chicken, ground beef, sausage meat or shrimp
add to your pasta salad. i.e. Caprese Pasta Salad
Sprinkle some over your cheese in a grilled cheese or your cheese sliders
add to your bread crumbs before breading your meats. i.e homemade fish sticks
enhance your lasagne
add to casserole dishes such as my zucchini casserole
to season conventional meatballs or as seen in these vegan lentil meatballs.
FAQs
Italian seasoning vs herb de Provence vs pizza seasoning
Italian seasoning adds Italian flavors to your food. Herb de Provence is a south french seasoning blend that consists of herbs found in south France only (the french recipe one doesn't add lavender). Pizza seasoning is just Italian seasoning most of the time.
Can I use Italian seasoning instead of thyme in my food?
Well, it depends. If the seasoning is simple and only includes thyme, then I believe you can replace the thyme with your Italian seasoning. If the seasoning is complex and includes more herbs and spices, I may recommend to not switch thyme with the Italian spice blend.
How to make my Italian seasoning zesty and spicy hot?
I'm not that conservative and if that is what you want, add some cayenne pepper powder or other red chili pepper powder to the blend.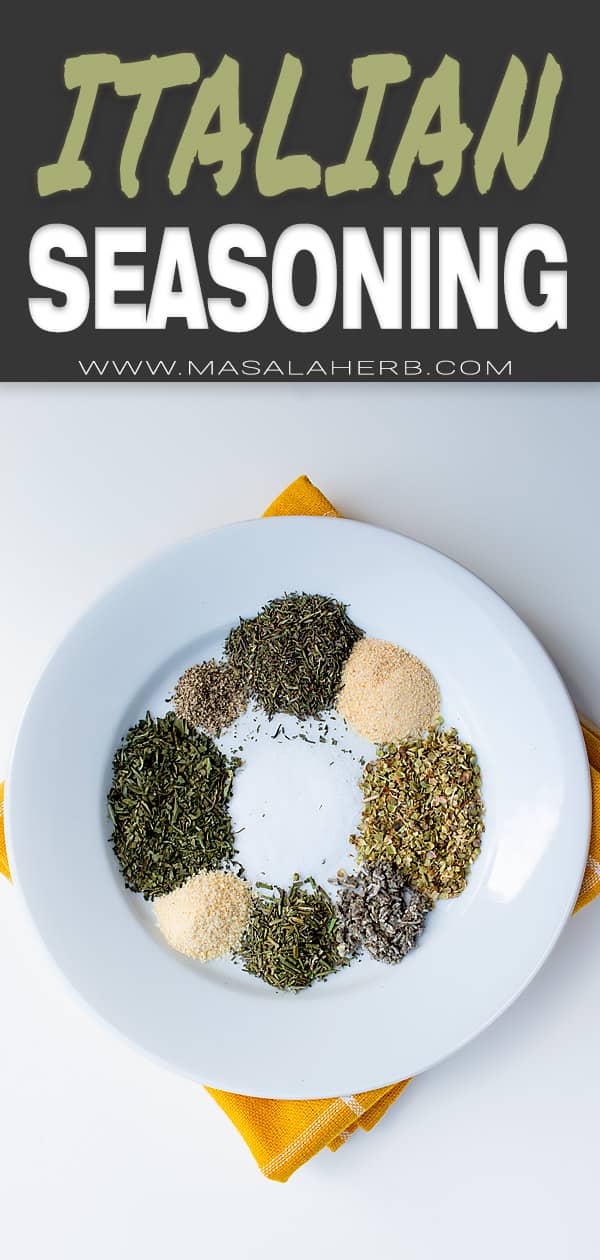 Global Food Recipes
with Spices and Herbs
Free E-Book available for a limited time. Grab yours now and get instantly inspired!
📖 Recipe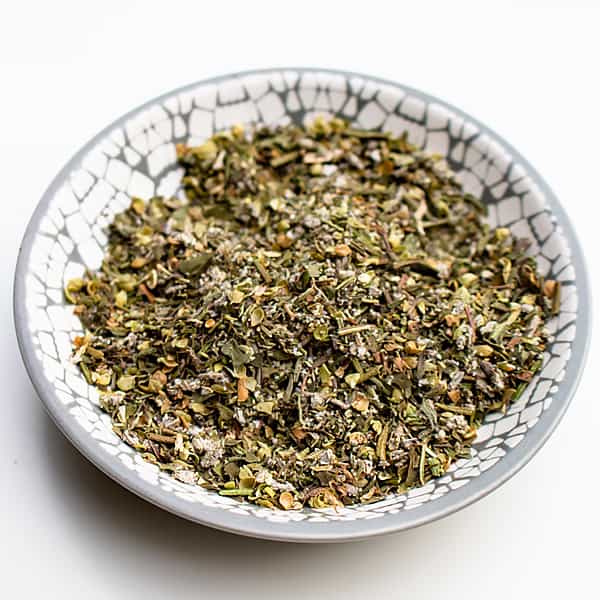 Italian Seasoning Recipe
The only Italian seasoning blend that you will ever need.
Print
Pin
Rate
Instructions
Place all dried ground ingredients into a bowl.

Combine all to a well-mixed seasoning blend.

Use in your food or store in an airtight container.
Notes
You can skip sage if you can't get it. It definitly tastes better with it but it's not the end of the world without it.
You can double the recipe to make a larger quantity.
Nutrition
Nutrition Facts
Italian Seasoning Recipe
Amount Per Serving
Calories 10
Calories from Fat 9
% Daily Value*
Fat 1g2%
Sodium 583mg24%
Potassium 25mg1%
Carbohydrates 2g1%
Protein 1g2%
Vitamin A 95IU2%
Vitamin C 2mg2%
Calcium 27mg3%
Iron 1mg6%
* Percent Daily Values are based on a 2000 calorie diet.