Refreshing sangria drink loaded with fruits and booze.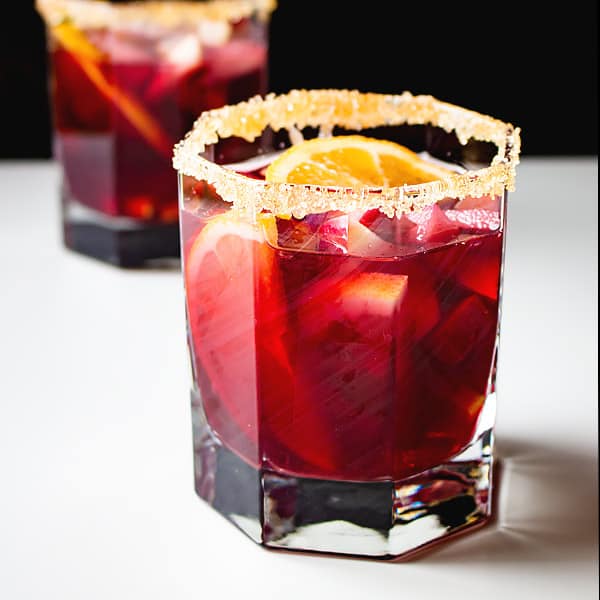 I show you how to make sangria from scratch in this basic guide so that you can surprise your family and friends.
Pick your fruits, wine, and booze and let's make this together!
Global Food Recipes
with Spices and Herbs
Free E-Book available for a limited time. Grab yours now and get instantly inspired!
Jump to:
📕 What is Sangria?
Sangria is a cold alcoholic punch variety with chopped fruits that originated in Spain, Europe.
The word sangria refers to the word sang, meaning blood, which in turn points out to the use of red wine in this cool beverage.
A variety of freshly cut fruits are soaked together with spices in red wine and juices, sodas or other nonalcoholic drinks.
The result is a combination of well balanced fruity and boozy flavors.
The alcohol flavors are rather subdued by the fruits and other ingredients, and so folks tend to get tipsy quickly.
🍺 Choice of Alcohol
In Spain, many different sangria variations exist and most are prepared with red wine.
People there tend to use a local wine called Rioja, which is either full-bodied, acidic, rich in tannins or fruity.
To be honest, I think the choice of wine should be left to your palate preferences.
For example, I like to use a full-bodied red wine with acidic notes.
To make a white sangria or a sangria with rose, simply switch the red wine with a quality white or rose wine.
Never use cheap wine, pick a quality wine priced 10 USD/ 10 EUR upwards, because wine is the main ingredient in this drink.
I love to add brandy to my sangria but you can also add rum, vodka, gin, clear schnapps, and even tequila.
My favorite brandy for sangria is french cognac because it adds a full body to my sangria and so far people appreciated the taste experience.
In the video, I didn't have brandy so I used vodka.
Another option is to enrich your party drink with a flavored liqueur such as grand marnier, cointreau or triple sec.
People also liked it with malibu (which adds a lot of sweetness!)
🍑 Choice of Fruits
You can choose between a set of freshly chopped fruits to infuse your homemade sangria drink.
Pick at least 3 fruits, whereas one should at least be a citrus fruit.
apples
pears
peach
mango
grapes
blueberries
strawberries
cherries
plum
apricot
pineapple
red currant
cranberry
orange
lime or lemon
Also, consider that some fruits are better used to soak with the wine than others.
For example blueberries, grapes, cranberries, red currant, and strawberries look great but they will only infuse your drink when cut small.
I like to use apple, orange and lemon slices because these re fruits that I always have at home.
🔪 How to make Sangria?
Making sangria is simple and easy.
But count in some soaking time if you want a truly delicious well-flavored sangria.
The complete recipe with ingredients, instruction details, and video can be found at the bottom of this post.
Step 1
Slice and chop the fruits that you would like to add to soak your sangria wine drink.
Step 2
Place fruits with wine, sugar, water or soda, juice, liquor and cinnamon stick in a large bowl and combine.
Cover with a cling film and leave to soak in a cool place.
Step 3
To serve, remove the cling film and give it a good stir.
You can add ice cubes to it and a whole new batch of freshly cut fruits.
I think adding some more cut fruits is almost a must if you want to add a new element of freshness to your party drink.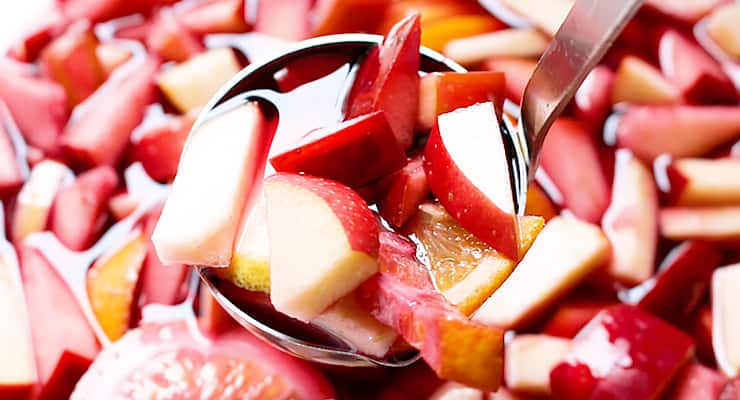 🍴 Serving
You can choose to serve up your sangria with fruit pieces in individual glasses or in a pitcher jug or in a large bowl.
For a winter holiday party with a buffet, I recommend the large bowl, where people can pour their own sangria into glasses.
Keep in mind that the sangria should remain cold, so if it's a hot summer day, a pitcher might be a better solution so that you can keep a batch in the fridge and take out whatever you need.
The more ice cubes you add to your sangria the more watered down it will turn out.
I also recommend using large-mouthed glasses because that way it's easies to pour in the sangria with a ladle without making a mess.
💭 FAQs
How long should the fruits soak?
The longer the fruits soak the better. Ideally overnight or 8 hours before serving time.
How to make my Sangria sweeter?
Use a sweeter wine, use sprite instead of water or soda or add some more sugar to make your sangria sweeter.
Why does it taste bitter?
Sangria may taste bitter if you used unripe fruits or fruits which have bitter fruit parts such as seeds in grapes. Your sangria may turn out a tad bitter too if you are used to overly sweet drinks or if you used a red wine rich in tannins.
How long will it last?
Store your sangria in the fridge and it will be good for a couple of days, 4-5 days.
How to make a non-alcoholic sangria?
Switch the red wine with cranberry or grape juice and skip the booze all together. A non-alcoholic sangria is a great option for kids so that they can join the fun too.
👁️ More Party Drink Ideas
Global Food Recipes
with Spices and Herbs
Free E-Book available for a limited time. Grab yours now and get instantly inspired!
📖 Recipe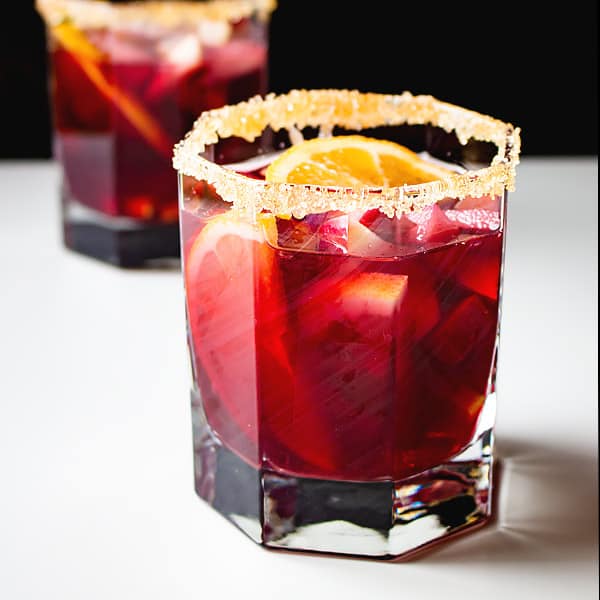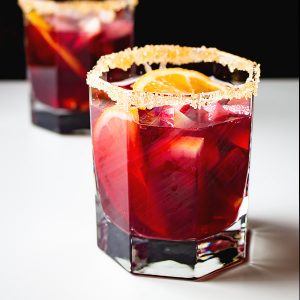 Red Sangria Recipe with fresh fruits
Refreshing sangria drink loaded with fruits and booze.
Print
Pin
Rate
Ingredients
For the Sangria
3

Fruits

cut small, *See Notes

1

bottle

Wine

*See Notes

2

cups

Juice

*See Notes

1½

cup

Water

*See Notes

½

cup

Liquor

*See Notes

½

cup

Powdered Sugar

or Simple Syrup
To serve
More freshly cut Fruits

optional

Ice Cubes

optional
Instructions
Wash your fruits well to get rid of impurities. Cut fruits small, slice citrus fruits.

Place fruits into a large bowl.

Pour wine over the fruits, as well as the juice, water and the liquor.

Throw in a cinnamon stick and sweeten with sugar.

Combine everything by stirring through.

Cover with a cling film and leave to soak and infuse in a cool and dry place. The longer you keep it to soak the better. I leave it overnight or for about 8 hours.

When the sangria is ready, serve with more cut fresh fruits (+ ice cubes if you like), in a glass, jug or in the bowl.
Notes
Choose your fruits, one at least should be a citrus fruit such as orange or lemon. See suggestions and tips in post. Use only fruits which were not treated with pesticides because we leave the skin on the fruits. Cut your fruits small.
Use a red wine to make a red sangria. You can do the same thing with a white wine or rose. Wine suggestions are mentioned in the post.
For the juice I like to use cranberry or orange juice
You can use water or soda/sprite
Pick a liquor such as brandy, vodka, rum. I mention more options in the post.
To serve up you can cut more fruits and add to the sangria because your drink will look more fresh that way.
Nutrition
Nutrition Facts
Red Sangria Recipe with fresh fruits
Amount Per Serving
Calories 178
Calories from Fat 9
% Daily Value*
Fat 1g2%
Sodium 12mg1%
Potassium 204mg6%
Carbohydrates 28g9%
Protein 1g2%
Vitamin A 340IU7%
Vitamin C 3mg4%
Calcium 18mg2%
Iron 1mg6%
* Percent Daily Values are based on a 2000 calorie diet.