The bitter melon recipe is enhanced with spices, sugar and cooked crispy so to reduce some of the bitterness. However, it will still be adequately bitter.
The crispy Bitter Melon Recipe will be your favorite vegetable dish if you like healthy and bitter vegetable stir fries!
A small amount of spices make this bitter melon recipe flavorful and not overpowering bitter.
This plant-based Bitter Melon recipe is vegan, gluten-free, low carb and ready in 20 minutes.
See further below for more info, tips, and the full recipe.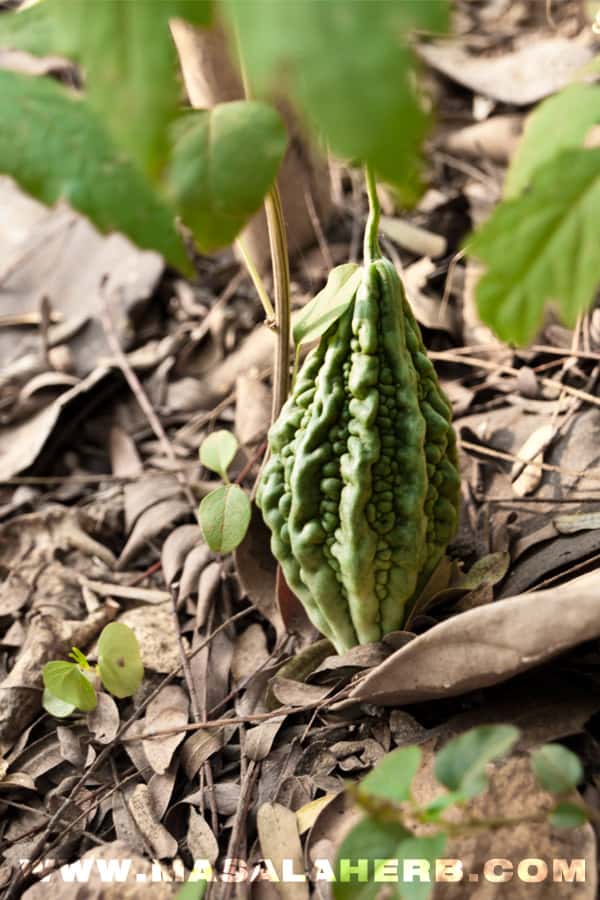 Global Food Recipes
with Spices and Herbs
Free E-Book available for a limited time. Grab yours now and get instantly inspired!
Jump to:
📕 What is Bitter Melon?
Bitter Melon is a very bitter vegetable.
No other vegetable compares to the bitter melon in terms of bitterness.
The Indian Bitter Melon and the Japanese Bitter Melon are the most common varieties mentioned.
Bitter Melon is a gourd, which grows on a vine mostly in warm tropical and subtropical parts of the world.
The plant originated in India and was introduced to China some 700 years ago.
Later on, the bitter melon was popularized all over the world, as it is known to have a positive effect on people who suffer from diabetes.
How does a bitter melon look like?
The bitter melon has quite a unique appearance and can be recognized instantly.
It looks like a cucumber or zucchini that is covered with what looks like pocks or warts.
In fact, bitter melons remind me of a dragon skin, as in the Game of Thrones dragons. 😀
There are different bitter melon varieties, whereas the shorter ones tend to be a bit less bitter than the longer bitter melon varieties
The bitter melon is first green and turns quickly into yellow shades with the seed inside transforming into a blood red color.
Bitter Melon grows on the floor as a vine or on a height hanging.
It is the most bitter vegetable in the world and if you taste it you will absolutely agree!
What are some other names for the bitter melon?
Other bitter melon names include Karanti (Konkani), Korola (Bengali), Kugua (Chinese), Nigauri (Japanese), Pavayka or Kayppayka (Malayalam), Caraille or Carilley (Trinidad and Tobago), Cerasee (Caribbean and some parts of South America), Melón amargo or Cundeamor Chino (Spanish), Margose (French) and Bittermelone (German).
🛍️ Where to buy Bitter Melon?
If you live in North America or Europe you will be able to buy bitter melons in the specialized Asian stores in the cities.
Also, big shopping mall chains such as Walmart and Carrefour should be seeling fresh bitter melons as well.
Ironically some shop owners might know the bitter melon under a different name.
The most common names are still bitter gourd or karela for the bitter melon but sometimes you will see a Chinese name if you pass china town.
Or the Caribbean neighborhood will know it as caraille or cerasee.
In doubt, show the seller the picture of the bitter melons.
In other parts of the world, you will be able to buy bitter melon easier, such as in South America, Central America, Caribbeans, Africa, Asia and Australia.
Bitter melon grows easily in these temperatures and can be commonly bought in local markets and shopping malls.
❔ How to grow Bitter Melon?
To grow bitter melon in a tropical climate is quite easy, in fact, it's one of the easiest, and most popular vegetables, to grow in places such as India for example.
I tried to grow bitter melon once in the Austrian Alps and it did pick up, however that summer we had some frosty nights, so the plant didn't make it.
Yet, I think if you live somewhere not in the mountains in the northern hemisphere, then you could try an attempt to grow during the hot summer months by planting the bitter melon seeds in the month of May.
You can place the seeds into a wet towel and keep the towel moist for some days until the seeds germinate.
That should help you to get started
The more bitter gourds mature the bitter they get, so regular picking is a good idea.
Pick them when they are tender to prepare this bitter gourd recipe.
💡 Why is the Bitter Melon such a great vegetable?
Interestingly, the Bitter Melon has a few great health benefits, and not only the fruit but even the leaves are used in India, for example, in traditional Ayurvedic medicine.
Bitter Melon juice is prescribed, when digestive problems occur and to boost the immune system.
Further, it is used to lower the blood sugar levels (Diabetes), to fight Malaria, for weight management and to reduce skin problems.
It seems but that pregnant woman should stay away from consuming bitter melons, as it can cause miscarriages.
Also, I was told that people with liver problems should consult a physician before consuming bitter melon.
Otherwise, it makes a lot of sense to include bitter melon to your diet since it is rich in Iron, Calcium, Potassium, Zinc, Phosphorus and Vitamin C.
Plus it's low in calories, which makes it a great weight loss vegetable, hence the popularity of Bitter Melon Tea.
Bitter Melon requires a cooking technique so that it is edible otherwise it's simply too bitter!
I am addressing this in the bitter melon recipe below, as some bitter melons tend to be more bitter than others.
🩺 Can bitter melon cause miscarriage in a pregnant woman?
Yes, Bitter melon can cause a miscarriage.
I am just writing this here again so that it's not overlooked!
Pregnant women should NOT consume bitter melon.
💊 Does bitter melon cure cancer?
No, something like this does not exist.
That's a sales trick or a placebo...
Bitter Melon leaves or juice maybe contain antioxidants which MAY prevent cells from going cancerous.
But that does not reduce cancer in an organism.
That can not reduce metastases from moving about in the body and creating new cancer growth.
📄 Can bitter melon lower blood sugar?
Yes. Bitter Melon has got properties that can lower the blood glucose level.
Read a complete detailed Bitter Melon study from the National Library of Medicine.
📝 How to cook Bitter Melon?
To make this bitter melon recipe successfully you would first want to reduce the bitterness.
Follow these useful tips (I wish I had known those when I tried cooking bitter melon for the first time!!)
you can blanch the bitter melon first before cooking it further. So, keep a small saucepan ready some cooking water, place your bitter melon (preferably cut) and just leave it in the cooking water for less than a minute. That will take out some of the excess bitterness.
you can add sweetening agents such as brown sugar or palm sugar (Jaggery) to cover up some of the bitterness
you can add a certain combination of spices and seasonings to turn the bitter gourd recipe into something quite delicious
you can fry it crispy as this seems to make the vegetable a bit less bitter for this so-called Karela recipe.
I personally fell in love with this spiced bitter melon recipe, cooked by my husband's family restaurant chef.
The chef is originally from a poor village in Bihar/North India.
He really has a hand and eye for food, the passion is recognizable in each and every dish he plates up.
He was excited too when I ask him if he could show and share with us his Bitter Melon Recipe.
🧰 Useful Kitchen Tools to make this bitter melon recipe:
🍴 How to eat Bitter Melon?
Serve the Bitter Melon Recipe as a side dish to other meals.
Usually, stir-fried bitter melon goes really well with a coconut curry over rice or also with European and North American meals such as a steak and mash potato.
Use it the way you would use other vegetables but in a smaller portion.
Bitter Melon is supposed to be enjoyed in small quantities only.
Just the way you would eat a radish salad or horseradish because the bitterness can be quite a lot.
Serving the bitter melon with other meals makes a complete balanced meal.
👁️ Try the following combinations, serve this bitter melon recipe with...
Scrambled Eggs
Chicken
Beef
ground Pork
Black Bean
Spare Ribs
Shrimp/Prawns
Mackerels
a combination of other pan-fried or oven-fried vegetables such as carrot, okra, potato, spinach, mushrooms.
Dear Reader, have you tried a bitter melon recipe before? Did you like it?
Please, feel free to share your experience and knowledge with us further below in the comment section!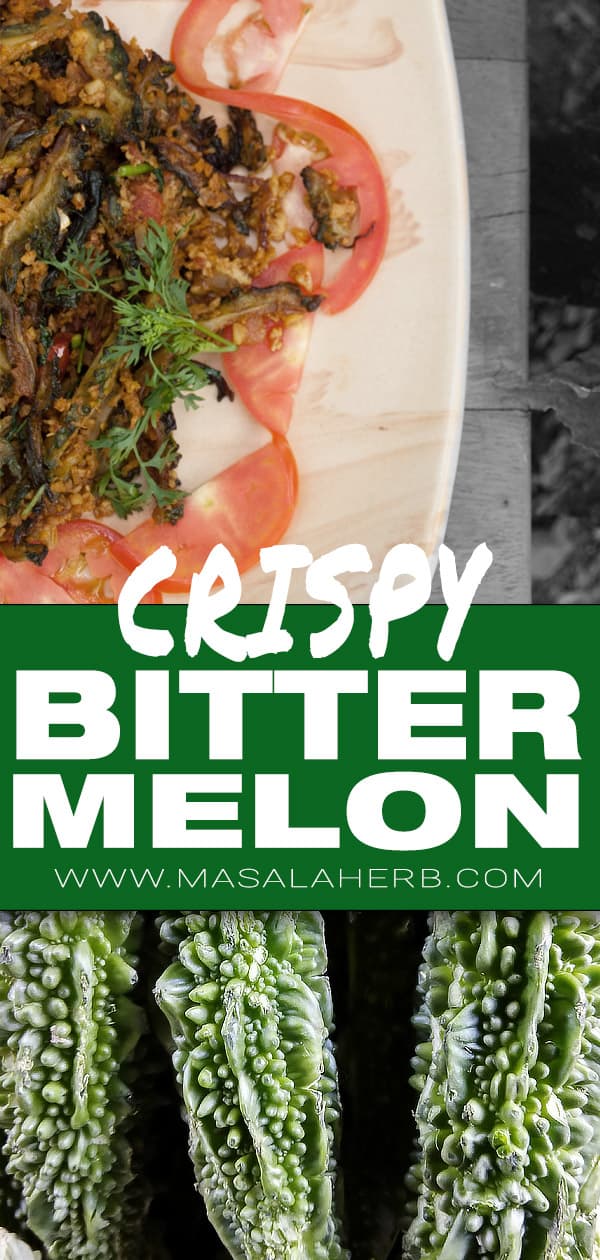 Global Food Recipes
with Spices and Herbs
Free E-Book available for a limited time. Grab yours now and get instantly inspired!
📖 Recipe
Crispy Bitter Melon Recipe
The bitter melon recipe is enhanced with spices, sugar and cooked crispy so to reduce some of the bitterness. However, it will still be adequately bitter.
Print
Pin
Rate
Instructions
Start by cutting off the ends of the bitter melon and slice it lengthwise, so that you can remove and discard the seed core of the fruit.

If you want to reduce the bitterness to a minimum, then blanch them by keeping the slices for 2-3 minutes in boiling water and afterwards cool them in ice water (drain water well).

In a frying pan heat 2 Tbs (of the 3 mentioned in the ingredients) oil and add the bitter melon slices, stir fry on high heat for 3-5 min.

Take out from the pan, shake off excess oil and keep aside.

Cut the Onion, Tomato, chop the Garlic and Coriander and keep the freshly scraped Coconut ready, as mentioned in the ingredients.

Take a clean frying pan and fry the Onion translucent and throw in the garlic and tomato, frying for a while.

Now add the shredded Coconut and stir fry till the color changes to a golden brown and add very small amount of water, so that it doesn't stick on the pan from now on.

After that you can add the bitter melon slices and the Garam masala, Turmeric powder, Cumin Powder, Chili powder, Coriander powder, Sugar, Salt, chopped Cilantro/Coriander leaves and stir fry for another 2-3 minutes.

Finished! You just cooked your first Bitter Melon dish. You can garnish (optional) with chaat masala seasoning or black rock salt, more fresh cilantro/coriander leaves and serve hot as a side dish. See serving suggestions in the post.
Notes
1. The longer you stir fry it crispy (almost dark) the less bitter the bitter melon will be.
2. The combination of oil, sweetness, spices, heat and other ingredients tone down the bitterness in this bitter melon recipe.
3. You can reduce the spice amount, however, it's not necessary as the dish is not spicy hot but rather flavorful.
4. Bitter Melon is usually always eaten in smaller quantities with other meals as a side dish
Nutrition
Nutrition Facts
Crispy Bitter Melon Recipe
Amount Per Serving
Calories 234
Calories from Fat 153
% Daily Value*
Fat 17g26%
Sodium 57mg2%
Potassium 420mg12%
Carbohydrates 21g7%
Protein 2g4%
Vitamin A 510IU10%
Vitamin C 45.8mg56%
Calcium 39mg4%
Iron 1.3mg7%
* Percent Daily Values are based on a 2000 calorie diet.