Easy blueberry cobbler recipe made from scratch with fresh berries. Almost effortless but with real ingredients.
Easy blueberry cobbler recipe from scratch - whip it up quickly at night when you are craving something sweet.
I have prepared a few process shots further below so that you can see how it's done in one glance.
AND you can watch my video to learn how to make blueberry cobbler from scratch.
Jump to:
What's a cobbler?
A cobbler is a baked sweet dessert dish prepared in a casserole pan.
The cobbler consists of fruits that are topped with a batter.
During the baking process, the fruits get all hot and bubbly and a pocket of hot fruits is formed with the baked batter over it.
Cobbler is a traditional British dish, which eventually was brought to the North American continent where it became a national dish.
Today, cobblers in the UK can be prepared sweet or savory, whereas cobblers in North America tend to be sweet only.
How to make it?
I prepare a blueberry cobbler when I have a lot of extra fresh blueberries that need to be used up or when I'm craving cobbler with ice cream at night.
Here are the main steps to prepare your own berry cobbler in ease.
For the full recipe ingredients and instructions see further below in the printable recipe card and watch the video.
Step 1
In a bowl, combine the blueberries with the sugar and mix through.
That way your blueberries are sweetened and the flavors are enhanced because we won't add sugar to the batter.
Keep aside and allow the sugar to marinate the blueberries.
Step 2
In another bowl combine the flour, butter, baking powder, salt and milk to a smoother semi-liquid batter.
Step 3
Keep a casserole baking dish ready and pour the sugar-sweetened blueberries into the dish and spread out evenly.
Pour the cobbler batter over the blueberries in the dish and spread out evenly as well.
Sprinkle sugar over all that.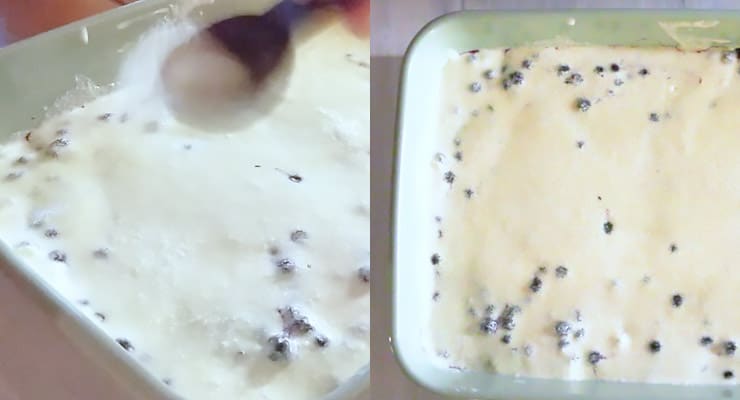 Bake your fruit cobbler until it's all bubbly and the top is golden brown.
Freezing
I found the best way to freeze a cobbler is to prepare the dish as described in the recipe in a casserole dish and then to freeze it hard.
Once frozen, take out the cobbler from the dish and wrap it in to store further in the freezer.
To use your frozen fruit cobbler, thaw the whole dessert first overnight in the fridge.
Once thawed but still cold, bake the dish as you would normally in the oven until the blueberries are bubbly and the top is light amber golden.
Serving
A cobbler is best served and enjoyed hot straight out of the oven.
The most popular way to enjoy a berry cobbler is of course with a scoop of vanilla ice cream on top.
The cold ice cream compliments the still bubbly hot fruit cobbler in so many ways.
Another idea is to add fresh cold whipped cream or cold bavarian cream to the blueberry cobbler in a bowl.
I wouldn't serve up a cobbler with warm custard or similar because a hot cobbler needs a cold sweet contrast and vanilla ice cream is most definitely the best choice.
But that's my opinion. 🙂
Variations
Yes, you can adapt this fresh simple blueberry cobbler recipe to your personal needs and preferences!
If you want to use frozen blueberries, thaw them first and use as described in the recipe.
Switch out half of the blueberry quantity with other fruits:
peaches to make a peach and blueberry cobbler
strawberries
apples
blackberries
cherries
For a Gluten free blueberry cobbler use almond flour instead of all-purpose flour or use another similar gluten-free flour mixed in such as coconut flour.
To prepare a Vegan cobbler switch out the butter with plant oil and the milk with soy or almond milk.
You can prepare individual cobblers too in ramekins by equally spreading out the batch of fruits and pastry into each small baking dish.
More Blueberry Desserts
Dear Reader, did you just make my blueberry cobbler?
Please feel free to share your thoughts and ideas with us in the comment section further below!
PIN to save for later!
So you love SPICES and HERBS?
GET 5 FREE SEASONING LESSONS
Type in your email address below.
Including free access to the
Seasoning Members only Club!
📖 Recipe
Easy Blueberry Cobbler Recipe
Easy blueberry cobbler recipe made from scratch with fresh berries. Almost effortless but with real ingredients.
Print
Pin
Rate
Ingredients
For the Batter:
1½

cup

Flour

1

Teaspoon

Baking Powder

or baking soda

¼

Teaspoon

Salt

½

stick

Butter

1½

cup

Milk
Instructions
In a bowl combine the blueberries with the sugar and mix.

Keep the blueberries aside to marinate a bit.

In another mixing bowl add the flour, baking powder, salt, butter, and milk. Combine to a smooth batter.

Preheat your oven to 350° Fahrenheit/ 180° Celsius.

Keep a casserole baking dish ready and place the blueberries marinated in sugar into the dish, spread out evenly.

Pour the batter over the blueberries and spread it out evenly as well.

Sprinkle sugar all over the unbaked cobbler.

Bake cobbler for about 40 minutes at 350° Fahrenheit/ 180° Celsius or until you can see the fruits bubbling up at the sides and the batter is baked amber golden brown.
Notes
you can use frozen blueberries too. Just thaw them first.
you can freeze your cobbler too by preparing everything, freezing, defrosting when you need it and baking your cobbler. See instructions in post further above.
Nutrition
Nutrition Facts
Easy Blueberry Cobbler Recipe
Amount Per Serving
Calories 388
Calories from Fat 90
% Daily Value*
Fat 10g15%
Cholesterol 26mg9%
Sodium 193mg8%
Potassium 257mg7%
Carbohydrates 70g23%
Protein 6g12%
Vitamin A 387IU8%
Vitamin C 10mg12%
Calcium 111mg11%
Iron 2mg11%
* Percent Daily Values are based on a 2000 calorie diet.
This post may contain affiliate links that point to things or services that I recommend. This may include Amazon, getyourguide and booking.com. As an Amazon Associate I earn from qualifying purchases.