A beet chocolate cake recipe you should try. The cake is moist thanks to the beet puree and the chocolate compliments the earthy sweet flavors of the healthy beetroot.
Total Time:
1
hour
5
minutes
Chocolate Beet Cake is a popular cake in my home.
This super moist and decadent cake is easy and quick to prepare.
Lately, I have been obsessed with two ingredients mixed together, beets and chocolate.
You wouldn't imagine the earthy sweet pink/red beetroot together with the sinful dark chocolate and yet both compliment each other outrageously well.
Do you like chocolate cakes? Then you will like my easy black forest cake.
For Beets Sake!
In the past few years, I witnessed how known chefs and TV cook-show personalities combined beets and chocolate in desserts, I never clicked for the idea back then.
The concept just seemed way too strange for somebody like me, who didn't appreciate the humble beet, except if used sparingly in the Beet Apple Carrot Juice.
Chocolate Beet Cake Preparation Methods
I took out my favorite, super reliable, chocolate cake recipe, adjusted the ingredients and came up with a brand new Chocolate Beet Cake Recipe.
At first I was thinking of shredding the beet before adding it to the batter.
I ended up boiling and making a puree of the root after having researched about cooked beetroot preparations.
Carrot cake and Zucchini cake are both mostly prepared with shredded veggies instead of a puree.
Technically you could try it out that way too.
Another idea is to roast beet slices in the oven for 50 minutes until soft but you will end up with extra waiting time.
The boiling of the beetroot and turning into a puree tactic worked well for me, it is the easiest and fastest option.
Why make this delicious beet cake?
it will take only 20 minutes altogether to prepare the batter
beets makes this cake super moist and healthier
only about one beetroot is necessary
bittersweet dark chocolate and earthy flavors of beets are meant to be together
It's the ultimate comfort cake
The natural vibrant red color of a beet is fun to work with.
Melting into the chocolate batter, it still lends the cake a certain rouge, even after baking.
I mixed some powdered sugar with a few drops of water into a sugary liquid, which I poured over the cake for the finish.
The sparkling sugar crystals made the top of the Chocolate Beet Cake cake appear dark red-brown and turn the cake into a gorgeous treat!
Do you like beets and what's your favorite way to consume this root vegetable?
Please feel free to share your thoughts and ideas with us in the comment section further below!
PIN to save for later!
Subscribe & Get your freE
Recipes from around the World E-Book 📱
Weekly Newsletter 📰
Spice, Herb, Seasoning Cheat Sheet 🌿
Printable Jam Labels 🍯
No-Nonsense Travel Checklist 🏞️
Exclusive Access - Seasoning Club (Facebook Group) 💬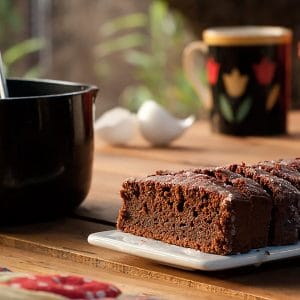 Chocolate Beet Cake Recipe
A beet chocolate cake recipe you should try. The cake is moist thanks to the beet puree and the chocolate compliments the earthy sweet flavors of the healthy beetroot.
Print
Pin
Rate
Ingredients
For the cake:
1

large

Beet

7

ounces

Dark Baking Chocolate

2

Tablespoons

Butter

1

cup

All-purpose Flour

pinch

Salt

7

ounces

Powdered Sugar

2

Teaspoons

Baking Powder

4

Eggs

¼

cup

Milk
For the simple sugar icing:
Powdered Sugar

Water

3-5 drops
Instructions
Wash, peel and cut your beet into smaller cubes. Boil with some water until cooked and soft. Strain and blend the cooked beet into a smooth puree. Keep aside

In a double boiler, melt the chocolate and butter together on slow heat. make sure that the chocolate doesn't burn and turn off the stove once melted.

Preheat the oven to 350° Fahrenheit/ 180° Celsius.

In the meantime, while keeping an eye on the melting chocolate, add flour salt, 3/4 of the powdered sugar and baking powder to a mixing bowl. Separate the yolks from the whites and add the yolks to the mixing bowl with the flour etc. Combine the whole content, then mix in the beet puree too and at the end the slightly not too hot melted chocolate butter mixture. Combine the whole content to a smooth batter.

Beat the egg whites and when they are half way stiff, add the remaining powdered sugar and continue to beat to a stiff snow. First fold half of the stiff snow into the beet flour chocolate batter from earlier and then add the remaining half as well. Fold in carefully and don't mix in a turning motion, the folding helps to retain the fluffiness of the egg whites. Make sure that it is well combined into a smooth batter.

Spread some butter into the mold and dust with some flour, so that the cake won't stick after baking, and pour in the batter. I used two smaller square molds for the whole batter because I didn't have a bigger round mold. Best is to use a bigger round baking mold.

Bake at 350° Fahrenheit/ 180° Celsius. If you use smaller molds bake for 35-40 minutes, if you use a bigger mold bake for around 45 minutes. Test the cake after baking by poking into the center with a toothpick. If the toothpick returns gooey, the cake needs some more baking time.

If you want to cover the cake after baking with icing sugar then mix powdered (icing) sugar and a few drops of water into a smooth liquid paste and cover the cake with it.
Nutrition
Nutrition Facts
Chocolate Beet Cake Recipe
Amount Per Serving
Calories 236
Calories from Fat 108
% Daily Value*
Fat 12g18%
Cholesterol 60mg20%
Sodium 62mg3%
Potassium 316mg9%
Carbohydrates 32g11%
Protein 6g12%
Vitamin A 155IU3%
Vitamin C 1.1mg1%
Calcium 65mg7%
Iron 3.9mg22%
* Percent Daily Values are based on a 2000 calorie diet.
This post may contain affiliate links that point to things or services that I recommend. This may include Amazon, getyourguide and booking.com. As an Amazon Associate I earn from qualifying purchases.