Flavorfully balanced Arugula Salad with Feta cheese, tomato fig, pine nuts. Drizzle some of the simple vinaigrette dressing over your salad and enjoy your lunch meal! See ingredient sin post for more info.
Arugula salad with feta is one of my favorite salads lately!
I have come to the conclusion that all the ingredients added to this salad are perfectly combined and complement each other with a drizzle of the simple vinaigrette dressing.
If you like green easy leaf salads as much as I do then I suggest you check out my everyday green salad which can be served with most global meals.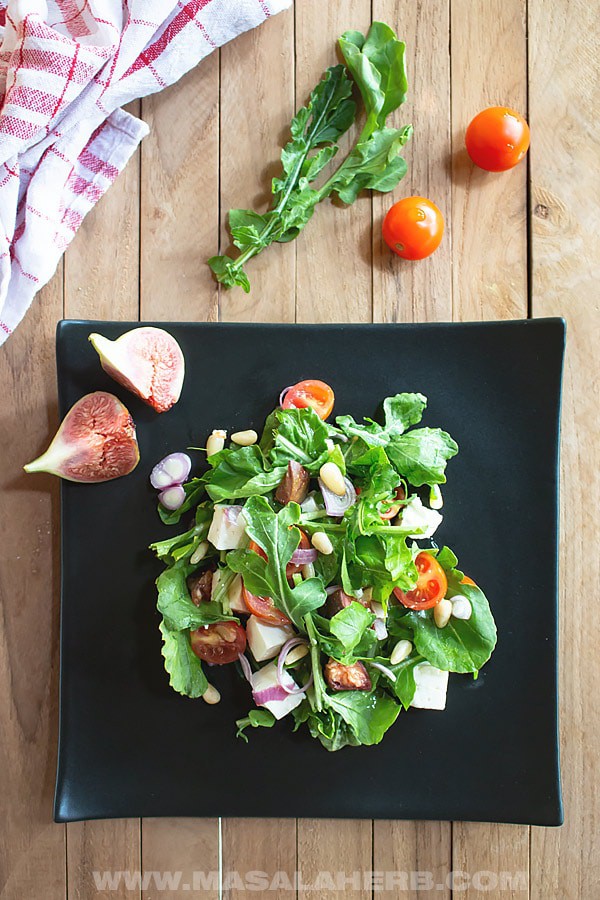 Jump to:
What is Arugula?
Arugula is a green salad leaf variety, known for its nutty peppery flavor and it's easy to recognize it by its shape.
Arugula is widely known as rocket or rucola too.
Arugula salad is a common specialty from the Mediterranean region.
Especially in Italy, it is a common dish mentioned in local restaurant menus.
Rocket can grow all year round as long as it's not freezing outside.
In ancient times, people used to either collect it in the wild or grow arugula in their herb gardens.
Out of experience, I can tell you that Arugula will grow in most climates (except hot or cold dessert environments, for obvious reasons) and it's easy to grow your own patch out of seeds.
Ingredients
For this Arugula Salad, I have added a couple of delicious fresh ingredients which balance the salad flavors and nutritious.
You can skip an ingredient if you don't like it or if you can't get it, however, try to make it as I describe it in the recipe further below.
It's beyond good!
Arugula salad leaves should be fresh, that means firm.
If your leaves look tired, don't toss them away!
Simply keep them in a closed Tupperware with a tiny amount of water in it and keep in the fridge.
After an hour or so, your arugula leaves will be crunchy firm and fresh again!
I use either cocktail or cherry Tomatoes because the tomato size is rather suitable for this salad.
However feel free to use another regularly sized tomato variety which contains less water.
The tomatoes add texture, color, and flavor to the Arugula salad.
I love adding a Fig to my arugula feta salad.
I totally recommend you add a fresh fig, it's a game changer!
The salad is enhanced with a small mild Shallot, not to overpower the other flavors, but to bridge the other seasonings and the taste of the salad.
The addition of Pine Nuts to this salad was an accidental discovery.
I just added a handful when I realized that this somehow reminded me of an Arugula pesto!
Pine nuts add crunch, flavor, and texture to your salad.
Pick only quality pine nuts and check the origin of your nuts on your package.
Some people get the pine nut syndrome, which will add a bitter metallic taste for weeks to whatever you eat.
But don't fret, quality Italian pine nuts, for example, do not cause this phenomenon.
You can substitute the pine nuts with walnuts or sunflower seeds.
However, I love my arugula salad with pine nuts!
As a protein, Feta cheese complements the nutty strong aroma of the fresh rocket leaves.
Pick your favorite feta goat cheese variety, it can be a stronger smelling one if you like it that way!
Finish the salad with a drizzle of a simple Olive Oil and Vinegar Vinaigrette Dressing.
For the best result use extra virgin olive oil and a vinegar of your choice.
I like to use raspberry-infused vinegar or homemade herbal vinegar.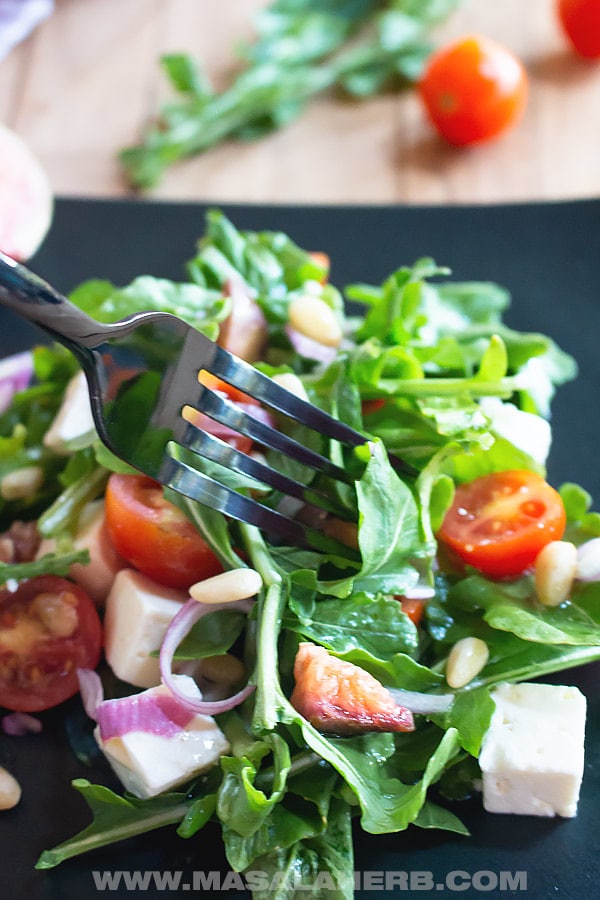 Dear Reader, Have you tried the Arugula salad with feta and all the ingredients?
Please feel free to share your thoughts and ideas with us in the comment section further below!
So you love SPICES and HERBS?
GET 5 FREE SEASONING LESSONS
Type in your email address below.
Including free access to the
Seasoning Members only Club!
📖 Recipe
Arugula Salad with Feta and simple Dressing Recipe
Flavorfully balanced Arugula Salad with Feta cheese, tomato fig, pine nuts. Drizzle some of the simple vinaigrette dressing over your salad and enjoy your lunch meal! See ingredient sin post for more info.
Print
Pin
Rate
Instructions
Prepare all your fresh produce by washing them properly under cold water. That includes the arugula, tomatoes, and fig.

Shredd the arugula leaves cut the tomatoes in two and the fig into smaller pieces.

Place it all into a salad bowl and add the pine nuts.

Peel and chop your shallot small. Add to the salad bowl too.

Cut your Feta Cheese into small cubes and add to the other ingredients or crumble into the salad bowl. Mix everything a bit.

For the arugula salad vinaigrette dressing, add vinegar, a pinch of salt and pepper and mix. Then add the oil (seasoning needs to be mixed first with vinegar because it doesn't mix into oil) and either beat with a fork or shake in a dressing shaker.

Pour dressing over salad just before serving your arugula feta salad.
Notes
For the Vinaigrette Dressing mix always ⅓ vinegar with ⅔ oil, no matter the quantity. Fill up a dressing bottle to use in the days ahead in other salads as well, or simply mix 1 tablespoon vinegar with 2 tablespoon oil. Always season with salt and pepper and taste with a piece of salad leave.
Nutrition
Nutrition Facts
Arugula Salad with Feta and simple Dressing Recipe
Amount Per Serving (171 g)
Calories 250
Calories from Fat 153
% Daily Value*
Fat 17g26%
Cholesterol 44mg15%
Sodium 582mg24%
Potassium 611mg17%
Carbohydrates 16g5%
Protein 11g22%
Vitamin A 2085IU42%
Vitamin C 33.2mg40%
Calcium 355mg36%
Iron 2.6mg14%
* Percent Daily Values are based on a 2000 calorie diet.