Shirazi Salad is a very refreshing and easy salad to prepare and serve with any meat dish. Goes well with kebab, BBQ meat, tandoori meat, pilaf and flatbreads. Make sure to use seedless cucumber. If your cucumber has seeds, scrape out the seeds first and then dice small. Best prepared with fresh herbs from the garden. :)
Shirazi Salad is a refreshing cucumber, tomato herb salad.
It has its origins in the Persian cuisine.
You can prepare this salad easily with these commonly available ingredients and, because I made it simple for you, you can serve the Shirazi salad with kebabs and similar dishes.
What is Shirazi Salad?
Shirazi salad is named after the region, Shiraz, in Iran.
This particular Persian salad consists of seedless finely diced cucumbers, diced tomatoes, some onion and fresh herbs such as dill, mint, coriander, and parsley.
The salad dressing is enhanced with a souring agent such as lemon, however in Iran something like unripe acidic grape juice (aka verjus) is used to marinate the salad.
I don' t know about you, but I don' t always get grape vinegar, so I prefer to use regular vinegar or just simply lemon juice.
It modifies the original flavor but does the trick too!
The main concept of this salad is that the diced cucumber give some crunch to the salad and that the fresh herbs balance the flavors out.
Shirazi salad is typically sour, salty and very refreshing.
That is why Shirazi salad is usually prepared during the hot summer days, due to its refreshing properties.
I see the Shirazi salad as a way to include a lot of fresh and healthy herbs!
My favorite ingredients are definitely the peppermint, dill, parsley, and cilantro and they give the salad the character I am looking for when I crave middle eastern food.
I got to know about Shirazi salad thanks to a Parsi (Irani) Zoroastrian acquaintance in India.
It turns out India is full of various religions and believes and the Persian Zoroastrians in India are just another interesting minority.
Unfortunately, I don't know much about these people, except that their ancestors must have moved from the Persian kingdom to India and that they prepare great food, such as this Shirazi salad.
I did gather over the years from various sources, that the great Moghul, who are ancestors of Genghis Khans and Timurid, and who ruled India for a few centuries, had a strong Persian connection.
So the story about the Moghul-Persian connection goes like this...
Babur, who was born in nowadays Kyrgyzstan took over the blue silk route city Samarkhand (neighboring Uzbekistan) from his uncle at a young age and a few years later he acquired the city of Kabul (Afghanistan) from his other uncle as well.
At some point in time, he planned to take Northern parts of India and Pakistan on a raid across the Hindu Kush mountain range.
Which he did.
So, with his son Humayun, who became the lunatic opium-addicted lost and found Indian regent, later on, they won the battle of Panipat against the sultan of Delhi, Alaeddin.
Apparently that' s where they started to be called Moghul, which is a Persian word meaning " Mongol/Mongolian descendants".
But how did the Persians get into the picture of India?
The Mogul where Muslim Sufi believers.
When they got the throat of the sultan of Delhi, they received the precious Koh-i-Noor diamond into their hands.
Koh-i-Noor, by the way, is a Persian word meaning "mountain of light".
Apparently, one story goes like this, the Persians were (and still are) mainly Muslim Shia believers and back then tried to convert by helping the Mogul, to convert to Shiaism.
This went on for a while where favors were given and Persians were sent to live amongst the native Indians and Moghuls in India.
At some point, Humayun almost lost it all and gave the Kohi-noor to the ruler of the Persian world, who helped him back into power in Kabul and Delhi.
There was always a friendly connection, from what I read so far (except one Persian invasion in the 18th century), between the Persian kingdom and the Mogul kingdom of India, and trade was flourishing as well.
This is how Indian Persians, who are better known as Parsi in India, came to be a minority in a country inhabited by over a billion people.
The food can be found in some places in the cities such as in Bombay and I heard it' s common in the northern state of Gujarat too.
It consists of kebabs, pilaf, flatbread and Shirazi salad.
It's very similar to Mogul food!
Fun fact: One of the most famous Parsi born Indians was the late Freddy Mercury from the British band the queen.
How to serve the Shirazi Salad?
Shirazi Salad can be served with any middle eastern kebab.
I tried it with Turkish kebabs and Israeli falafels and it worked well too due to the fact that the ingredients in these cuisines are similar. Shirazi salad reminds me of Israeli salad at times.
In fact, you can try serving the Shirazi salad with tandoori chicken or chicken tikka too instead of a tandoori salad (which by the way is very similar except that there is no dill)
Or you could serve Shirazi salad also with a steak, schnitzel, chicken and rice or any other lightly flavored dry meat dish.
Another idea is to serve with pilaf rice and rice carrot patties or with a cold couscous salad for a tailgating event.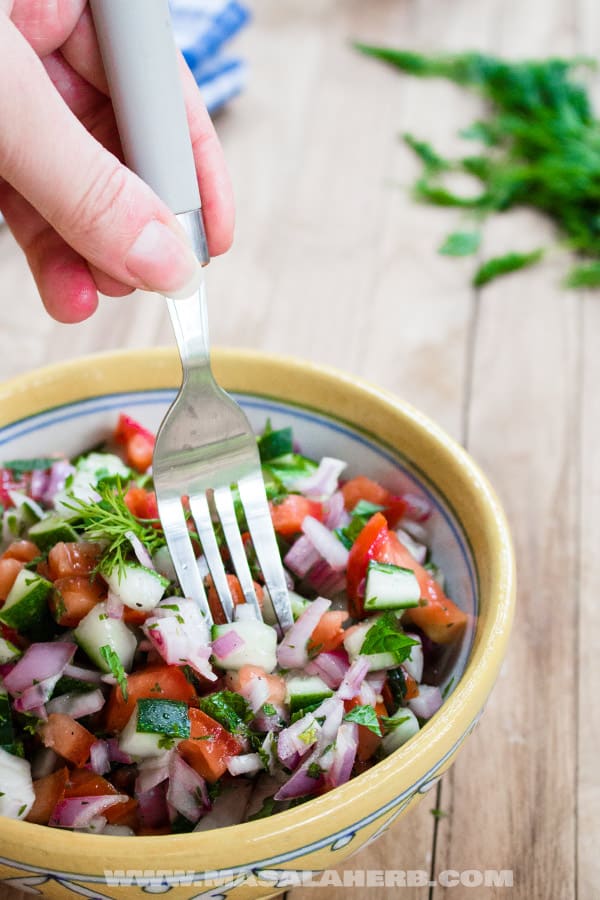 Dear Reader, how did you get to know about Shirazi salad?
Please let us know in a comment further below. We are always looking forward to reading your thoughts here.
Easy Shirazi Salad Recipe
Shirazi Salad is a very refreshing and easy salad to prepare and serve with any meat dish. Goes well with kebab, BBQ meat, tandoori meat, pilaf and flatbreads. Make sure to use seedless cucumber. If your cucumber has seeds, scrape out the seeds first and then dice small. Best prepared with fresh herbs from the garden. 🙂
Print
Pin
Rate
Ingredients
For the Salad ingredients:
Instructions
Roughly chop your onion.

Don' t peel your cucumber just cut off the ends and scrape out the seeds if there are any. This depends on the cucumber variety. Best you use the dark green seedless English cucumber variety. Cut into small dice.

Mix all the ingredients for the dressing and pour over the salad ingredients. Mix and let sit for at least 30 minutes. The flavors will mingle together and the result will be a beautiful refreshing salad.

Serve as a side with any meat dishes such as kebabs. Se further on top of serving suggestions.
Nutrition
Nutrition Facts
Easy Shirazi Salad Recipe
Amount Per Serving (233 g)
Calories 125
Calories from Fat 81
% Daily Value*
Fat 9g14%
Sodium 394mg16%
Potassium 364mg10%
Carbohydrates 9g3%
Protein 1g2%
Vitamin A 755IU15%
Vitamin C 16.2mg20%
Calcium 28mg3%
Iron 0.5mg3%
* Percent Daily Values are based on a 2000 calorie diet.