Whole grain mustard is a staple in my fridge and my kitchen. We enjoy it as a sauce with food or sometimes I catch myself even mixing it into food to give flavor to a dish (I like it will lentil soups!). Learn how to make homemade whole grain mustard with my recipe and follow the photo instructions below.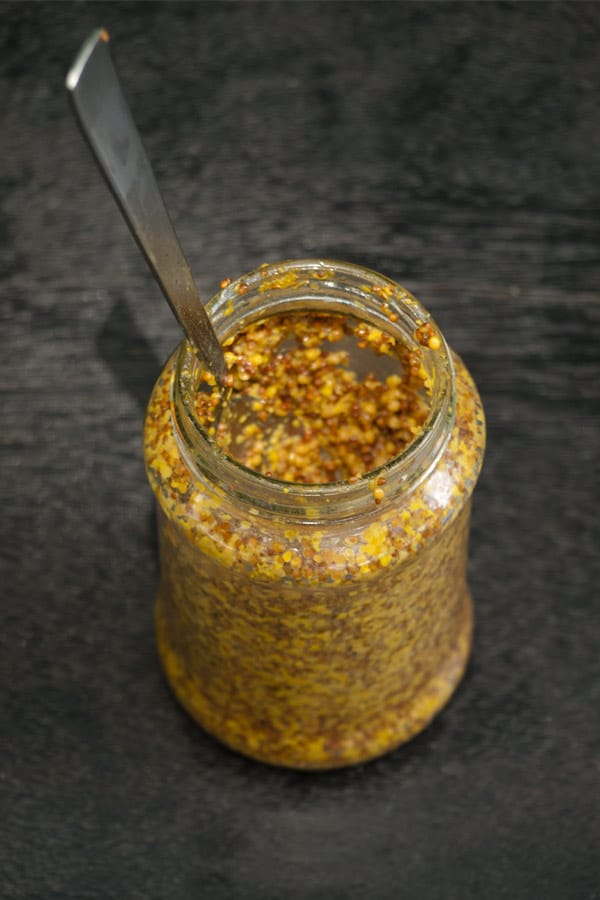 The mustard seed is one of my all time favorite spices. That might be because my European roots use the yellow seeds commonly in pastes and also because my husband's traditional food culture uses the brown and darker mustard seed versions in the Indian cuisine. Yet, I have noticed that the mustard is often over looked and forgotten.
Maybe the fact that we commonly buy our mustard pastes ready made in Europe, made the seed disappear in the kitchens. Indian food tradition still uses the mustard seeds, oil and even the leafs frequently in their food, so every kitchen in Goa for example will have some mustard seeds in their pantries.
Before reaching the Asian lands I had no clue that the seeds could be used in different ways then just a mustard paste and I wasn't aware of the fact that they could be tempered in oil before releasing a pungent flavor. But what I know here is that even though mustard is commonly sold, the paste itself is by far more difficult to be found. in Goa, India
Alright you get those weird English mustard powders and pastes (sorry, not my taste preference) and sometimes you might come across a classic yellow dijon mustard jar but that's about it. I am used to all kinds of specialized mustard pastes in Europe and my all time favorite has always been the whole grain mustard, dijon style or not, with yellow and brown seeds.
As we don't get it here I was "forced" to come up with my own homemade Whole grain mustard recipe.
-> Get the free Masala Herb Newsletter
Whole grain mustard paste is much more milder and again. The one everybody knows is the Dijon mustard and that's by far the most popular mustard condiment in the world and the most secretive recipe as well.
It is known that the yellow mustard seeds for the Dijon mustard paste are collected from a certain yellow mustard type and the seed's "skin" is partially removed. The paste also goes through some kind of fermentation and the acidity is added with verjuice, a highly acidic juice made by pressed unripe green grapes.
Whereas other french regional whole mustard grain recipes include White wine Vinegar and the procedures and ingredients might be different as well. Some recipes include even flour and certain spices such as cumin and turmeric.
Where do mustard seeds come from?
Yellow mustard seeds are more common in the Mediterranean area and the darker, brown and black, versions are commonly found in Asia.
What does a mustard seed taste like?
The yellow seeds are often bigger in size, easier to crash and they do have a bit of a bitter aftertaste. The brown once a smaller, harder and I believe a bit less pungent.
Also, did you know that the mustard seeds contain whole lots of oils and proteins? At the same time the seeds have been known in ancient times for their versatile and powerful illness cures. Today mustard seeds are still used as a digestive and it has some useful disinfectant properties. I found a useful page which describes the health benefits and historical uses, you might want to check it out.
Now to the Whole Grain mustard recipe. When you make this condiment, keep in mind that it needs 4-5 weeks to rest before you can enjoy and consume it with your lunch and dinner. The longer you keep the seeds to rest the more flavorful it will be at the end. In my recipe I have used White wine Vinegar instead of Verjuice and the yellow and dark mustard seed ratio is at 1:1.
Where to buy mustard seeds?
I don't know if one can buy yellow seeds in India but they are for sure available in Europe and in case you are looking to buy some, I found this Austrian online shop who sells quality yellow seeds. I hope you can buy the brown versions in your near too, otherwise check out an Asian shop, you ll be able to purchase them there.
In this recipe I added a bit more Turmeric powder then what they would add in France. I did that because I live in a humid moldy environment and so that the condiment survives longer I chose to add more of the anti fungal and antibacterial yellow spice.
In general the paste can be stored in a cool and dry place for months.
Whole grain Mustard Recipe below:
Whole grain Mustard recipe - Moutarde à l'ancienne
Ingredients
50 grams yellow Mustard seeds
50 grams brown Mustard seeds
~120 milliliter White Wine vinegar
1-2 Tablespoons Water
Juice of ½ Lemon
½ Teaspoon Salt
pinch Pepper
½ flat Teaspoon Turmeric Powder
6 Tablespoon Sunflower Oil
Instructions
Add to a bowl your yellow and brown Mustard seeds and cover them with 80 milliliter of the White Wine vinegar. Let it stand for at least 1 hour. You will notice that the vinegar will bubble a bit when it comes in touch with the mustard seeds, that's alright. We want the seeds to get a bit soft.
Next we will pound the seeds and if they have lost a bit on liquids, then add about 1-2 Tablespoons water to the mixture. To pound with the pestle add always small batches and smash and twist it so long until most of the yellow seeds have turned into a mush. The brown once don't crack that easily but with the pounding they will crack a bit and emit the flavors. Do that with the remaining mustard seeds.
In a bowl with the smashed mustard seeds add the remaining 40 milliliter vinegar, lemon juice, salt, pepper and Turmeric powder. Mix the content well and fill a clean jar with the condiment. Add the Oil on top and close the lid.
You will need to let it stand for minimum 4 weeks before you can use it. That is because it kind of ferments a bit or let's say the flavors "get used to each other" and form the superb flavor we love so much in the whole grain mustard. Let it rest and then you can enjoy it!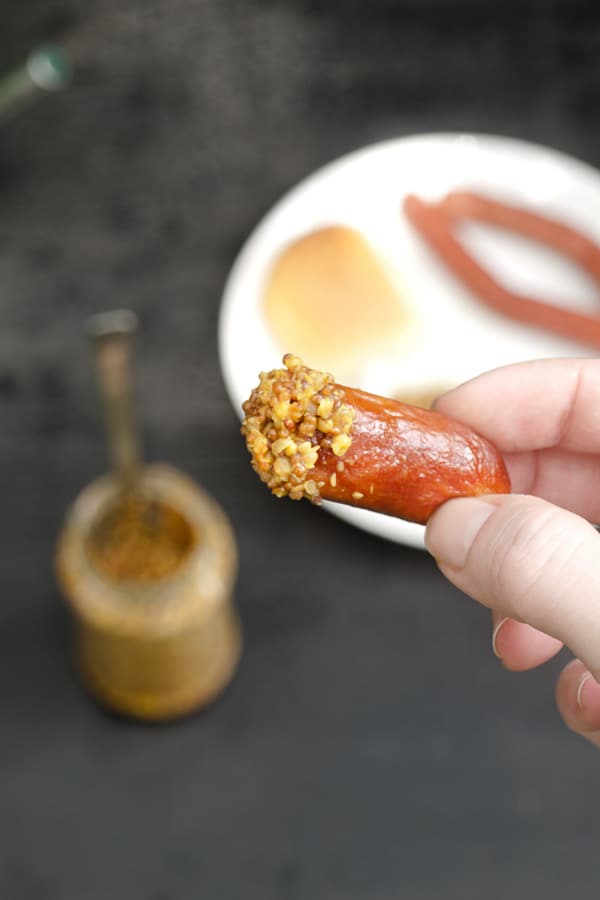 You might like...
The following two tabs change content below.
I am Helene, and created Masala Herb to share my food and travel journey with the whole world. You will find Asian and Western dishes here, as well as unique travel guides to inspire your day. Don't miss a post! Subscribe to the free newsletter!
Latest posts by Helene Dsouza (see all)
This post may contain affiliate links, and I receive a small commission when you click through and purchase. It basically buys me my daily coffee and cheese, and yes, my flour so that I can make pizza for dinner!