A creamy cooling yogurt lime dressing for hot summer days. Pick your favorite lettuce and veggies and cover them with this superb dressing. Enjoy!
Drizzle some Lime Yogurt Dressing over your green salad or your salad favorite.
We live in denial that the heat is going to hit us sooner or later and when the day comes, we act surprised and of course annoyed.
So, here I am sitting writing this while feeling all sticky and uncomfortable – even after having had 3 cold showers today! – wondering if the weather was getting hotter every year that passed.
At the same time I am enjoying once again my green simple ice berg salad with a cooling yogurt lime dressing.
The salad makes it all tolerable and for a split second, while the dressing is unfolding its purpose in my mouth, I actually forget the annoying weather conditions.
I am honestly about to stop writing this and instead of thinking of going into the kitchen and prepare more veggies so that I can cover them with another layer of my beloved yogurt lime dressing!
I know I am not the only person in the world right now suffering in the heat wave so sharing with you this yogurt lime dressing is a must.
Even if you don't feel necessarily hot in your part of the world, you can go ahead and enjoy a salad with the dressing.
I like to use crisp and fresh iceberg salad leaves, tomato, corn and I try to add fresh prawns.
It just makes it all the more irresistible.
Of course I leave you the liberty once again to play around with the salad ingredients.
You could also add cooked french beans (or other beans), potato, cauliflower or broccoli, or raw ingredients such as lettuce, carrot, cucumber, beets and kohlrabi.
If you are looking for other creamy, more filling salad dressing ideas then check out the creamy mustard dressing and the thousand island dressing for some inspiration.
In the meanwhile, I will try getting used to the heat so that I can cook up something delicious soon again for you!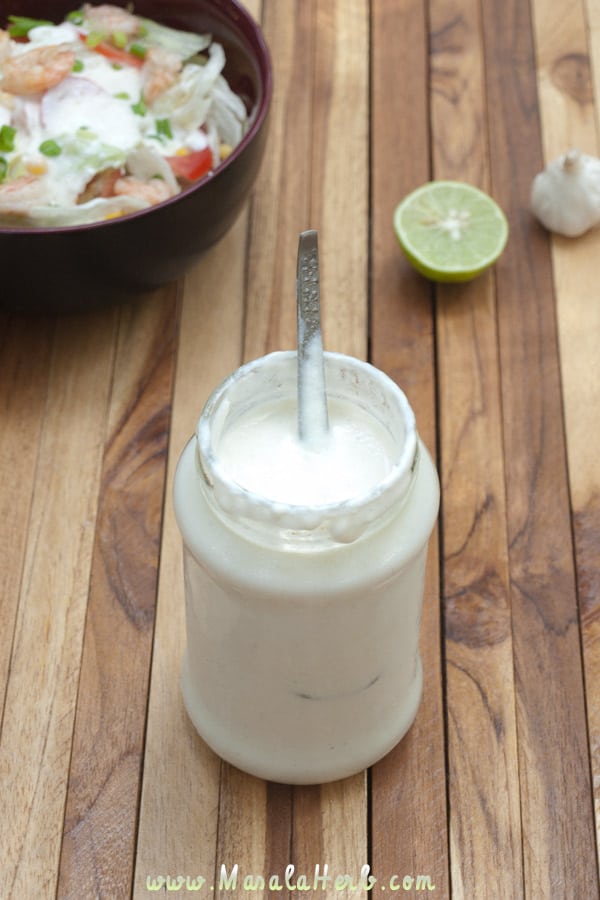 What veggies would you use with this yogurt lime dressing?
Related to the Yogurt Lime Dressing:
Please feel free to share your thoughts and ideas with us in the comment section further below!
So you love SPICES and HERBS?
GET 5 FREE SEASONING LESSONS
Type in your email address below.
Including free access to the
Seasoning Members only Club!
Yogurt Lime Dressing
A creamy cooling yogurt lime dressing for hot summer days. Pick your favorite lettuce and veggies and cover them with this superb dressing. Enjoy!
Print
Pin
Rate
Instructions
In a bowl combine all the ingredients well. If you want you can add garlic but it's not a must in this simple recipe.

Place the salad dressing into a jar and store in the fridge. Can be kept according to the yogurts expiry date.
Nutrition
Nutrition Facts
Yogurt Lime Dressing
Amount Per Serving
Calories 69
Calories from Fat 45
% Daily Value*
Fat 5g8%
Cholesterol 5mg2%
Sodium 250mg10%
Potassium 47mg1%
Carbohydrates 2g1%
Protein 4g8%
Vitamin C 0.4mg0%
Calcium 39mg4%
* Percent Daily Values are based on a 2000 calorie diet.