Based on the Mozart white chocolate cream liqueur from Salzburg. Use this sweet creamy alcoholic beverage to pimp your cocktails or enjoy as it is. Homemade chocolate liqueur makes a great holiday gift!
Easy white chocolate liqueur recipe to prepare this classic creamy holiday liqueur at home.
This chocolatey liqueur resembles the Mozart white chocolate vanilla cream liqueur from Salzburg in Austria.
Watch further below how to make it from scratch so that you can enjoy your white chocolate cream liqueur in your drinks or gift a bottle to your loved ones.
The white chocolate liqueur, besides homemade Baileys, Egg Liqueur and Eggnog, was one of the creamy and deliciously sweet liqueurs that we would prepare from scratch in culinary school.
The liqueur is completely gluten-free (check your chocolate label) and eggless.
You just need one pot to prepare this simple chocolate cream recipe.
Keep a clean sterilized bottle with a stopper ready, so to fill it up right after you finished preparing your chocolate liqueur.
You will take about 10 minutes altogether to prep and cook the white chocolate liqueur.
Jump to:
📕 What is white chocolate cream liqueur?
Chocolate liqueurs have been a thing for ages and are not a new invention.
They come in various forms.
The white chocolate cream liqueur is quite common, with chocolate cream and dark chocolate cream ruling the market.
The creamy chocolate-based liqueur is mainly made of cream, chocolate, and alcohol.
The few commercial brands that prepare white chocolate cream, besides the ordinary brown chocolate liqueur, use beet sugar alcohol distillations.
🔪 How to make it?
Here is an overview of how to make this chocolate liqueur from scratch. The full recipe is located in the recipe card further below.
Step 1
Melt chocolate in a water bath. Add sugar and whipped cream and melt it all.
Step 2
Pour in milk and vanilla extract and mix in.
Take from the heat and allow it to cool completely.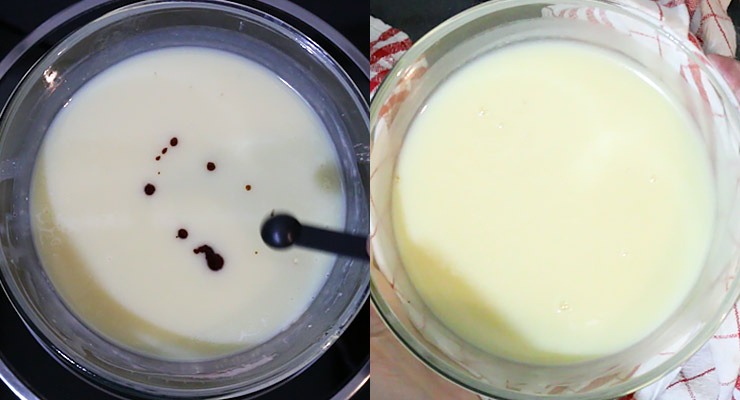 Step 3
Pour and mix in rum.
Pour liqueur into a clean bottle and enjoy cooled.
🍫 Ingredients
For my gorgeous, creamy sweet and tipsy making holiday white chocolate liqueur recipe, you will need a few common ingredients.
White Chocolate
For the white chocolate use quality chocolate bars and avoid white chocolate chips (those are not designed to keep their shape and don't melt well).
Those are usually ivory in color and not white, and besides that, quality chocolate is not that sweet but tastes rather milky.
You will also notice that quality white chocolate will melt without clumping.
Check to see what to look out for when buying white chocolate.
Cream
Use heavy whipping cream in this chocolate liqueur recipe.
It will add creaminess to the liqueur and help in binding the chocolate with the alcohol.
Vanilla
If you can use real vanilla bean paste because it will make your liqueur all the more special.
Recently I have not been able to get decent vanilla beans or paste, so I ended up using what I had at home, simply a good quality vanilla essence
The vanilla paste adds little dots to the creamy alcohol, which is total eye candy!
Milk
The creamy liqueur is always liquid when hot but will get all the thicker when it cools down, so you need to add milk or your liqueur will be stuck in your bottle.
Sugar
I add powdered sugar because it mixes in well and because I use proper premium quality white chocolate which isn't that sweet.
If you think your white chocolate is quite sweet, reduce or skip adding sugar all together.
You can first taste test your melting white chocolate liqueur and adjust the sugar amount that way.
White Rum
I choose white rum above any other clear alcohol to prepare my white chocolate liqueur recipe.
Try to get one of these precious and priceless Caribbean white rums OR get Cachaca if you can.
You can thank me later.
Of course, if you prefer another alcohol, then you can try to use vodka or even Amaretto or Malibu.
If you use amaretto or Malibu, don't add sugar to the recipe because they are quite sweet by themselves.
🥣 Uses
We love to simply pour some white chocolate liqueur into a glass and enjoy it that way.
However, you can use your white chocolate cream liqueur to build cocktails and drinks.
White Russian
White Martini
Pina Colada (I just add some of the white chocolate liqueur to my virgin pina colada to make it a naughty colada)
Naughty Angel
You can also add some of the homemade chocolate liqueur to a hot chocolate or a latte macchiato.
In fact, you can spike most alcoholic beverages with the white chocolate liqueur, as long as these beverages don't contain lemon and other citrus fruits.
Another idea is to use a dash of creamy homemade cream liqueur to prepare DIY molded chocolate candy.
It would make a great filling and turn chocolates boozy!
🛒 Buying
Mozart (Austrian)
Godiva (Belgian/Turkish with HQ in the US)
Aldi's discounter white chocolate cream liqueur version (German)
I suspect highly that there are smaller regional brands in central Europe, Switzerland, Italy, France, and Belgium that prepare white chocolate liqueur.
If I forgot to mention one, please let us know in a comment further below.
More Party Drinks
Dear reader, what are you planning with your homemade white chocolate liqueur recipe?
Global Food Recipes
with Spices and Herbs
Free E-Book available for a limited time. Grab yours now and get instantly inspired!
📖 Recipe
Easy White Chocolate Liqueur Recipe
Based on the Mozart white chocolate cream liqueur from Salzburg. Use this sweet creamy alcoholic beverage to pimp your cocktails or enjoy as it is. Homemade chocolate liqueur makes a great holiday gift!
Print
Pin
Rate
Instructions
Prepare a water bath (aka Bain Marie) by keeping a pot with some water on the fire and placing a mixing bowl over it (stainless steel or borosilicate glass). That way we can melt the chocolate without burning it!

Place the chocolate into the bowl and let it melt with the whipping cream powdered sugar, milk and vanilla added.

Mix and whisk until the chocolate has molten completely.

Take from the heat and let cool a bit before you pour the rum into the white chocolate liqueur.

Mix everything well.

Pour white creamy chocolate rum into a clean sterilized bottle and close with a stopper.

Store in the fridge until further use.

The chocolate liqueur can be kept for weeks because it doesn't include eggs and it does use sterilized milk, so follow the best before the date of the milk and the whipped cream.

Keep in mind that after cooking the liqueur is hot and very liquid. Once it cools down it gets super creamy. If you want a liquid version of the white chocolate cream, double the milk quantity in the recipe.
Notes
Use premium quality white chocolate bar slabs. Avoid chocolate chips, they don't melt that well and form pieces.
Sugar is optional in the sense that it depends on how sweet your white chocolate is. Premium white chocolate is not that sweet so you will need the 100 grams. Taste and adjust to your liking.
You can choose to add 1 cup ( 200 ml) or 1 ¼ cup (250 milliliters) white rum. Test taste to see how you prefer it.
Shake bottle before each use.
Nutrition
Nutrition Facts
Easy White Chocolate Liqueur Recipe
Amount Per Serving (85 g)
Calories 1130
Calories from Fat 828
% Daily Value*
Fat 92g142%
Cholesterol 338mg113%
Sodium 144mg6%
Potassium 339mg10%
Carbohydrates 72g24%
Protein 8g16%
Vitamin A 3695IU74%
Vitamin C 1.4mg2%
Calcium 293mg29%
* Percent Daily Values are based on a 2000 calorie diet.