Copycat Baileys Irish Cream flavored with cocoa dark chocolate.
I give you this Chocolate flavored Baileys Irish Cream to help you celebrate St.Patrick's day this year!
Make it with a handful of easy steps from scratch within minutes!
Global Food Recipes
with Spices and Herbs
Free E-Book available for a limited time. Grab yours now and get instantly inspired!
This Irish Cream recipe is prepared without eggs and doesn't need to be cooked.
I came up with a chocolate copycat Baileys version, which makes for a smashing alcoholic St.Patrick's day drink.
Below, I share a simple guide on how to make this Saint Patrick's day beverage. Includes flavor, serving and dietary recipe ideas.
Jump to:
📕 What is Baileys Irish Cream?
Irish Cream is a creamy liqueur that was popularized by Baileys in most recent times.
The beverage consists mainly of cream, whiskey, coffee and flavor givers.
Other brands can be bought in stores too but Baileys original Irish cream is the classic brand that has been associated with Irish cream.
🔪 How to make it?
Here is a quick overview, find the complete recipe with US and metric measurements in the recipe card further below.
Step 1
Add heavy cream, espresso and sugar to a blender jar.
Step 2
Add cocoa powder, vanilla extract and whiskey to that.
Step 3
Blend everything well and store in a bottle or serve up.
📜 Flavor Options
Classic Baileys is flavored with coffee but the brand has been selling flavored baileys too.
This recipe in this post is a dark cocoa chocolate-flavored Irish cream. You can skip the chocolate and add the following instead:
salted caramel sauce
strawberry sauce or frozen dried strawberry powder
vanilla extract or vanilla bean paste
Another idea is to use Eggnog as a base instead of cream. It's insanely good!
I made this chocolate baileys once with my homemade eggnog and it turned out super thick creamy and rich.
You can also add a scoop of vanilla ice cream but it will turn out super rich in taste and calories.
Another cool idea is to use coffee ice cubes. That way you don't need to add espresso when making this quick and delicious creamy cocktail.
Irish Whiskey liquor is usually preferred (gotta stick to the theme right?) but you can use Scottish or American whiskey too.
🍱 Storing
Keep your homemade Irish cream in a clean bottle and close with a clean bottle stopper.
Irish cream can be left out in a cool and dry environment for up to 1-2 weeks (seriously depends where you store it).
But I recommend that you keep yours in the fridge, just to be saved.
The alcohol content helps to preserve the cream and other ingredients in the liqueur, but homemade baileys can go bad if you don't use it up on time.
🥛 Serving
I think Baileys is best served in a tumbler glass on the rocks but I have seen some establishments serving it up in small shot glasses.
Keep in mind that ice cubes can water down your baileys.
My husband, for example, doesn't like ice in his so he will choose to have his without or with icy stone cubes.
Also, this Baileys can be used to create some more intricate cocktails.
For St.Patrick's day, you can decorate your drink with green sugar sprinkles.
My guests have fun with the rainbow sugar decoration.
Now we just need a pot of gold, but perhaps it will appear when we finish the bottle.
💭 FAQs
What has Baileys to do with St.Patricks day?
Bailey's is a traditional Irish cream liqueur and St.Patriks day was originally an Irish holiday. What they have in common is an Irish heritage, Irish whiskey, and Irish spring fun.
When is St.Patrick's day in 2020?
St.Patrick's day, this year in 2020, is celebrated on the 16th of march all over the world.
Can you drink baileys straight?
Yes, you can drink baileys straight. Baileys is an Irish cream with a 17% alcohol volume. However, original commercial Baileys is usually used as a mixer. This homemade chocolate-flavored version is suitable as a liqueur drink by itself.
How to make it vegan plant-based or even non-alcoholic?
Use vegan cream to make this liqueur vegan dairy-free. To make your baileys without alcohol, just skip the whiskey in the recipe.
👁️ More St. Patrick's day drinks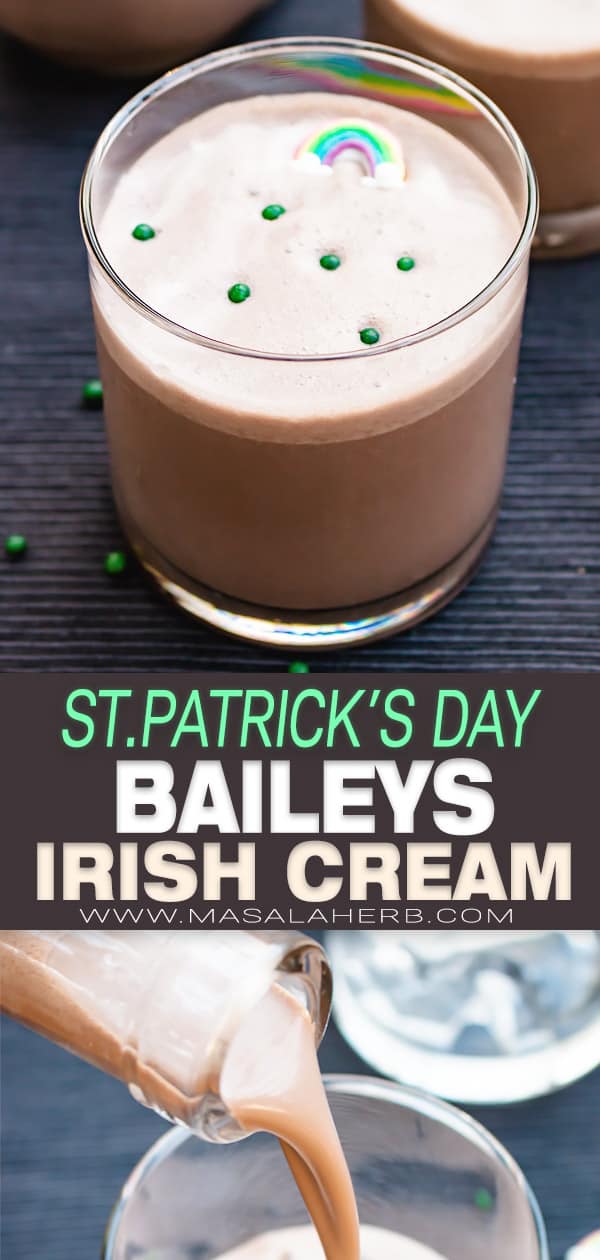 Global Food Recipes
with Spices and Herbs
Free E-Book available for a limited time. Grab yours now and get instantly inspired!
📖 Recipe
St.Patrick's Day Baileys Irish Cream
Copycat Baileys Irish Cream flavored with cocoa dark chocolate.
Print
Pin
Rate
Instructions
Pour heavy cream into a blender jar.

Also add in espresso (concentrated coffee), powdered sugar, cocoa, vanilla extract, and whiskey.

Close the blender jar with a lid and blend to a smooth consistency.

Enjoy on the rocks or mixed into drinks. You can pour your Irish cream into a clean bottle to enjoy another day.
Notes
Espresso is concentrated coffee. You can use regular coffee too but it won't give the flavor that you need in this homemade liqueur and it will water it down. Instant coffee powder is an option too but you won't get those real coffee flavors.
Use Jamson or other Irish whiskey preferably, but you can use any other nice tasting whiskey too.
Use unsweetened dark cocoa or cacao powder.
The vanilla extract is kind of optional but I personaly wouldn't want to miss it.
Nutrition
Nutrition Facts
St.Patrick's Day Baileys Irish Cream
Amount Per Serving
Calories 406
Calories from Fat 279
% Daily Value*
Fat 31g48%
Cholesterol 115mg38%
Sodium 33mg1%
Potassium 88mg3%
Carbohydrates 13g4%
Protein 2g4%
Vitamin A 1232IU25%
Vitamin C 1mg1%
Calcium 57mg6%
Iron 1mg6%
* Percent Daily Values are based on a 2000 calorie diet.