Soft and moist large pignoli cookies. This is a quick and easy healthier Christmas cookie recipe.
Soft and moist Pignoli Cookies prepared with almond paste and honey.
These Italian Christmas cookies are a real treat and make a great holiday gift.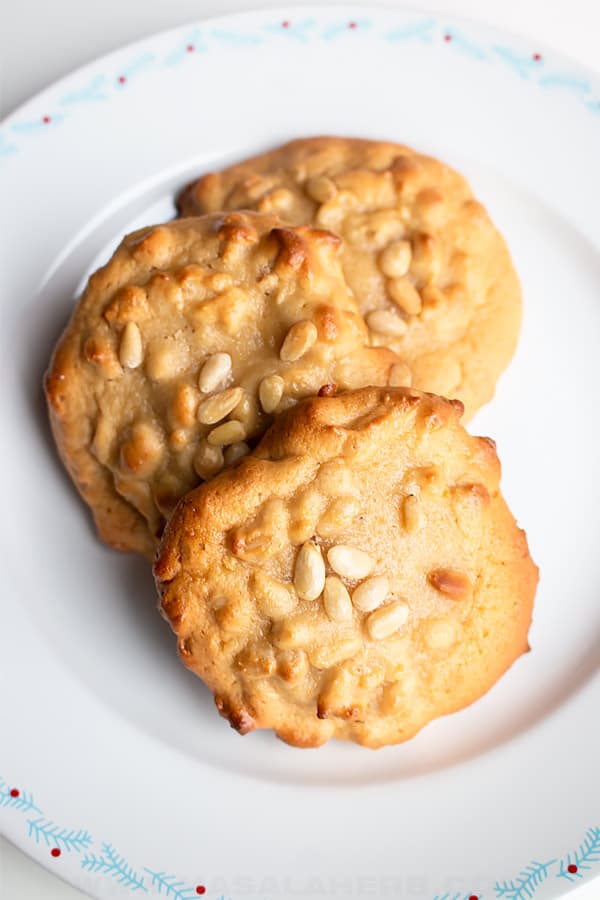 Global Food Recipes
with Spices and Herbs
Free E-Book available for a limited time. Grab yours now and get instantly inspired!
When I worked as a teenager at an Italian gelateria, I came across these special cookies.
My boss was from North Italy but his mother was Sicilian, so he would make them for Christmas.
His cookie recipe included almond flour, I created a recipe with almond paste which makes the cookies softer.
Pignoli are rich and have a unique taste. Besides these are healthier Christmas cookies!
Jump to:
📕 What are Pignoli Cookies?
Pignoli Cookies (or Pignolo) are Italian pine nut cookies.
The cookies are a tradition in Sicily Italy and immigrants to the US made them popular there too.
Pinole means pine nuts in Italian. Pignoli is the American-Italian version of the name.
The cookies consist mainly of almond paste (marzipan) and pine nuts.
I flavor mine with lemon extract too but you can use bitter almond extract as well.
Italian pignoli cookies are large soft moist cookies and they fall into the macaroon cookie category.
The cookies are rather expensive in stores because almond paste and pine nuts are precious expensive food ingredients.
This is why Pignoli nut cookies are a popular edible Christmas food gift.
🔪 How to make it?
This is how you can make your own pignoli cookies.
Use a kitchen machine to make a neat smooth dough within minutes.
You can find the complete recipe with detailed ingredients and instructions + video at the bottom of this post.
Step 1
Combine marzipan and honey.
Flavor with salt and lemon extract.
Step 2
Add baking powder, egg and flour to create a smooth dough
Also, add the pine nuts and combine.
Step 3
Shape cookies on a baking sheet and decorate with pine nuts.
Bake cookies, allow cooling after baking and store for further use.
🍱 Storing
Pignoli Cookies are soft and moist.
They don't keep that long compared to other cookies, so I suggest to consume them within a month.
The best way to store your almond pignoli cookies is to keep them between parchment paper in an airtight container at room temperature.
That way your Italian Christmas cookies will keep fresh and delicious
You don't have to store your cookies in the fridge.
You can store them in the freezer but when they thaw, the cookies get kind of chewy and are just not the same.
📕 What are pine nuts?
Pine nuts are actually seeds and not nuts that grow in a shell, which is called a kernel and that again is part of a pine cone
Various types of pine nuts exist, some are more elongated and others look like teardrops.
The shape and taste depend on the pine nut variety and the place of origin.
Where do Pine nuts come from?
Pine nuts are a traditional ingredient in various cultures around the world.
They are mainly used in Italian, American, Chinese, Japanese, Middle Eastern, Afghani, Korean and Russian cuisine.
The nuts are used in baked goods and in cooked food dishes.
Why are pine nuts to expensive?
Yep, pine nuts are not cheap but in fact rather expensive.
Getting high-quality pine nuts is difficult too.
The nuts are expensive because the growth is slow and harvesting the nuts is painfully complicated, requiring extra efforts because the nuts need to be removed from the shell.
Chinese pine nuts are cheaper and most commonly sold all over the place.
Unfortunately, it's hard to tell if the quality of Chinese pine nuts is up to global food safety standards.
Pine nuts from other parts of the world are less common and this again drives up the price.
So next time you bite into a pignoli cookie, you will understand why these cookies are so precious!
How to substitute pine nuts in this recipe?
I wouldn't substitute pine nuts with anything because the main star ingredient here are pine nuts (the name is pignoli)
However, if you must, then substitute the pine nuts with halved peeled almonds or roughly chopped cashews.
Keep in mind that there is no nut or seed in this world that resembles the taste of pine nuts.
So if you replace pine nuts in this cookies, the taste will be different.
👁️ More Christmas Cookies
Global Food Recipes
with Spices and Herbs
Free E-Book available for a limited time. Grab yours now and get instantly inspired!
📖 Recipe
Pignoli Cookies Recipe
Soft and moist large pignoli cookies. This is a quick and easy healthier Christmas cookie recipe.
Print
Pin
Rate
Servings:
9
large cookies
Instructions
Combine the marzipan almond paste with the honey to a smooth consistency.

Season with a pinch of salt and a few drops lemon extract.

Continue to mix in baking powder and egg.

Add the flour batch by batch to the dough while continuously mixing, so that you use up all your flour to create cookie dough.

In the end, add the shelled pine nuts and make a pignoli cookie dough.

Preheat your oven to 350° Fahrenheit/ 180° Celsius.

Prepare a pan with a parchment sheet.

Shape your cookies with the help of a spoon to a round shape and leave enough space between the cookies on the sheet. *see notes

Decorate cookies with pine nuts on top.

Bake cookies at 350° Fahrenheit/ 180° Celsius for about 10-12 minutes. *see notes

Store in an airtight container between parchment paper.
Notes
I used an ice cream scooper to shape the cookies, and you can use that too but keep in mind that the cookies turn out rather large. For smaller cookies use a normal Tablespoon.
I bake my large cookies at 350° Fahrenheit/ 180° Celsius for 12 minutes. For smaller cookies you need to adjust the time and bake them for either 8-10 minutes instead. Bake your cookies until they appear golden brown.
Makes about 9 - 20 cookies depending on the size of your cookies.
Nutrition
Nutrition Facts
Pignoli Cookies Recipe
Amount Per Serving
Calories 337
Calories from Fat 207
% Daily Value*
Fat 23g35%
Cholesterol 18mg6%
Sodium 16mg1%
Potassium 268mg8%
Carbohydrates 29g10%
Protein 8g16%
Vitamin A 33IU1%
Vitamin C 1mg1%
Calcium 40mg4%
Iron 2mg11%
* Percent Daily Values are based on a 2000 calorie diet.