Healthy Moringa Pod Curry prepared with coconut. This vegan spiced curry is stuffed with flavors. Prepare it within 25 minutes by using a ready-made curry paste
This flavorful Moringa pod curry is prepared with the pods of the moringa tree.
This is a vegan, gluten free and low carb moringa pod vegetable curry gravy with coconut recipe.
Prepare this original curry from Goa with the basic curry paste.
Yes, Moringa is a vegetable.
In this world, there is a tree known as Moringa and it produces elongated, thin seed pods.
These pods taste amazing, kind of like asparagus and green beans.
Moringa trees grow mainly in Asia and especially in India and Thailand.
The Moringa Pods are frequently used in local dishes.
Each part of the tree finds use, the vegetable moringa pods are most commonly used in moringa pod curries and stir-fries.
The leaves and roots can be used as well.
Most probably you have heard of Moringa somewhere before.
In fact, Moringa is considered a superfood in the western hemisphere.
Moringa tree leaves are dried and pulverized to be sold as a compressed super food dietary supplements.
Tree leaves in India and South East Asia are inexpensive, the trees often while grow wild.
People in these countries, however, have not labeled the moringa tree leaves or pods as a superfood.
The Moringa pods are considered a delicacy.
I fell in love with this strange vegetable the first time when I had this Goan moringa pod curry because the taste of a moringa pod reminded me a bit of asparagus.
The pods are hard, woody and sturdy on the outside.
The flesh, when cooked, is soft on the inside and dissolves on your tongue.
Because of the length, it is necessary to cut the Moringa pods into smaller pieces.
We also peel them a bit at first to remove some of the woodiness, however, when cooked in any dish, the smaller pod pieces can't be directly eaten.
After cooking, the moringa pod pieces tend to slightly fall apart.
You take a piece with your fingers and take off the flesh with your teeth or tongue.
I know there is some work involved but trust me, it's totally worth it!
Serve the moringa curry with: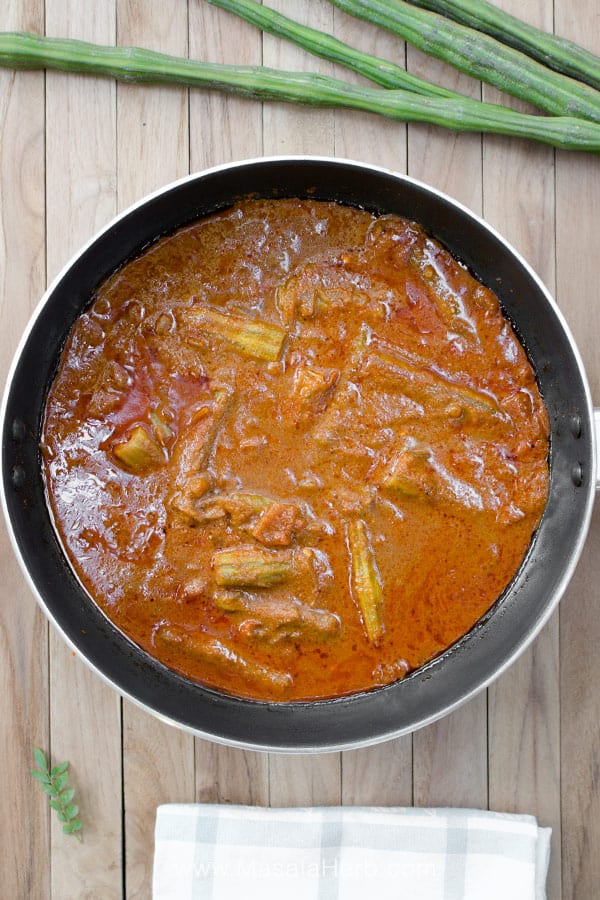 Global Food Recipes
with Spices and Herbs
Free E-Book available for a limited time. Grab yours now and get instantly inspired!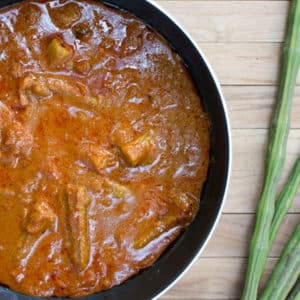 Moringa Pod Curry Recipe
Healthy Moringa Pod Curry prepared with coconut. This vegan spiced curry is stuffed with flavors. Prepare it within 25 minutes by using a ready-made curry paste
Print
Pin
Rate
Instructions
Wash your moringa pods properly and cut them a bit to make it easier to manage. Peel the moringa pods partially to get rid of some of the outer toughness.

Then cut the moringa pods into 2-inch pieces. Try to cut so that the bulby seeds are in the center of each cut moringa pod.

Heat up a shallow pan with the oil and fry your onions soft. At this point, you can also add the green chili and curry leaves (which are both optional).

Then keep on stir cooking and add the tomato pieces, as well as the moringa pod pieces. Stir cook for a minute or two on medium to high heat.

Now you can add the curry paste. Mix it all well.

At this point, you can pour in the water mixed with the concentrated stock (or just packet broth). Give it a good mix again.

Season with salt and add the tomato paste.

Mix it all again and cook covered for about 18 minutes.
Notes
Use fresh moringa pods, they should be firm and green. You can buy them in your local Asian specialty store.
You can add fresh green chili pepper to add some heat to the dish
Try to get fresh or dry curry leaves, they add a lot of flavor to the dish.
Moringa Pods are also known as drumsticks. I'm avoiding this name because it gets confused with chicken legs.
Only use the red Goan curry paste for this curry. Anything else (such as Thai curry paste) won't be the same.
Nutrition
Nutrition Facts
Moringa Pod Curry Recipe
Amount Per Serving
Calories 162
Calories from Fat 90
% Daily Value*
Fat 10g15%
Sodium 623mg26%
Potassium 175mg5%
Carbohydrates 14g5%
Protein 2g4%
Vitamin A 14765IU295%
Vitamin C 62.8mg76%
Calcium 143mg14%
Iron 2.6mg14%
* Percent Daily Values are based on a 2000 calorie diet.