Homemade Cheese Fondue for your Christmas or New Year's Eve dinner party.
I LOVE Cheese Fondue, I always have and that for a good reason.
You get to dip your bread into a melting concoction of cheese and that too as many times you want (and crave!)
Turn this fondue into the ultimate dinner party meal to enjoy with your family and friends this holiday season.
Global Food Recipes
with Spices and Herbs
Free E-Book available for a limited time. Grab yours now and get instantly inspired!
Jump to:
📕 What is a Fondue?
A fondue is cheese melted in a large pot placed at the center of the table.
The heat of the pot is controlled with a portable stove so that the cheese stays the same consistency, perfectly cheesy and melted.
The word fondue comes from the French word fondre, which means to melt.
The cheese fondue is the first thing that comes to mind when you hear fondue, yet there is also the meat fondue and chocolate fondue but that's a whole different story.
A fondue is meant to be enjoyed at a special occasion such as Christmas or New Year with a small group of family or friends.
🇨🇭 Origins
The fondue with cheese is the national dish of Switzerland.
The best fondue I ever had was in Lausanne at the Geneva lake while looking at the town of Vichy on the other side of the lake in France.
The cheese is superior in Switzerland and variations of cheese fondues exist across the country.
White wine is another very important inclusion which shapes the emulsion and base flavors of your beautiful melting cheese pot.
So-called Fondue Stuben (closed rooms just for a fondue party) are commonplace in well-known hotel establishments in the Swiss, Austrian and German alps.
The highlight of any Switzerland trip is to experience an authentic cheese fondue with a beautiful view.
The insider tip here is to reserve a spot with a view to the Zermatt mountain while dipping your crispy bread into pure cheese heaven.
🧀 Choice of cheese
Use a cheese that will melt and combine easily.
In Switzerland, cheese such as Gruyere and Emmental are commonly used.
I personally try to use only gruyere and emmental together because I think they make for the best combination in regards to flavor and consistency.
I have seen them adding Raclette cheese and other regional mountain cheese varieties.
You have the option of using cheddar cheese too.
Choose if you want to use 2 cheese varieties or one only. I always recommend two for the best experience.
🍷 Choice of wine
Pick a white wine that has the flavor to enrich your melted cheese experience
Don't ever use cheap cooking wine, because those are subpar quality and they will destroy your fondue.
I like to taste fruity white wine in my cheese fondue.
I'm happy with a riesling too but this is a very personal choice.
🔪 How to make it?
Making cheese fondue is actually easy.
Here is a preview on how to make cheese fondue from scratch.
Find the detailed ingredients and instructions, with the how-to video, at the bottom of the post in the recipe card.
Step 1
Season the pot with garlic by rubbing the garlic into the surface.
Heat up the stove and place the large fondue pot over the heat.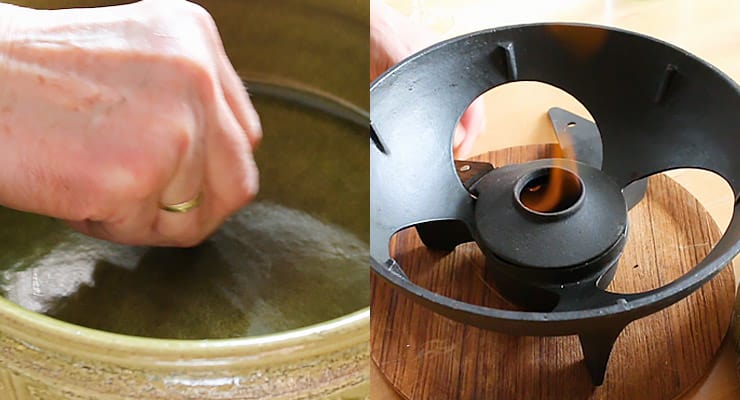 Step 2
Place cheese with white wine, cherry brandy, cornflour and seasoning into the pot and mix.
Allow the cheese to melt by stirring at times with a wooden spoon.
Control the heat.
Step 3
When cheese fondue has melted, you get to dip in your bread.
Stick a piece of bread on your elongated fondue fork and dip into the fondue.
Control the heat at all times, the cheese should melt but not burn.
Repeat and enjoy.
💡 Dipper ideas
Bread is the universal dipper option at a classic swiss cheese fondue party.
Use hard bread because you don't want the bread to fall off the forks with the beautiful heavy soaked cheesiness.
We like to use baguette bread and sometimes cooked potato pieces.
A progressive cheese fondue evening can include fresh fruits such as apple and pear as a dipping idea.
Or you can use crackers or vegetable dippers too, just the way I did in my baked brie with fig jam.
Meat steak pieces can be used too but I think that's too much of the good.
🥣 Serving
We love a simple green salad at the side while we dip in our bread.
You can also serve side dishes like roasted brussels sprouts, carrots, turnips.
Another common serving addition that I saw in Switzerland is pickled cucumber, onions, tomatoes, and olives.
Tip: You can serve up white wine to drink.
📜 What to serve after your cheese fondue?
Let's face it, a cheese fondue is a heavy meal for the stomach.
To balance out the fullness in your and your guests stomachs, I recommend serving up light desserts with fruits.
A simple fruit salad with mint is, for example, a good idea!
I also recommend a glass of clear high percentage Schnapps to help digest the cheese in your stomach.
I like a good Willi Schnapps (pear) to balance the flavors.
🧰 Equipment
You will need a cheese fondue pot with a portable gas or electric stove.
And you will need the elongated forks.
You can get a swiss fondue set with the cauldron made of ceramic.
Keep in mind that a cheese fondue set is not the same as meat fondue or a chocolate fondue set. There is one for each.
The cheese fondue pot is large and I think the better ones are made of ceramic.
Make sure that the forks have a color distinction because people tend to get a bit tipsy drinking white wine while eating cheese fondue and people confuse their forks. lol
💭 FAQs
Can you make a swiss fondue without wine?
You can by using broth instead but the taste and consistency is not the same. The acidity in the wine keeps the cheese melted and smooth so that the emulsion succeeds. I recommend always to use whine if possible.
Can you make fondue ahead of time?
Yes, you can by melting it first, storing it in the fridge and reheating again. Keep in mind that the fondue might not turn out that smooth. To be honest I don't see why you would need to make it ahead of time. It takes only a few minutes for the cheese to melt and fondue guests usually enjoy watching how the fondue gets formed. Just keep everyone happy with some white wine while they wait..
Can you freeze a cheese fondue?
No there is no need to freeze a cheese fondue. A cheese fondue should be finished to the end.
Can I make a cheesy fondue without a fondue pot?
Theoretically yes you can make fondue without the fondue to set but the purpose of a cheese fondue pot and the set is that the cheese remains melted at the same temperature. This can only be achieved with a small portable stove. You can try using a regular cooking pot over a small induction cooker.
Why is my cheese not blending and melting?
The fondue might not get smooth if you used a cheese that doesn't blend well and if the heat is too low or too high. Also, wine and garlic make the emulsion happen and cornflour keeps it all together, so don't skip these ingredients.
Global Food Recipes
with Spices and Herbs
Free E-Book available for a limited time. Grab yours now and get instantly inspired!
📖 Recipe
Swiss Cheese Fondue Recipe
Homemade Cheese Fondue for your Christmas or New Year's Eve dinner party.
Print
Pin
Rate
Ingredients
To dip
2-3

Baguette

cut into bite-sized pieces

other dipping options

*See Notes
Instructions
Keep all the ingredients ready for the fondue. Use grated cheese.

Rub garlic clove against the inner pot.

Turn on the heat for the portable mini stove and place pot over the stove.

Pour white wine into the fondue pot and add in the cheese.

Season with nutmeg and black pepper, add cornflour and the cherry brandy. Mix all well

Control the heat, keep on stirring occasionally and watch the cheese melt.

Keep your cut bread ready. Your cheese fondue can be enjoyed when the cheese is smooth and bubbly.

Start by poking the bread into an elongated fondue fork and dipping it into the cheese.

Control the heat until the pot is almost empty. In the end, there is always a layer of cheese at the center that gets hard. I like to eat that.
Notes
I recommend using two cheese for the cheese fondue, the swiss Gruyere and Emmental cheese. The flavor is more interessting that way. You can also just use one cheese, as for example a flavorful good melting cheddar cheese.
The Cherry Brandy is optional but it adds some interessting flavors to the cheese fondue.
The garlic adds flavor, the white wine adds ideep acidic flavors and helps to emulsify the fondue and the corn flour binds the fondue even further. That way your cheese won't seperate and you are left with a velvety smooth cheesy fondue. Yum!
Use hard bread to dip. In Switzerland they sometimes serve cooked potatoes too. Another progressive approach is to dip with freshly cut fruits such as apple and pear.
Recipe based on my former coordinator's swiss fondue recipe back when I worked in Switzerland.
Nutrition
Nutrition Facts
Swiss Cheese Fondue Recipe
Amount Per Serving
Calories 1017
Calories from Fat 450
% Daily Value*
Fat 50g77%
Cholesterol 152mg51%
Sodium 1168mg49%
Potassium 320mg9%
Carbohydrates 71g24%
Protein 54g108%
Vitamin A 1336IU27%
Vitamin C 1mg1%
Calcium 1459mg146%
Iron 4mg22%
* Percent Daily Values are based on a 2000 calorie diet.