Ladies and gentleman,  a quick and easy chicken curry with fresh ingredients for your recipe repository. Take it, make it and thank me later.
It has been a while since I had posted a Indian curry recipe here and it was about time, don't you think? I have to confess I was playing around with ingredients and flavors for a while. Understanding the different effects of spices is a challenge I enjoy. When I was introduced to spices the Indian way, I was overwhelmed by the amount of different flavors and shocked that one could throw them all together in a pot.
-> Get the free Masala Herb Newsletter
I know my Indian friends will  chuckle at the thought of my face turning red while eating a spicy hot dish, but a westerner might understand my first reaction. It took a few years and pure food love and I was a changed person. In fact I am pretty much alright with most Indian dishes as you can see.
One of the Indian dishes that helped me getting into Indian food was this quick and easy chicken Curry. My mother in law was so kind to share it and of course her recipe is the best. So if you are a person who grew up with non spice food, then this Curry will surely be your next favorite. The preparation is quite simple and the ingredient's list is not that long. The best part of the chicken Curry is that it is a quick recipe and I frequently tend to cook it during the week.
My husband's family would rather cook the chicken curry on Sunday's and serve it with plain Basmati Rice or aromatic Pulao Rice. I leave that up to you!
Do you like Indian curries? I may recommend my quick and easy mushroom yogurt curry, easy and quick paneer korma, easy potato cauliflower masala, easy butter chicken, as well as a collection of 18 fantastic chicken curry recipes from India.
Easy Chicken Curry Recipe below:
Quick and Easy Chicken Curry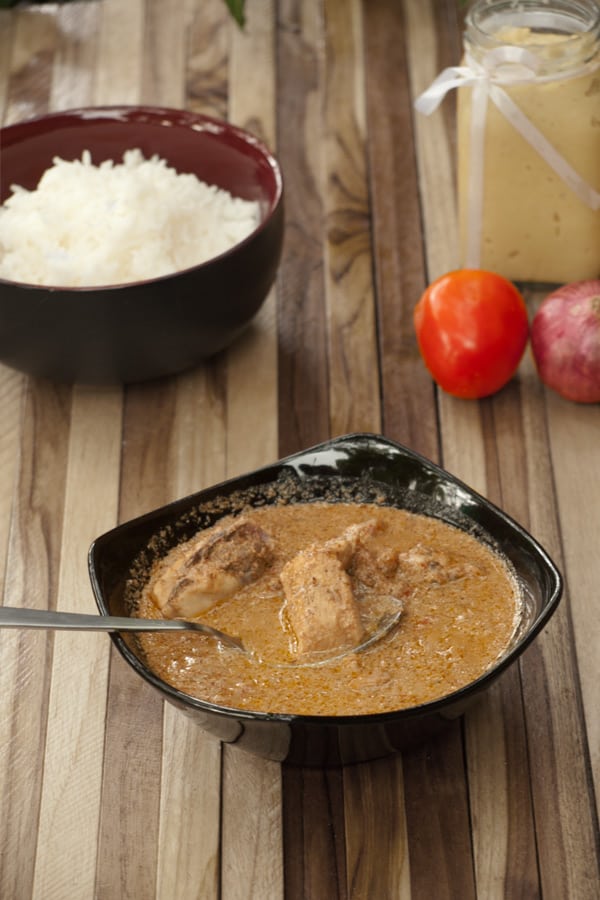 Super quick and easy Chicken Curry the Goan way. Love this recipe during the week when I am busy!
Ingredients
450 grams skinless Chicken pieces with bones (about ½ of a small Chicken)
1 Lime
2 Tablespoon Cooking oil
1 Tablespoon Ginger Garlic Paste
1 small Onion
1 small Tomato
700 milliliter thin Coconut Milk
3 Tablespoon Garam Masala
Salt according to your taste
Pepper according to your taste
Instructions
Rinse and pat dry your chicken pieces. Add the juice of one lime to the chicken and mix well. Let that marinate for 10 minutes.
Chop your onion and tomato small. In a pot add the oil and heat up. Throw in the Ginger garlic paste and chopped onion and tomato pieces. Stir fry for 2-3 minutes or until the onion turns a bit translucent.
Add your chicken pieces with the lemon juice and stir fry for another 2-3 minutes.
Pour in the Coconut milk and add the garam masala, salt and pepper. Mix the content.
Cook on medium heat covered for about 10-15 minutes or until the chicken has cooked and the flavors have incorporated.
Serve hot over Basmati rice or fragrant Pulao rice.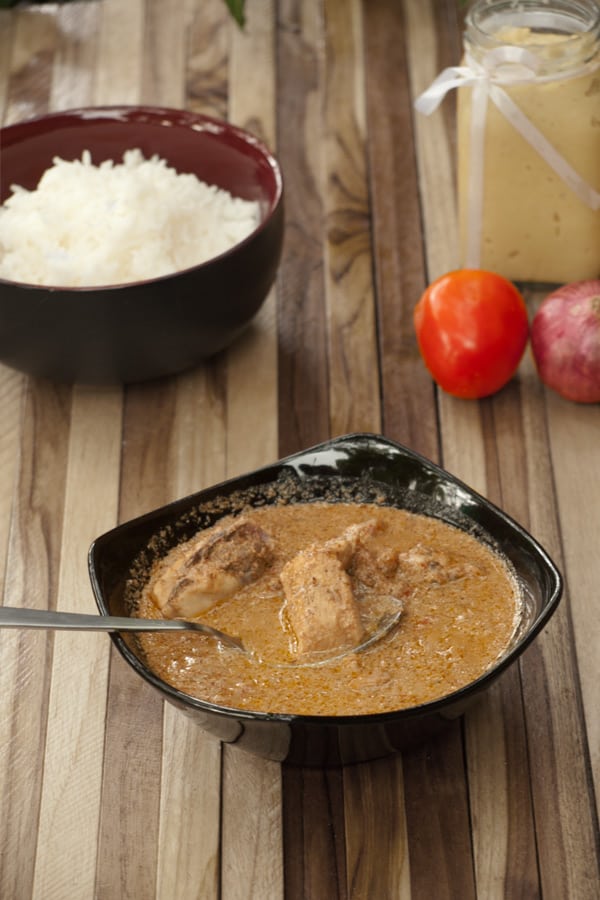 ---
You might like...
The following two tabs change content below.
I am Helene, and created Masala Herb to share my food and travel journey with the whole world. You will find Asian and Western dishes here, as well as unique travel guides to inspire your day. Don't miss a post! Subscribe to the free newsletter!
Latest posts by Helene Dsouza (see all)