Tomorrow is already Christmas!
I am actually realizing the speed of time now only and I am starting to panic.
So much happening around so much is left to be done but the time is too short. I guess most of us are experiencing "The Christmas rush".
I stumbled through the TV channels yesterday late night and came across Nigellas Christmas show.
Usually, I don't get to watch TV and so I don't know when is what and where and how in the Tivo world.
Nigella explained in her show that she tries to keep Christmas cooking preparation simple by serving simple dishes which have a flavourful impact.
Words of wisdom and I am keeping those words in my mind for the next days.
In the meantime, I wanted to introduce you to some more traditional Goan cookies, which are simple to prepare and very tasty.
I had mentioned in my previous post that for Christmas, Goans prepare a bunch of different cookies and sweets which are shared and given to family members, friends, and neighbors.
Vodde cookies are flat round deep fried which are made of rice and daals.
Angel's ribs are made of a simple flour dough and prepared with a special technique to give the cookie crispness.
Both are lovely with a cup of tea or coffee and definitely a must try out!
Since it is not snowing and the winter land is missing, we always end up a bit late with our festivity decoration and preparations.
But, we managed in time. lol
Vodde ~1 kg
400 g Simple rice
400 g brown rice
130 g White Urad Lentil (Dal)
130 g Orange Lentil (Dal)
130 g Wheat flour (Atta) pinch salt
Sugar according to your taste
Warm water accordingly
Start by washing the simple rice, brown rice, orange lentil, and the white lentil and keep them to dry well in the sun.
Grind all 4 ingredients dry to a powder. In a mixing bowl combine the 2 rice flours, the 2 lentil flours, the wheat flour, salt, and sugar.
Mix it all and
add in little water slowly while working it out.
The dough has to be smooth, not sticky and not too soft.
Once the dough is done, roll it out to a 2-3 mm thickness and cut rounds out with a cookie form.
Don't keep them standing too long, directly deep fry them in hot oil.
Remove excess oil with kitchen paper and keep them to cool.
Angel ribs
½ kg refined Wheat flour (Maida)
1 Egg pinch salt warm Water accordingly
2 Tbs Margarine - melted
2 Tbs Cornflour
Powdered Sugar
In a mixing bowl combine the flour and salt and mix well.
Make a mold and add in the egg and little water to start.
Mix it and add little water along the way while forming the dough.
Again the dough has to be smooth, not sticky and easy to handle.
Once you have got the desired dough roll it out.
In a small bowl combine the margarine and Cornflour to a paste.
Use it to spread it well all over the rolled out dough.
Right after that fold the dough back in as shown.
This needs to be done 2 more times.
This technique will give the cookie its name, by making it crispy and light, so please don't omit this step since it is important!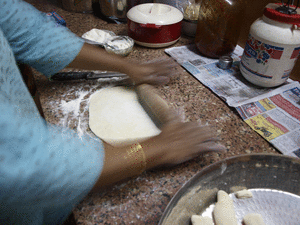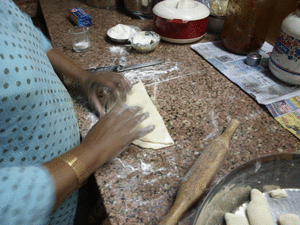 After the third time rolling it out and spreading the paste roll it one more time flat and roll the dough in as shown.
Cut 1 cm thick pieces and flatten it lengthwise as shown.
Don't leave it standing too long and proceed by deep frying the angle ribs.
Remove excess oil and leave it to cool down. Coat the Angle ribs with powdered sugar to serve.
Global Food Recipes
with Spices and Herbs
Free E-Book available for a limited time. Grab yours now and get instantly inspired!