The BEST Sugar Cookie Recipe with quick icing to decorate your Christmas cookies.
I show you how to make sugar cookies from scratch in this post.
The cookie dough is easy to roll out and the cut out cookies will hold their shape when baked.
I also show you how you can make icing sugar within minutes to decorate your cookies beautifully.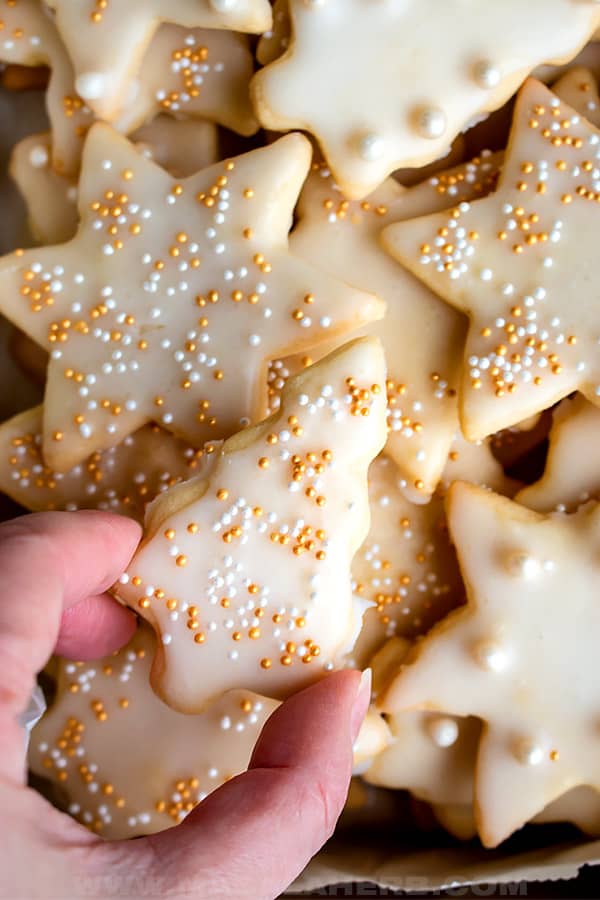 I created my own sugar cookie dough in the past years.
The recipe was loosely adapted from my shortcrust pastry dough, which I use to make cookies such as the Austrian Linzer Cookies.
The cookies turn out soft and I like to make a batch for family and friends during the holidays.
Let's make the BEST Sugar Cookies for Christmas!
Jump to:
Ingredients
Add the following cookie dough ingredients to your shopping list to make homemade sugar cookies.
Butter (not margarine please)
Egg
Vanilla Extract
All-Purpose Flour
Salt
Baking Powder (not baking soda!)
Instead of baking powder, you can mix together baking soda with cream of tartar, but don't use baking soda alone because the result will be a different one.
For the easy Icing Sugar (which is optional)
Powder Sugar
Lemon Juice
Sugar sprinkles to decorate
Lemon Juice can be substitute with tap water or vodka/rum etc.
Read up the complete recipe with video instructions at the bottom of this post.
How to make the dough?
Simple sugar cookies should be easily prepared at home, especially if you intend to make them with kids.
I thought it was about time that I share my recipe after I had received some requests for a dough that was easy to cut out with shapes.
I explain the steps here so that you can easily follow along, but the complete recipe card is at the bottom of this post.
I also suggest that you watch my video in the recipe card further below.
Step 1
Combine the dry ingredients. The all-purpose flour, salt, and baking powder.
Step 2
In another mixing bowl add the butter and powdered sugar. Beat to a fluffy and smooth consistency.
Continue to add in the vanilla extract and egg. Combine the ingredients.
At last add in the dry ingredients with the flour, a batch at a time while the dough is getting formed.
Step 3
After you have added all the ingredients and your dough is well mixed, collect the dough and place it on a cling film.
Wrap cling film around the dough and keep the dough to cool in the fridge for at least 30 minutes, so that it gets hard to roll out.
How to roll out?
Prepare a clean place in your kitchen where you can roll out your dough evenly.
Flour the surface and keep always some flour at the side, which you can use if need be.
Unwrap your dough and discard used cling film.
Flour your dough well and start rolling over it so that it gets stretched.
Gradually roll your dough out while you keep on flouring your working surface and the dough.
This is important or else your dough will start to stick, which can get frustrating.
Don't waste too much time and work swiftly because the butter in the dough will get soft after a while.
I take at least 5- 10 minutes to roll out, just so that you can compare but I make sure that the room I'm working in is not too hot.
Roll out your dough to about 3 millimeter/ 0.10 inches and cut out your shapes with your choice of cookie cutters.
I always flour my cookie cutters too so that I can cut out in one go.
Once you are done cutting out, place the cut-out cookies on a baking sheet and bake your cookies for about 10-12 minutes. *See Recipe Card for all details.
Repeat the process with the remaining dough until you have used up all the dough.
How to decorate?
You can prepare your own icing sugar at home and it's super easy and quickly ready!
Just combine powdered sugar with a few drops of lemon juice and you have icing sugar.
Don't add too much lemon juice or else it will get too liquid but add enough so that the icing is semi-liquid.
Take a baked sugar cookie into your hand and brush the icing sugar over the cookie.
Sprinkle some sugar decorations over your cookies when the icing is still wet. Don't wait too long because the icing hardens quickly.
Repeat the process with all the cookies and most importantly have fun decorating!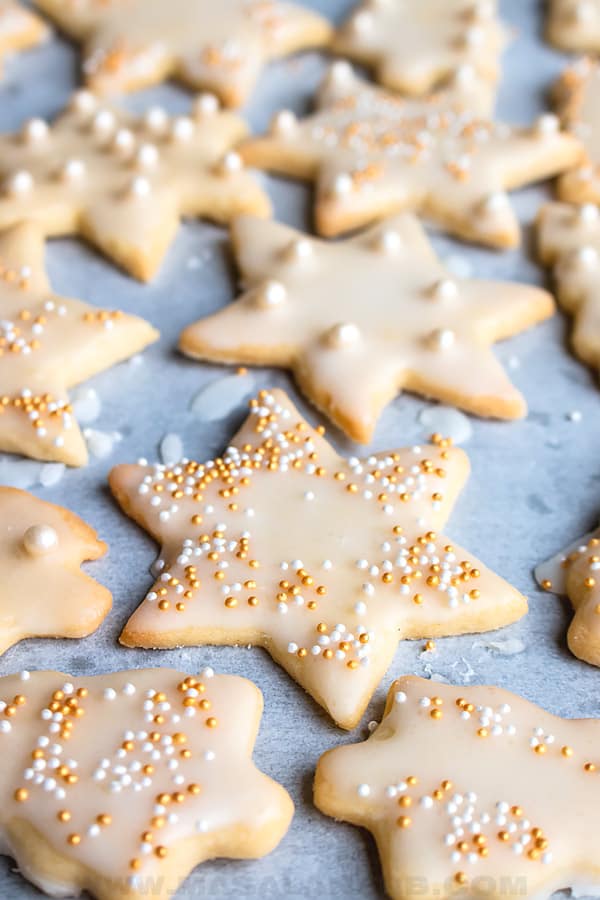 FAQs
Do I need to chill my cookie dough?
Yes, because you need the butter to get a bit hard so that the dough will easily roll out. If you don't chill, the dough will get sticky and unmanageable.
Can I freeze the cookies dough?
Yes, you can! Just place the dough wrapped in cling film into the freezer. Keep out at room temperature to thaw before rolling it out.
How to store my sugar cookies?
After you have baked your cookies, keep them out to cool. Then store in a cookie tin lined with parchment paper and keep on a shelf in a cool and dry spot. In a hot and humid climate (tropical), place cookies into an airtight container. Use within weeks.
More Christmas cut out cookies
Global Food Recipes
with Spices and Herbs
Free E-Book available for a limited time. Grab yours now and get instantly inspired!
📖 Recipe
How to make Sugar Cookies
The BEST Sugar Cookie Recipe with quick icing to decorate your Christmas cookies.
Print
Pin
Rate
Instructions
First mix together the dry ingredients. The all-purpose flour, salt, and baking powder. Keep aside.

In another mixing bowl, add the butter and powdered sugar. Beat fluffy to a smooth consistency.

Add the vanilla extract and the egg. Continue to blend in with all ingredients.

At last, add the dry ingredients mixed with the flour. Add a batch at a time while combining the ingredients in a kitchen machine or with a hand blender.

Create a well-combined dough. Place on a cling film and wrap cling film around the dough.

Cool the dough for at least 30 minutes in the fridge. This is necessary so that you can roll out the dough afterward.

Roll out the dough with the help of all-purpose flour so that it doesn't stick. Keep on rolling out to about 3 mm or 0.10 inches and flour your dough on both sides at all times.

Preheat your oven to 320° Fahrenheit/ 160° Celsius.

Cut out your cookies with cookie cutters of your choice. Place unbaked cookies on a parchment-lined baking sheet. Keep a little space between the cookies.

Bake cookies at 320° Fahrenheit/ 160° Celsius. for about 10 to 12 minutes until they turn a bit yellow. Keep an eye on your cookies, because duration depends on your oven (they are not all the same).

Keep the baked cookies out to cool.

You can choose to decorate your cookies. To do so place naked baked cookies on a parchment paper.

In a small bowl combine powdered sugar and lemon juice. The quantity and consistency is up to you. Don't add too much lemon juice too and if you did, adjust by adding a little more powdered sugar. The icing should be semi-liquid.

Brush each cookie with the icing and sprinkle some sugar decoration over your cookies. Decorate to your liking.

Leave the icing to dry so that it gets hard. Store cookies in a box lined with parchment paper. See post for hot climate storage instructions.
Nutrition
Nutrition Facts
How to make Sugar Cookies
Amount Per Serving
Calories 64
Calories from Fat 36
% Daily Value*
Fat 4g6%
Cholesterol 13mg4%
Sodium 34mg1%
Potassium 16mg0%
Carbohydrates 7g2%
Protein 1g2%
Vitamin A 118IU2%
Calcium 6mg1%
Iron 1mg6%
* Percent Daily Values are based on a 2000 calorie diet.