#Sundaysupper is back and this week we are all about tapas. If you are asking yourself what tapas means, it is basically the Spanish word for bite size appetizers, snacks and canapé. Remember my New Year's post this season? I shared a New Year's Eve Appetizer collection, rounding up the best treats made by my food blogger friends. I also shared the fact that I usually don't make those appetizers but that I was an avid fan of homemade colorful, creative and above all tasty canapé. However, sometimes I like to make a batch and surprise visiting friends and I do have some goodie recipes in my repertoire. Take for example these Goan beef croquettes, they are mouthwatering good and unique in their own ways!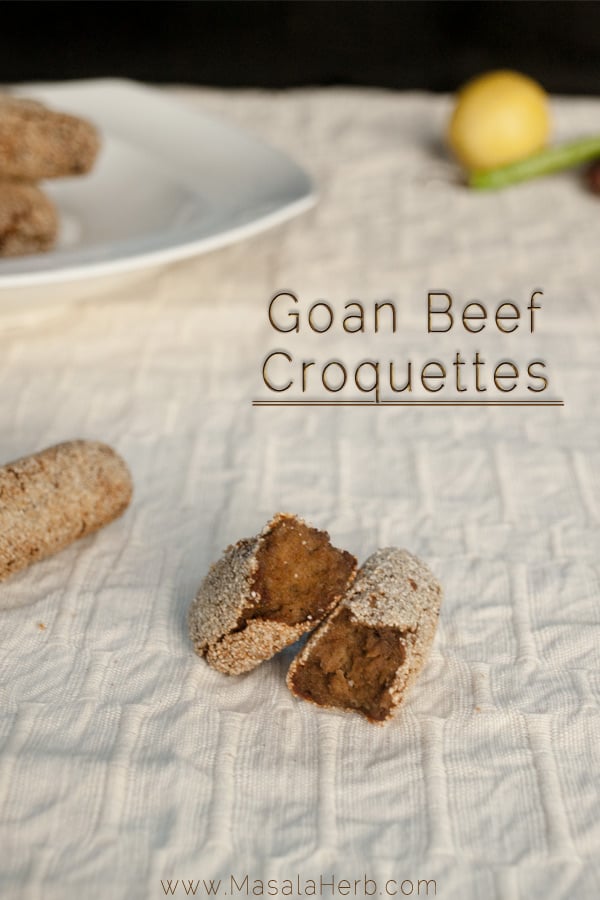 Goan beef croquette are a must in all kinds of family gatherings in Goa, especially in the catholic entourage. I noticed that goan beef croquette would never miss in festive times and that too for a good reason. I definitely enjoy munching on one or two croquettes and I do get the mellow spicy feeling of the meat. The inside is soft and the outer part is perfectly crispy fried, coated with semolina. Semolina is commonly used in Goa to coat meats and also fish, which was something new to me when I learned the local cooking because we mostly boil semolina in Europe.
-> Get the free Masala Herb Newsletter
To make Goan beef croquette you need to pick quality beef mince. I normally buy double ground beef from a trusted butcher locally (it might be known as special mince too). The meat should be red, fine and without impurities. I pick the right butcher because of hygiene concerns. Also I know that some locals like to make the goan beef croquettes with lamb meat instead of beef. I personally haven't tried it yet for myself since I always prefer beef meat.
The making of the beef croquette is very simple. The mince should be cooked with little water and ingredients such as onion, garlic, chilli's and spices before being processed further. Then comes the blitz blending with lemon juice and the addition of soft fresh bread and an egg. Then you should mix it all, form the croquettes, roll in semolina before frying them crispy golden. Sounds easy and it is! Yet, when you make the goan beef croquettes, just make sure that the meat is not soaking in water after having cooked it with the flavor giving ingredients. This step is important because your meat mixture should be form-able and if it's too wet, the croquettes don't hold together.
In case you make a batch you can also freeze the not yet fried croquettes after having formed and coated them with semolina. I do it at times, because usually croquettes are only eaten 1-3 at a time and this batch will result in 20 pieces at least.
Do you like tapas and what's your favorite one?
Goan Beef Croquettes #Sundaysupper
Recipe type:
Appetizer, snack
Goan Beef Croquettes are a quintessential treat at family gatherings in Goa and they have gained more and more value over the years!
Ingredients
500 grams double ground beef mince (also known as special mince)
2 medium sized purple onions
2 centimeter fresh ginger peeled
4 big garlic pods
½ Teaspoon Turmeric Powder
1 Teaspoon Garam Masala
Salt according to your taste
1 Teaspoon black Pepper
2 Green Chillis
1 dried red Chilli (Kashmiri Chili)
80 milliliter Water
Juice of one lime (locally known as Indian Lemon)
2 soft slice bread without the rind
1 Egg
Semolina (locally known as Rawa)
Instructions
Add the meat mince to a pot with the roughly chopped onion, ginger, garlic and spices such as Turmeric Powder, garam masala, salt, pepper, roughly chopped green chillies and the dried red chilli. Also pour in the water and cook on slow to medium heat until all the water is absorbed and the ingredients are cooked. Important: the meat content should be dry!
Allow to cool after cooking and then blend to a smooth texture with the lime juice.
Add the meat mix to a mixing bowl and add the flaked slice bread with the egg. Mix it all so that all the ingredients are well combined.
Keep in the fridge for 20 minutes. If the croquette mixture is cooled, it's easier to form them.
Form your croquettes into cylinders or sausages as shown. The exact size and shape doesn't really matter. Just keep in mind that they will grow a bit in size while frying due to the egg. Then roll the shaped croquettes in the semolina.
Heat up a pan with enough oil to shallow fry your goan beef croquettes on all sides until they are golden and crisp.
Here's what's on the Table this #Sundaysupper:
Stuffed Green Queen Olives with Garlic Infused Olive Oil from MarocMama
Cheesy, Tortellini Tapas & Spicy Bacon Ranch Dip from Daily Dish Recipes
Black-Eyed Pea Cowboy Caviar from Shockingly Delicious
Goan Beef Croquettes from Masala Herb
Giardiniera Salad from Peanut Butter and Peppers
Bacon Wrapped Calamari from Jane's Adventures in Dinner
Patatas Bravas from Supper for a Steal
Caramelized Onion & Gruyere Bites from The Foodie Army Wife
Agave Truffles from Killer Bunnies, Inc
Pear, Brie, and Honey Crostini from Hezzi-D's Books and Cooks
Tomato Bread from girlichef
Clams in Green Sauce (Almejas en Salsa Verde) from The Little Ferraro Kitchen
Roasted Tomato-Basil Flatbread from Take A Bite Out of Boca
Herb and Citrus Marinated Olives from Magnolia Days
Smoky Paprika Peppers from Small Wallet, Big Appetite
Balsamic Raspberries with Mascarpone Cream from That Skinny Chick Can Bake
Gambas al Ajillo from Manu's Menu
Squid in Garlic Chili Olive Oil from Food Lust People Love
Tortilla Española from The Not So Cheesy Kitchen
Croquetas de Pollo from Cookin' Mimi
Low-Carb Salmon Croquettes from Yours And Mine Are Ours
Bruschetta Topping from What Smells So Good?
Herb Roasted Almonds from Curious Cuisiniere
Artichoke Heart and Manchego Spread on Fried Garlic Bread from The Wimpy Vegetarian
Tortillita de Camarones from Cindy's Recipes and Writings
Patatas A La Riojana (Rioja-Style Potato & Chorizo Stew) from Cupcakes & Kale Chips
Gambas al Ajillo y Clementina (Shrimp with Garlic and Clementines) from FoodieTots
Tortillas De Papa y Atun (Tuna and Potatoes Tortilla) from Basic N Delicious
Pocky Cake Pops from NinjaBaking.com
Chorizo Filled Dates Wrapped in Bacon from I Run For Wine
Manchego-Stuffed Spanish Meatballs from The Weekend Gourmet
Roast Onions with Blue Cheese and Pine Nuts from Healthy. Delicious.
Shrimp and Chorizo Tapas from The Texan New Yorker
Blueberry and Lemon Yogurt Quesada from In The Kitchen With KP
Chorizo with Spicy Sweet Potato Tapas from Soni's Food
Chorizo and Manchego Toast Tapas from Family Foodie
Roasted Bone Marrow with Citrus Salad from The Girl In The Little Red Kitchen
Mushroom Chevre Crostini from A Kitchen Hoor's Adventures
Serrano Ham and Manchego Croquetas with Smoked Pimenton Aioli from My Other City By The Bay
Krab Filled Avocado Tapas from from Hot Momma's Kitchen Chaos
Polenta Crostini Bites with Caramelized Mushrooms: Cicchetti – A Venetian Tapas Tradition from La Bella Vita Cucina
And you know you can't have a party without wine ~ at least you certainly can't in my house. Martin Redmond is here to give you the perfect recommendations: Best Wines To Pair With Tapas from ENOFYLZ Wine Blog
Join the #SundaySupper conversation on twitter every Sunday! We tweet throughout the day and share recipes from all over the world. Our weekly chat starts at 7:00 pm ET. Follow the #SundaySupper hashtag and remember to include it in your tweets to join in the chat. Check out our #SundaySupper Pinterest board for more fabulous recipes and food photos. Would you like to join the Sunday Supper Movement? It's easy! You can sign up by clicking here: Sunday Supper Movement.
---
You might like...
The following two tabs change content below.
I am Helene, and created Masala Herb to share my food and travel journey with the whole world. You will find Asian and Western dishes here, as well as unique travel guides to inspire your day. Don't miss a post! Subscribe to the free newsletter!
Latest posts by Helene Dsouza (see all)