Zell am See is a picturesque small town, nestled in the Austrian Alps between mountains.
A large lake known as the "Zell" touches the town, which makes Zell am See all the more beautiful!
Where is Zell am See?
Zell am See is situated in the region of Salzburg in Austria, at 750 meters elevation above sea level.
Zell am See is situated near the well-known Skiing town Kaprun and the town is situated on the way to the Grossglockner high alpine road, Austria's highest mountain, and the nature reserve.
Zell am See major Sights & Activities
When staying over in Zell am See as a visitor you get a free Zell am See and Kaprun card.
With that card, you can get free access (and reduced lift pass) to a couple of sights and activities.
You get the card from your hotel, so ask for it at the reception.
Zell Lake
The Zell lake is obviously the main attraction.
In summer you can chill on the lakeside lawn and you will get access to the lake pool.
You can also hire a peddle boat or go sailing, surfing, wakeboarding, and waterskiing.
Besides all that, you can experience the relaxed atmosphere of Zell am See on a 45-minute boat ride across the lake.
During the Summer season, you can experience themed light show on the lake.
Happening every Tuesday, Thursday and Sunday night.
You can obtain a fishing card too if you are interested in fishing at the Zell lake.
Hiking or take a walk
There are numerous hiking trails in the area.
You can start out from the bottom of the town or take the lift and pick a trail on the Hausberg (mountain house aka major town mountain).
The view is amazing from the top and the surrounding is very safe for anyone.
You might enjoy a walk around the serene lake while taking in the beauty around you.
Zell am See town center
Zell am See offers a busy center during the main tourist season.
All the major boutiques and restaurants are located in the town center.
The church, Heiliger Hippolyt, can be visited as well.
For lunch, dinner or coffee time, you can pick whichever place you fancy.
Most will have Austrian delicacies in their menus such as Wienerschnitzel, Spaetzle noodles, Goulash, Salzburger Nockerl, and Strudel.
In winter you can get hot chocolates and Gluehwein!
Steam Train ride & Highest Waterfall in Europe
The steam train is a novelty these days!
Once a week, during the summer months, you have the luck to sit in a real steam train.
The ride starts in Zell am See and ends almost 3 hours later in Krimml.
Krimml is known for the highest waterfall in Europe, it is better known as Krimmler Waterfalls.
I highly recommend to check out the steam train and waterfalls if you are traveling with your family or if you are looking to slow down and discover the calm natural surrounding of the region.
Kaprun Glacier
I mentioned the nearby town Kaprun in a previous post talking about the high altitude water reservoir.
Kaprun is known all over the world because of the endless skiing slopes and the Kitzsteinhorn Glacier.
That means you can ski there in summer too!
More things that you can do in Zell am See:
Mountain biking
Horse riding
Spa treatment
Golfing
Trail running/triathlon
Paragliding
Yoga
Casino
Travel Tip: If you plan on doing sports activities in Zell am See, I advise to get a travel insurance from World Nomads.
They specialize in adventure tourism and they will cover you in case of an accident.
I advise it when you are planning on skiing, snowboarding, horse riding, mountain biking, sailing, and paragliding.
I wrote about my experience with the World Nomad's insurance here.
Zell am See Hotels and Accommodations
The most well-known hotel is the 4 star Supreme Grand Hotel, which has the most beautiful view of the lake and it's situated in the center of town.
The Salzburgerhof is the only 5-star Superior Golf Wellness hotel in the area.
The hotel is family run (no big corporations behind the establishment) and will give you as the visitor all the comfortable amenities as if you were at home.
Travelers will have an easy game finding great accommodations too with countless 3 & 4-star establishments, Bed and Breakfast homes, and Pensions.
There is something for everyone.
When to visit Zell am See?
The Alpine regions in Austria have two major seasons, winter and summer.
Bother seasons can be pretty busy, however, certain period are more busy than usual.
Besides that, consider that a lot of establishments tend to close between the two seasons for a period of 1-2 months.
That means most hotels close right after Easter in March-April and they also close in October-November until mid-December.
The high season in Winter is from the Christmas week to the first week in the new year and from mid-Jan to end of Feb, as well as during Easter.
The high season in Summer is during school holidays which starts in July and ends in September.
Visiting Zell during winter is costlier than in summer.
The most budget-friendly times in the year to visit Zell am See are in spring, May – June, and in autumn when the leaves turn gold from September – October.
Consider also that the mountain lifts will be closed in offseason, during the not so busy times in the year.
For example, lifts are always closed end of October.
So visiting during the time when people usually don't tend to visit Zell am See might be a good idea for those who just want to relax at the spa or who want to go hiking without needing lifts and access to the mountain tops.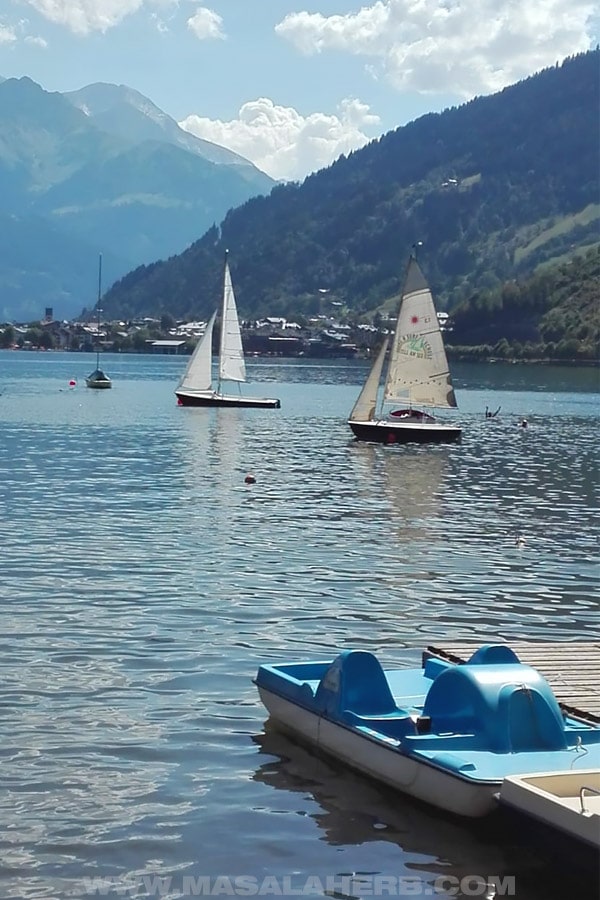 Zell am See Weather
The Weather in Zell am See varies.
While we hope for snow and beautiful sunny skiing days on the ski run in Winter, we hope for sun-filled warm days in the summer to enjoy the lake or a mountain hike.
The Winters are obviously cold but Summers can be really hot in the alps.
Temperatures in summer can range from 17-37 Celsius/62.6-98.6 Fahrenheit.
When you plan on hiking in the mountains, make sure to always take a jacket and maybe a rain jacket along.
It can get quite cool up there with the wind blowing, while it's super hot down at the lake.
Something else to consider if you have your base in Zell am See but plan on visiting the nearby nature reserve, is the fact that the weather is very moody up there in the nature reserve.
If the weather is sunny down at the lake, it might be cloudy and cold up there.
How to get to Zell am See?
The nearest international airports are located in Salzburg City or Munich City (Germany).
The easiest way to get to Zell am See is from Salzburg city, which is located about 1 1/2 hours from Zell am See.
Munich city is about 2 1/2 hours from Zell am See but the connections are better (and sometimes cheaper too) to Munich then to Salzburg.
Vienna is far away from this part of Austria, so you shouldn't even consider that as an airport landing option except if you can get a connecting flight from Vienna to Salzburg.
From the Airports, you can take a taxi or take the train.
The train station is situated near the city center and most hotels will be happy to pick you up at the station.
A cab from the Salzburg airport to Zell am See costs about 150 € upwards and from Munich to Zell am See 250 €.
The train from Salzburg to Zell is about 17 € and from Munich to Zell am See 56 €.
Dear Reader, when are you planning to visit Zell am See?
Please feel free to share your thoughts and ideas with us in the comment section further below!
This post may contain affiliate links that point to things or services that I recommend. This may include Amazon, getyourguide and booking.com. As an Amazon Associate I earn from qualifying purchases.